World pledges help to quake-hit Morocco
---
Int'l Correspondent
Published:
2023-09-11 12:54:01 BdST
World pledges help to quake-hit Morocco
---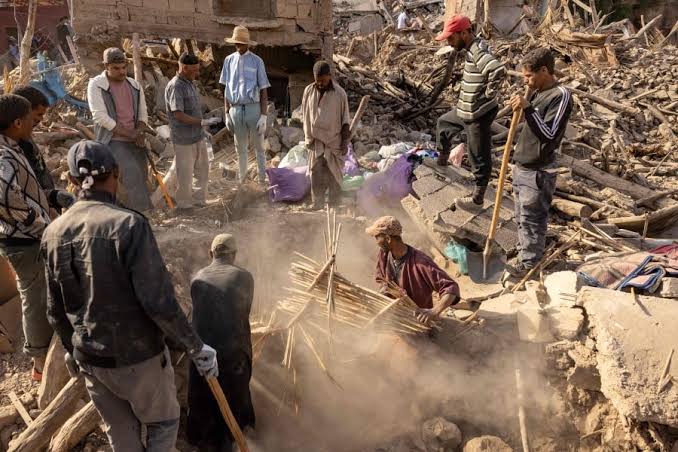 Countries around the world have offered to help Morocco, where a devastating earthquake has killed more than 2,000 people.
International aid agencies
The International Federation for Red Cross and Red Crescent Societies (IFRC) has released over $1 million from its emergency disaster fund to support the Moroccan Red Crescent's work on the ground.
"The next 24 to 48 hours will be critical in terms of saving lives," the global humanitarian network warned on Saturday, adding that help could be needed for months or even years.
Spain
Spain on Sunday sent 56 military rescuers and four search dogs to Morocco after receiving a formal request for help from Rabat.
The team, from the armed forces' Emergencies Unit, took off in an A400 military plane bound for Marrakesh to "help in the search and rescue of survivors", the defence ministry said.
Qatar
Qatar said it was also sending a rescue team.
France
A team of French volunteer firefighters has arrived in Morocco and President Emmanuel Macron said more, substantial assistance was available, should Morocco request it.
"We have mobilised all technical and security teams to be able to intervene when the Moroccan authorities deem it useful."
United States
The United States has told Morocco it is "ready to provide significant assistance" including search and rescue teams.
"We are also ready to release funds at the right time that can help the Moroccans recover and deal with this horrific tragedy," Deputy National Security Advisor Jon Finer said.
"The United States will be with them at every step of the way when they are ready to avail themselves of what we have to offer," he added.
Switzerland
Switzerland has offered to provide temporary shelters, water treatment and distribution equipment, sanitation facilities and hygiene kits.
Belgium
Belgium has offered help including medical teams and field hospitals.
The Flanders region, home to a large Moroccan community, said it would provide 200,000 euros ($214,270) in emergency aid through the Red Cross, while the Wallonia region has pledged to provide 500,000 euros.
Italy
Italy has offered the help of its civil protection agency and fire service, while the Italian Catholic Church has sent 300,000 euros ($321,400) in aid through NGO Caritas Italy.
Italian President Sergio Mattarella on Saturday stressed Italy's "willingness to contribute to the complex rescue work".
Turkey
Turkey has offered to send 265 rescue workers and 1,000 tents.
Poland and Israel
Poland and Israel said they were ready to provide assistance including search and rescue teams.
Iraq and Jordan
Iraq and Jordan have offered to provide all possible forms of assistance to Morocco.
Organisations
The heads of the World Bank, International Monetary Fund, African Union and the European Commission, together with the presidents of France and India, pledged in a joint statement to "mobilise our technical and financial tools and assistance" to help Morocco.
Unauthorized use or reproduction of The Finance Today content for commercial purposes is strictly prohibited.