National /
Experts for strict monitoring of health guidelines in public transport
---
Abu Taher Bappa
Published:
2020-09-10 17:13:16 BdST
Experts for strict monitoring of health guidelines in public transport
---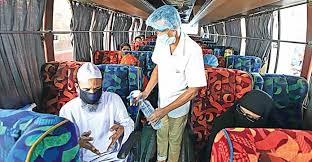 Public health experts have expressed deep concern over people's attitude towards health safety guidelines and the relaxation of public transport operation amid the coronavirus pandemic.
The government has ordered the bus operators to readjust ticket prices to pre-pandemic rates and also allowed the app-based online ride-sharing firms to resume their motorbike services in full-capacity after nearly six months of suspension, from this month.
The relaxation comes at a time when the Covid-19 fatality rate is continuously rising in Bangladesh, with Dhaka division accounting for nearly half the deaths.
Of the deaths, 2,217 or 48.27 percent of them occurred in Dhaka division alone in recent weeks. Though the recovery rate has significantly risen to nearly 70 per cent, it is still not in line with the global average.
Experts said, about 20 percent of people live in urban areas, and the economy and people's movement in urban areas are bigger and more active than the rural ones, so infections and casualties are higher in cities.
Public health expert and activist Dr Rashid E Mahbub questioned whether the coronavirus pandemic is over in Bangladesh yet.
But, "How could the pandemic be over when the individual and the government are seen reluctant to follow the health safety rules in the pandemic," he pointed, saying "Then how could the outbreak come under control."
And, the efforts are seen less effective to bring the coronavirus outbreak under control, he added.
"If Covid-19 is not over yet, then people must follow the health guidelines and movement restrictions. Individuals have to take care of their own safety and the government has to take actions so that people can follow health guidelines," he said.
If some people abide by health safety guidelines while some others don't — this too won't work, the public health expert, also former president of Bangladesh Medical Association, continued.
"Another important issue is to know how much of our immune system is developed. And it could be known through antibody testing. But this antibody testing is yet to get permission in Bangladesh."
He emphasised on both the antigen and antibody testing, he said: "Livelihood could be more flexible if we successfully introduce those testing methods and maintain strict health guidelines."
However, experts also spoke for resuming means of livelihood gradually in pandemic but repeatedly asked for maintaining health guidelines.
Dr Mohiuddin Ahmed Khan, Prof of Hematology Department at Dhaka Medical College, said that it has been six months of coronavirus pandemic in Bangladesh and people especially low income group are in difficulties.
He, also member of the national technical advisory committee on Covid-19, emphasised on strict maintenance of health guidelines at public transports including face mask wearing, and fining if anyone is found not to be wearing face mask.
"Strict implementation of law is necessary to control the infections. Punish and impose fine if people are found to be reluctant to wear face masks. Keep health safety items in public transport, including face masks, to offer passengers in exchange for money if anyone is found not wearing a face mask on board," he suggested.
"If we wear face masks, then the infection rate can come down to 1.5 per cent," he mentioned.
"If we can manage people to follow health guidelines up to 90 per cent then we could control the infections otherwise we might have to go back to impose lockdown, but how long we take those means of livelihood shut," he pointed.
Mahbub-E-Rabbani, director of (road safety) of Bangladesh Road Transport Authority (BRTA) told the FE that they are strict enough to ensure people's safety in pandemic and their vigilance teams are in the city and elsewhere to monitor public transport.
"We have three vigilance teams working at the three bus terminals in the city led by three BRTA magistrates, while more 10 mobile courts are also operating in Dhaka city. Furthermore, the traffic division of police is also taking care of the matter with strict monitoring and implementing of health guidelines, zone wise," he added.
"We are hopeful that our efforts and cooperation from the people could keep the coronavirus situations under control in the country", he said.
Unauthorized use or reproduction of The Finance Today content for commercial purposes is strictly prohibited.