National /
Move to raise toll of two major bridges
---
Abu Taher Bappa
Published:
2020-11-19 12:27:26 BdST
Move to raise toll of two major bridges
---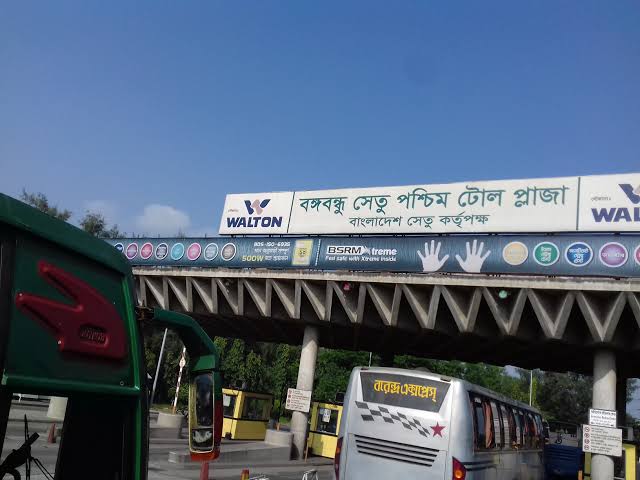 The Bangladesh Bridges Authority (BBA) has initiated to increase toll of two major bridges by 20 to 100 percent depending on the categories of vehicles.
One is Bangabandhu Multipurpose Bridge and the other is Bangladesh-China Friendship Bridge, popularly known as Mukterpur bridge.
The BBA increased the toll of Bangabandhu Bridge by 17 percent in 2011, almost 14 years after the inaugural rate set in 1997.
The toll of the Mukterpur bridge was not increased since its formal opening in 2008.
The revised toll proposal is set to be placed during the BBA board meeting on Thursday for approval.
Road transport and bridges minister Obaidul Quader will chair the virtual meeting when secretaries of 11 ministries are expected to attend as board members.
Transport experts see this move rational after a lapse of long years, but say the toll rise may affect the economy during the pandemic period.
Sources said Bangabandhu Bridge and Mukterpur bridge will have new toll rates upon the board's approval.
If the new toll policy is approved by the prime minister, it will be effective after a gazette notification.
BBA sources said the new proposal has been designed based on the consumer price index (CPI) which was hiked by two-and-a-half times during 2005-06 and 2018-19.
The BBA also argued that the per-capita income has also increased by almost 140 per cent from $862 to $2,064 since 2011.
Supporting the proposal, transport expert Prof Dr Shamsul Hoque said maintenance costs of Bangabandhu Bridge and others have risen due to a rise in traffic volume, propelled by economic growth.
"The toll revision proposal is very rational when depreciation of the bridge is high following increased traffic volume and the need for frequent maintenances."
Dr Hoque, however, said the move should have been made in the post-pandemic period as the situation that unfolds is eerie now.
"Let the economy revive from COVID-19," he argued.
According to experts, increased rates in vehicle categories affect people as toll revision is done after a long span of time.
BBA officials said new rates have been proposed by a special committee after reviewing issues like revenue earnings, expenditure and bridge maintenance costs, traffic prediction and debt service liability (DSL).
They said the BBA annually pays Tk 2.3 billion in DSL and VAT at a rate of 15 per cent of toll earnings and 25-percent IT charge on earnings.
Besides, the authorities have deposited surplus earnings of Tk 4.0 billion to the government this year.
The officials said an overall 45-percent toll rise has been proposed.
The committee has also recommended including goods-laden trailers as a new category of transport for toll collection.
The toll for trucks is currently being imposed on trailers.
Unauthorized use or reproduction of The Finance Today content for commercial purposes is strictly prohibited.