National /
Peoples leaving Dhaka ahead of fresh lockdown
---
Special Correspondent
Published:
2021-04-13 07:45:22 BdST
Peoples leaving Dhaka ahead of fresh lockdown
---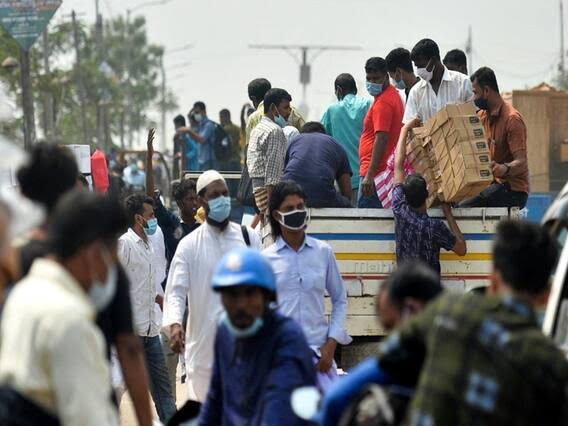 The city dwellers, especially the middle and lower-income groups, were in a rush to leave the capital on Monday ahead of the second spell of lockdown beginning from Wednesday.
Many people were seen opting for alternative transports like mini truck, pickup van, CNG-run auto-rickshaw, car and motorbikes.
A fresh gazette notification was also issued on the day announcing wider restrictions for a week to curb COVID-19 infection. The Cabinet Division in its notification said that the restrictions would be effective from 6:00am April 14 to midnight April.
Long-distance bus services remained suspended since April 5 when the first spell of lockdown was imposed.
At the inter-city bus terminals at Gabtali, Sayadabad, and Mohakhali, and bus stops at Shaymoli, Kalabagan, Kalyanpur, people who intended to leave the city were suffering much as there were not enough vehicles.
The pressure of small vehicles increased on Monday at the Paturia ferry terminal in Manikganj as thousands of people from the southwestern part of the country left Dhaka on private vehicles amid the ban on public transport ahead of the weeklong lockdown starting from April 14.
Owners of private vehicles were seen taking passengers by charging them three times the usual fare.
Long queues of private cars, microbuses, CNG auto-rickshaws, and motorbikes were seen on the Dhaka-Aricha highway and Paturia Ghat on Monday.
Jassore bound each passenger had to pay Tk800 to Tk1000 in private cars and microbus fares. Passengers travelling by motorbikes had to pay Tk600 to Tk800.
Ali Ahmed Khan, Superintendent of Police for the Gazipur region's Highway Police, told reporters that they were working since April 5 to implement the government directives.
Hannan Hossain, owner of a tea stall at Rayerbazar, was waiting for going to Bogura from Kalyanpur bus stand. He said many people were hiring cars from there.
"As they are charging much, I am not able to choose a car. Many people also using truck and pick up van," he said.
"I will have to keep my shop closed during the fresh spell of lockdown. So, I want to stay with my family in Bogura. I am looking for an alternative to reach my hometown," he said.
Sahjahan Mia, a day labourer, who works Kawranbazar kitchen market said he started for Kurigram from Gabtali on a broken journey.
He joined eight other passengers at Gabtoli and they first headed for Chandra and hoped to manage something to reach home.
"If we fail to get anything then, we would go to the next stoppage and look for some vehicles," he said.
Mohiuddin Tuhin, an electronics shop owner at Mirpur, hired a car from Framgate for his family for going to the village home.
"My shop is open but sales are almost zero. The shop will be closed from Wednesday. So, I will go to my home town with family," he said.
Md Mir Anisur Rahman, officer-in-charge of Mainamati highway police station in Cumilla, said that their team was monitoring microbus, pick-up van or other vehicles so that they cannot carry passengers. "We forced many passengers to get off such vehicles today," he said.
Unauthorized use or reproduction of The Finance Today content for commercial purposes is strictly prohibited.