National /
Quick Removal of Waste: Dhaka mayors hailed
---
Staff Correspondent
Published:
2021-07-24 10:18:54 BdST
Quick Removal of Waste: Dhaka mayors hailed
---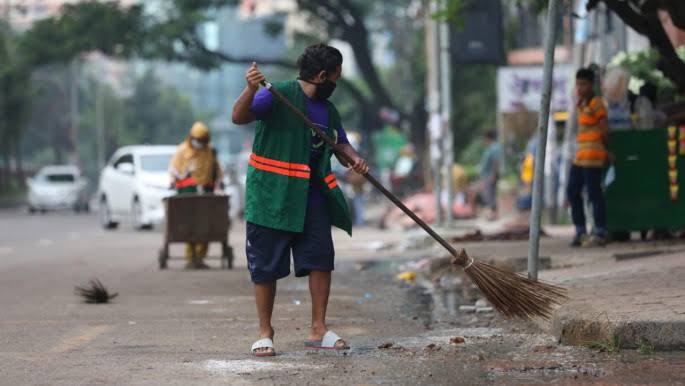 Roads, lanes and by-lanes, where sacrificial animals were slaughtered, had been dotted with blood, offal and other waste of animals, resulting in sufferings of the local people.
Many people had skipped the intersections of the alleys, which were full of wastes.
It was a common scenario in the capital after every Eid-ul-Azha. But that terrible situation has changed this year, thanks to the two mayors of Dhaka.
People all over Dhaka have praised the combined efforts of the two city corporations for ensuring a clean city within a short period of time.
During the recent visit to the different areas under Dhaka South City Corporation (DSCC) and Dhaka North City Corporation (DNCC) including Sayedabad, Rampura, Malibagh, Badda and Gulshan area, the roads and alleys were found neat and clean.
Wastes were removed from most of the roads and alleys in these areas and bleaching powder was sprayed by the cleaners of the city corporations.
DSCC Mayor Sheikh Fazle Noor Taposh and DNCC Mayor Atiqul Islam announced a decision to clean the waste of sacrificial animals in Dhaka by 24 hours.
According to sources at the two city corporations, two mayors monitored and coordinated the activities of cleaners and continued instructing the officials of the departments concerned to respond the call of city dwellers.
The city corporations' authorities also distributed plastic bags, bleaching powder and other cleaning materials for residents ahead of the Eid day.
Al-Amin Islam, a resident of capital's Khilkhet area said, "Earlier, we used to see the roads and intersections full of wastes of sacrificial animals. Bad smell spreading from the wastes made us bound to avoid the roads where people sacrificed animals."
"City corporations spent at least a week to remove and clean the wastes. But, this time the roads and alleys of our area are neat and clean," he added.
"In our area, cleaners of the city corporation have done a tremendous job. They collected all the wastes from our neighborhood by evening on Eid day. I haven't seen such efforts of cleaners after any Eid-ul-Azha in the past," said Tauhidul Hasan from Hatkhola area.
DNCC said that they cleaned 15,733 tonnes of wastes while DSCC claimed that they removed 16,518 tonnes of wastes in 4,359 trips so far.
In a press conference on July 22, DNCC Mayor Atiqul Islam said, "With a concerted effort from all, including the ward councilors, we have cleared 100 percent of wastes within 12 hours. A total of 11,935 tonnes of wastes were collected in the first day of Eid-ul-Azha by our 11,508 cleaners."
"More than three lakh sacrificial animals were slaughtered in Dhaka north area and of which 4,141animals were slaughtered in the 272 spots designated by the city corporation for the purpose, which made our task more challenging," he added.
Dhaka South City Corporation (DSCC) Mayor Sheikh Fazle Noor Taposh said that he found many city dwellers keeping the waste of their sacrificial animals everywhere and indiscriminate dumping of wastes occupied the open space and blocked drainage lines.
Taposh said, "Our cleaners are working tirelessly for clearing all the wastes. On the one side we are removing the wastes while some people are dumping wastes in the cleaned spots again. This is unacceptable."
DSCC spokesperson Abu Nasher said, "We have removed waste from cattle markets and slaughtering spots of animals from all the 75 wards under the corporation. We have collected and dumped a total of 16,518 tonnes of wastes."
Unauthorized use or reproduction of The Finance Today content for commercial purposes is strictly prohibited.