National /
Fuel price hike disrupts long-haul bus service, angers passengers
---
Staff Correspondent
Published:
2022-08-07 08:13:43 BdST
Fuel price hike disrupts long-haul bus service, angers passengers
---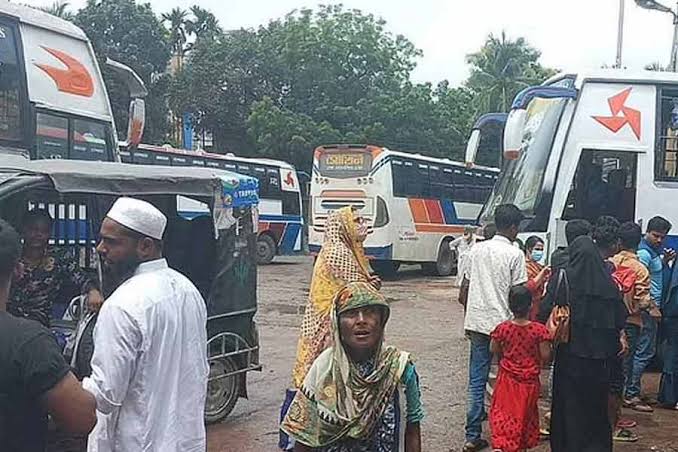 The highest ever fuel price hike in Bangladesh's history has left passengers and coach operators equally frustrated as the former group is forced to pay higher fares, while transport owners in Mymensingh have wound down service until a new fare structure is announced.
The prices of diesel and kerosene were increased by 42.5 percent to Tk 114 per litre, petrol prices were fixed at Tk 130 a litre, a 51.16 percent jump, while octane prices rose 51.68 percent to Tk 135 on Friday.
Last November, the government raised the price of diesel and kerosene by Tk 15 to Tk 80 per litre. Afterwards, coach fares rose nearly 27 percent, much higher than the corresponding jump in fuel prices.
Transport leaders and owners confirmed that most buses headed from Mymensingh to other parts of the country paused their services as they claimed it was categorically impossible for them to function under the current fare structure.
Mahbubur Rahman, general secretary of Mymensingh District Transport Owners' Association, said: "Most of the operators have stopped services as they no longer believe the services they provide will yield any profit unless the current fare structure is adjusted according to the current fuel prices."
"A few are still operating, but most have stopped," he said.
Ena Paribahan, one of the largest coach operators in Bangladesh, is one service that is still running and following the current fare structure.
Ratan Kumar Pandit, manager of Ena services from Maskanda Bus Station in Mymensingh, threatened to go on strike if the government does not adjust coach fares.
"We are still charging Tk 260 for passengers travelling from Mymensingh to Dhaka, though the fare is way less than what we are supposed to charge in line with the new fuel prices. We will not be able to provide services at such subsidised prices for long. Unless the government comes up with a new fare structure soon, we will have no option but to go on to strike," he said.
Transport leader Mahbubur echoed Ratan's position, saying: "We will of course follow the decision that comes from the top, but I don't see any option but to increase the fare."
Hosne Ara Begum, a Dhaka-bound passenger of Ena, was miffed about the massive increase in the fuel price as she described how it would impact her life.
"Today, I am paying the regular fare. From tomorrow, it will be God knows how much. The way the government is increasing prices of goods and services in every sector, our lives have become unbearable," she said.
Another passenger of the same coach, Rabiul Awal, said: "A few days ago, the government said that there is no fuel crisis in the country. Then why did the government suddenly increase fuel prices? I would like the government to answer that."
Some other operators, namely Soukhin Paribahan and Shalbon Paribahan, were operating while charging unsanctioned higher fares.
Mohammad Ali, a passenger of a Dhaka-bound Soukhin Paribahan coach, said he was charged Tk 50 above the regular price, citing the increase in fuel prices.
Md Aslam, a driver's assistant for Shalbon Paribahan, said the fare was Tk 20 from Mymensingh town to Trishal but they are now charging Tk 25 due to the hike.
"Previously, the fare from Mymensingh to Trishal was Tk 20. The fare has now been increased to Tk 25 due to the increase in fuel prices from Friday night."
Transport owners have alleged that most fuel stations in Mymensingh temporarily shut services for a couple of hours after 10 pm on Friday and reopened again after 12 am on Saturday to take advantage of the jump in prices, which came into effect as the clocks struck midnight.
Denying the allegation, Shamsul Alam, manager of MS Star fuel station in the city's Maskanda area, said: "We had to shut services due to a massive rush of incoming vehicles. Everyone was coming to the station to fill out their tanks before the new prices come into effect. We reopened shortly thereafter."
"Of course, we are profiting a little more," he said.
Unauthorized use or reproduction of The Finance Today content for commercial purposes is strictly prohibited.