National /
43 Fire affected families received Cash and Non-Food Items in Kutubdia
---
Mustafa Kamal Akanda
Published:
2022-11-25 06:25:07 BdST
43 Fire affected families received Cash and Non-Food Items in Kutubdia
---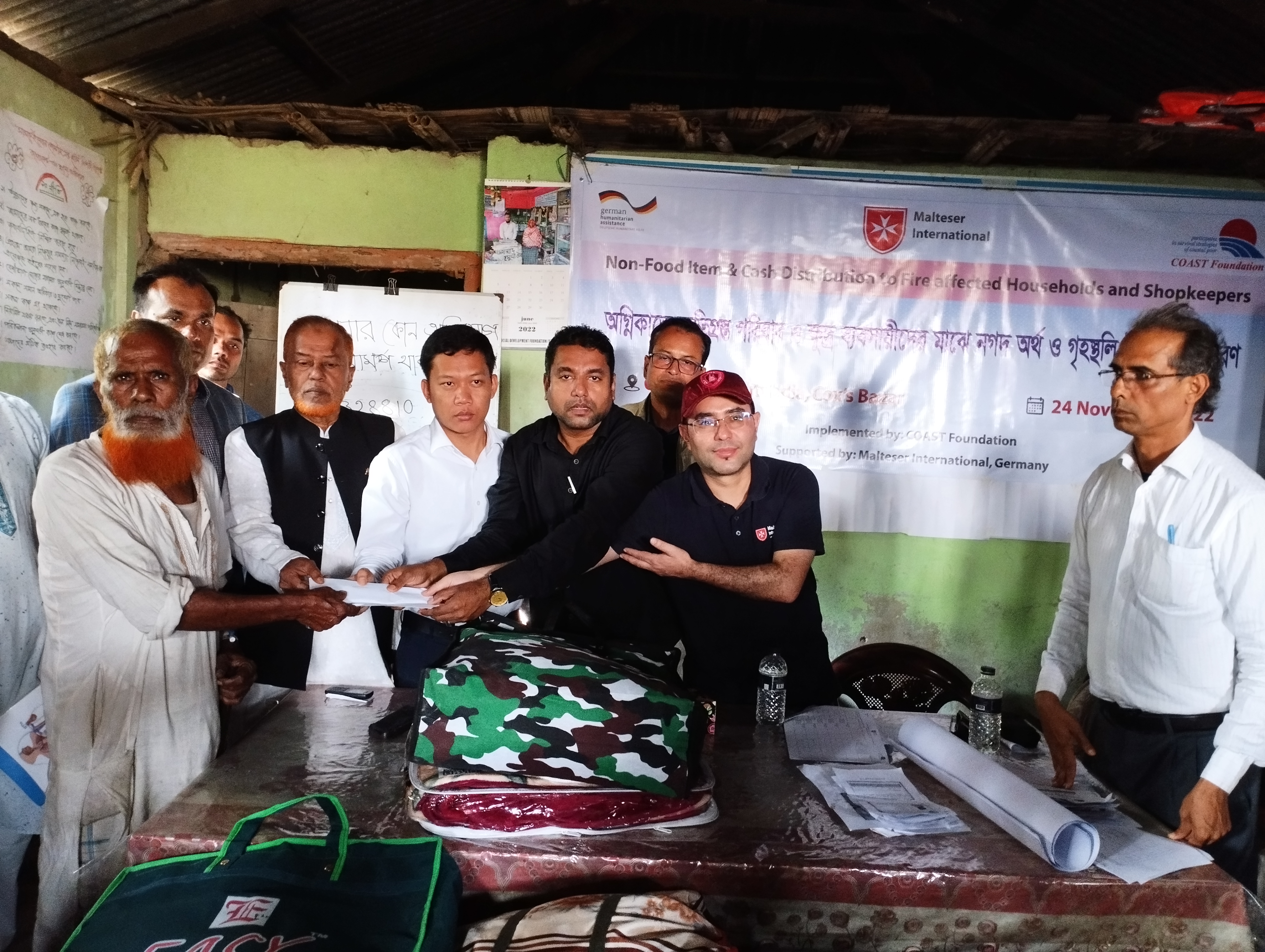 Today, on 24 November 2022, COAST Foundation has distributed cash assistance to 24 families and 19 shopkeepers who were affected by fire incident in Kutubdia Island in Cox's Bazar which is supported by Malteser International, Germany.
It is noted that on Friday (November 18) at midnight, a massive fire took place in Amjakhali Al-Amin Market of Baraghope Union in Kutubdia Upazila in Cox's Bazar. A total 24 residential houses and 19 shops were burnt down.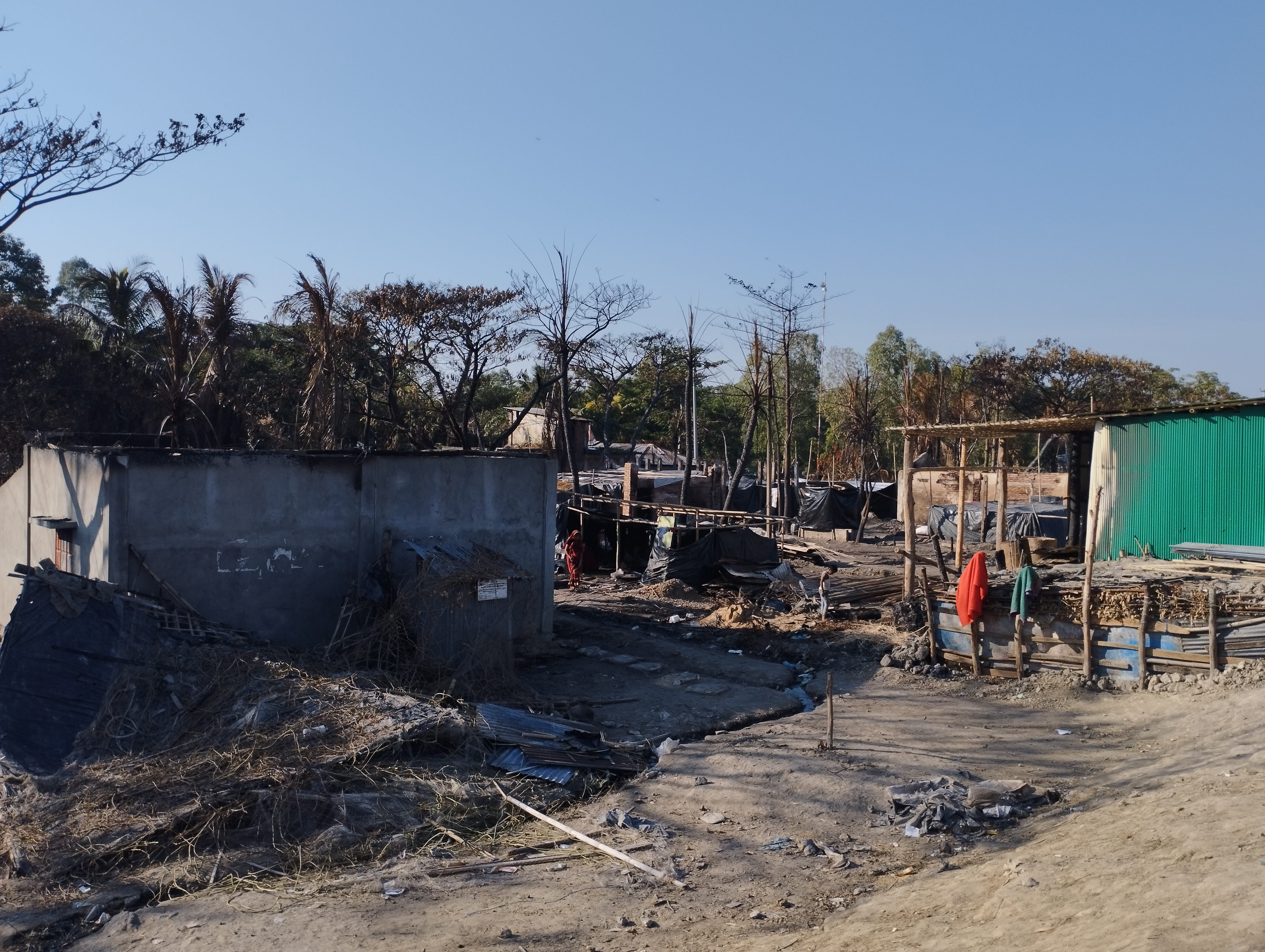 COAST Foundation and Malteser International jointly conducted a rapid assessment on November 23, 2022 from all-fire affected families and shop keepers.
Besides, COAST consulted with district administration, Upazila administration, Union Parishad (UP) and various individuals for the fire response.
In this emergency response, Shahinul Haque Marshal, the chairman of Cox's Bazar Zilla Parishad was present as chief guest.
Gorge Mitra Chakma, the Assistant Commissioner (Land), Rajan Ghimire, the Country Director and Matin Shardar, the Program and Partner Coordinator of Malteser International were present as special guest during the distribution.
COAST has been managing a project named, "Emergency Response preparedness for FDMN and Host Communities in Cox's Bazar District," project along with three Malteser International partners in Bangladesh.
From the emergency project, COAST has distributed total 765,000 (Seven Lac and Sixty-five thousand) cash taka to fire affected families and shopkeepers. and NFI distribution program.
According to the rapid need assessment, if has found that 100% families need to meet critical and lifesaving services to overcome crisis situation. The assessment has found that 88% fire affected households need cash support to purchase necessary things by own. 63% households mentioned for House rebuilds and 42% said about construction of Toilets and 25% spoke about House repair and 13% said that they need house repairing materials.
Rajan Ghimire said that COAST and Malteser International came forward with cash assistance and Non-Food items to support affected households as immediate response to disaster.
The fund can be used based on the needs at households' level either to purchase food, NFI, other materials, use to rebuild their shelter or invest for livelihood options as they have lost everything they have.
Each of 24 affected families received BDT 20,000 emergency multipurpose cash support and each of 19 shopkeeper got BDT 15000 as emergency startup support to start again their business.
At the same time, 24 families received a set of Non-Food Items (NFIs) which contains sanitary pads, Lungi, plastic slipper for male, plastic slipper female, plain cloth, T-shirts, blankets and mosquito nets cost around 5000 Taka.
The distribution event was moderated by Zahangir Alam, Assistant Director of COAST Foundation.
Apart from COAST, Md. Shahinur Islam, Md. Eunus, Ziaul Karim Chowdhury, Md. Didarul Islam and other COAST staff were present in this in emergency distribution event.
Unauthorized use or reproduction of The Finance Today content for commercial purposes is strictly prohibited.