National /
Awami League always thinks in line with modern era: PM
---
Staff Correspondent
Published:
2022-11-27 11:16:48 BdST
PM officially announces completion of Karnaphuli Tunnel's south sideAwami League always thinks in line with modern era: PM
---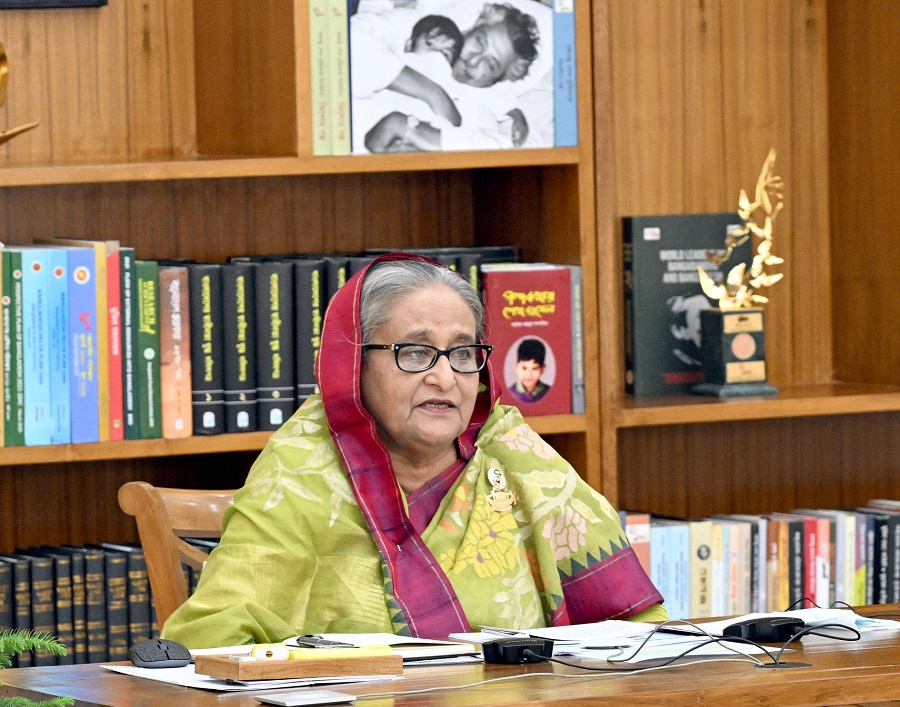 Prime Minister Sheikh Hasina on Saturday said Awami League always thinks keeping pace with the modern era to take the nation forward.
"Awami League always thinks in line with modern era to develop the country with unbeatable pace," she said.
The Prime Minister said this joining an event marking the completion of the civil works of the South Tube of the Bangabandhu Sheikh Mujibur Rahman Tunnel, which goes beneath the Karnaphuli.
She officially announced the completion of the tunnel's south side.
The Prime Minister joined the event, organised by the Bridges Division in Chattogram, virtually from her official residence Ganabhaban.
Sheikh Hasina said that construction of Bangabandhu Sheikh Mujibur Rahman Tunnel under Karnaphuli river is the first such tunnel in South Asia and an astonishing infrastructure.
"Bangladesh is now a changed country and none would be able to stop the ongoing progress and advancement of Bangladesh."
The Prime Minister said that after inauguration of the tunnel next month, road communication with Coxs bazar from Dhaka and Chattogram would be very easy and faster.
Besides, country's economy will get momentum and tourism, economic activities and trade and commerce in the entire Chattogram region will be further expanded, she added.
The tunnel has been constructed to develop Chattogram city like Shanghai of China as one city two towns, she said.
She said that Awami League only has modern kind of thinking that led the country to have a tunnel beneath the Karnaphuli.
She said that Zia, Ershad and Khaleda Zia never ever thought about the construction of tunnel beneath a river.
"Actually they have shortage of thinking," she she.
Hasina said that construction of the tunnel will brighten the image of the country as well as bring pace in economic activities of the country.
"This will contribute a lot in the country's economy," she said.
Coming down heavily on a section of people who do not see any development by the Awami League government, she advised them to go to ophthalmologists to check their eyes.
Sheikh Hasina questioned that why Bangladesh could not witness development in 29 years - - 21 years after 1975 and 8 years after 2001 to 2008.
"… actually who were in power during this period they don't believe in the spirit of the War of Liberation and that was why they didn't work for the country's development."
Briefly describing the development works taken by her government, the Prime Minister said that they have significantly reduced poverty in the country and now people of the country don't cry for food.
She reiterated her call to the people to boost food production and produce whatever they can in every inch of land.
"We will go ahead producing our own food without begging to anyone."
She again suggested all to exercise austerity in using electricity, water and fuel as Corornavirus outbreak, Ukraine war and sanction have pushed the prices of every item in international market and inflation is a huge problem.
Bridges Division Minister Obaidul Quader, Chinese Ambassador to Bangladesh Li Jiming, Cabinet secretary Khandker Anwarul Islam And Bridges Division secretary Md Monjur Hossain also spoke at the programme.
A documentary on the Tunnel was screened at the programme.
The Prime Minister also witnessed a colourful cultural function at the programme venue in Chattogram.
Unauthorized use or reproduction of The Finance Today content for commercial purposes is strictly prohibited.