National /
MNOs must pay Tk 2414cr in arrears: BTRC chair
---
Staff Correspondent
Published:
2023-01-16 10:52:48 BdST
MNOs must pay Tk 2414cr in arrears: BTRC chair
---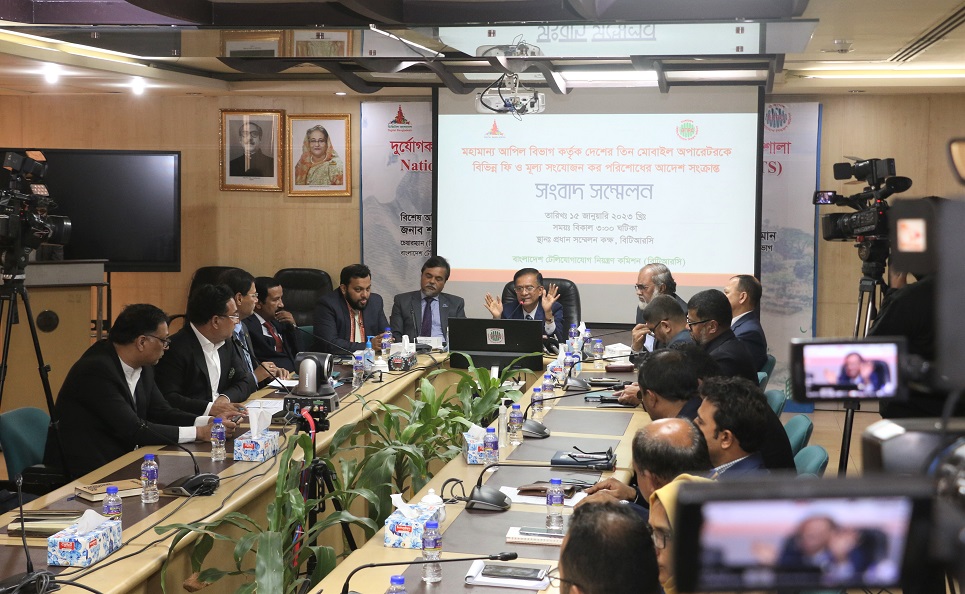 Mobile Network Operators (MNOs) in Bangladesh will have to pay Tk 2413.75 crore outstanding money as of November last year to the government as per the directive of the country's apex court.
Engineer Md. Mohiuddin Ahmed, Chairman of Bangladesh Telecommunications Company Limited (BTCL), said the MNOs must pay the arrears which is a public money.
He was addressing a press conference about the execution of the Appellate Division order at the BTRC headquarters in Dhaka on Sunday.
Of the arrears, Grameenphone will pay Tk 1163.85 crore, Banglalink Tk 625.27 crore, Robi Tk 565.58 crore, and Airtel Tk 59.05 crore.
Engineer Mohiuddin Ahmed said the BTRC has the right to realise 100 percent of the outstanding amount excluding the 15 percent VAT.
"The mobile network operators must pay the money which is the money of the common people. BTRC is determined to realise the money," he said.
Terming telecommunications a potential sector, he said that all the rules and policies of the BTRC are aimed at bringing welfare to the country and its people.
The BTRC is working relentlessly to contribute to building smart Bangladesh within 2041, he added.
Abu Syed Diljar Hossain, commissioner (legal and licensing), said the MNOs calculated the arrears including the 15 percent VAT.
After getting the full text of the Supreme Court verdict, the BTRC will realise all dues but take legal steps if the MNOs do not comply with the apex court order.
Engineer Sheikh Riaz Ahmed, commissioner of Spectrum Division, said, "The outstanding money worth about Tk 2.5 thousand crore is the money of the government or the people of the country. The MNOs must pay the amount."
Prof Dr. Mushfiq Mannan Chowdhury, commissioner of Finance, Accounts and Revenue, said, "BTRC is the second highest revenue earning body of the government. The commission will make revenue policy and revenue management software soon to realise revenue properly."
Brig Gen Md Nasim Parvez, director general (System & Services), asserted, "The investment and cost management are internal issues of MNOs. BTRC is not supposed to deal with profit and loss. MNOs will have to pay all dues."
Barrister Khandkar Reza-e Rakib, lawyer for BTRC, said the commission's demand for the arrears is "not unjust," adding that the MNOs are not entitled to get a rebate on VAT.
Legal and Licensing Division director Tareq Hasan Siddiqui moderated the press conference.
Md. Delwar Hossain of Administration Division, Engineering, Brig Gen Md Ehsanul Kabir of Operations Division and Mohammad Moniruzzaman Jewel of Spectrum Division, among others, were also present.
Unauthorized use or reproduction of The Finance Today content for commercial purposes is strictly prohibited.