National /
Pilot project of Rohingya repatriation to be executed at an early date, hopes Shahriar
---
Diplomatic correspondent
Published:
2023-01-23 21:55:15 BdST
Pilot project of Rohingya repatriation to be executed at an early date, hopes Shahriar
---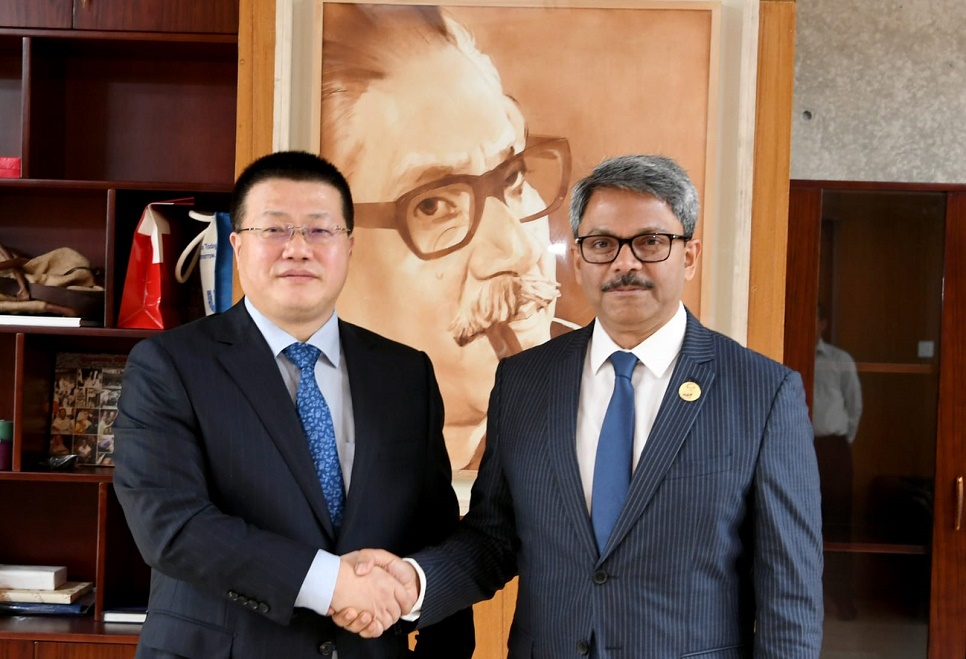 State Minister for Foreign Affairs Md Shahriar Alam has expressed optimism that the "pilot project" of Rohingya repatriation would be executed at an early date.
He thanked China for its "active role" in a trilateral initiative among Bangladesh, Myanmar and China to provide a platform for dialogue to promote the early return of the forcibly displaced Rohingyas to Myanmar.
Newly appointed Ambassador of China to Bangladesh Yao Wen met the State Minister for Foreign Affairs at the Ministry of Foreign Affairs on Sunday afternoon and discussed the issues of mutual interest.
Responding to a question on Rohingya repatriation, Ambassador Wen said they have a common objective with Bangladesh regarding repatriation of Rohingyas to their homeland.
He recognised Bangladesh's "sacrifice" in hosting the huge number of Rohingyas and assured of playing its role for their repatriation.
"We discussed the issue. You pay a lot. You suffered a lot. You sacrificed a lot. We have the common objective (repatriation),"said Ambassador Wen.
Bangladesh is hosting over 1.1 million Rohingyas in Cox's Bazar and Bhasan Char and not a single Rohingya has been repatriated over the last six years.
The State Minister also highlighted the importance of establishing direct air connectivity and requested the Chinese Ambassador to consider Bangladesh as a suitable place for industry relocation from China, according to the Ministry of Foreign Affairs.
The Chinese Ambassador showed interest to conclude a memorandum of understanding (MoU) on PPP for the growth of bilateral trade and commerce.
State Minister Alam hoped that the bilateral relations between the two countries would reach new heights during the tenure of the new Ambassador.
Both sides cordially exchanged views on bilateral and multilateral cooperation of mutual interests, including trade and investment, infrastructure development, connectivity and Covid situation.
Congratulating the new Ambassador on the Chinese New Year's Day, the State Minister thanked China for being the largest bilateral trade partner of Bangladesh.
During the meeting, he also thanked the Chinese government for its support in dealing with Covid-19 pandemic and the repatriation of Bangladeshi students from China and their subsequent return to China to continue their higher studies.
He wished Ambassador Yao successful tenure in Bangladesh and assured him of full cooperation in discharge of his duties.
Unauthorized use or reproduction of The Finance Today content for commercial purposes is strictly prohibited.