National /
Digital connectivity will be key weapon for Smart Bangladesh: PM
---
Staff Correspondent
Published:
2023-01-27 01:29:31 BdST
Digital connectivity will be key weapon for Smart Bangladesh: PM
---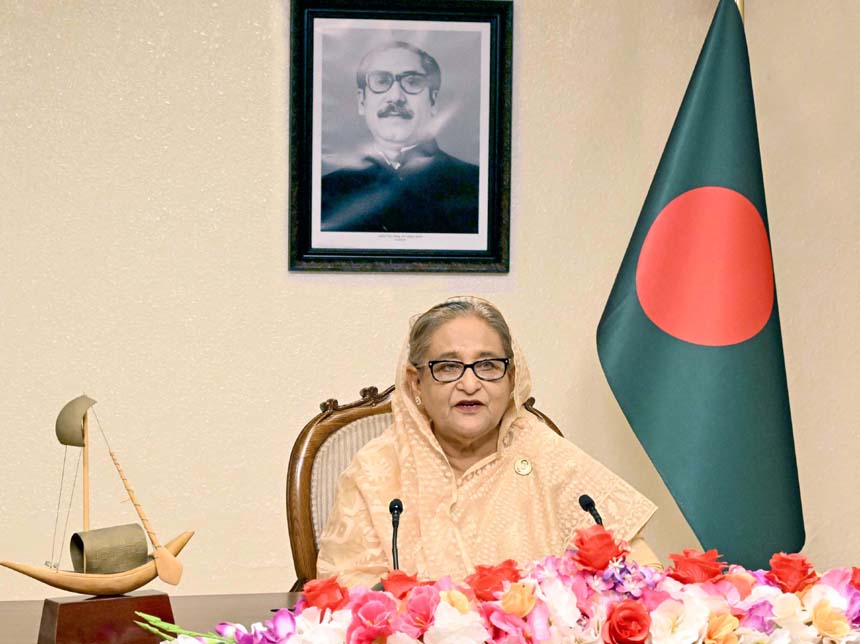 Prime Minister Sheikh Hasina on Thursday said digital connectivity would be the key equipment to transform the country into a Smart Bangladesh.
"Digital connectivity will be the key tool to build Smart Bangladesh. Smart citizens, smart economy, smart government and smart society will be built on the basis of digital connectivity," she said.
The premier said this in a video message aired at the inaugural ceremony of the Digital Bangladesh Fair-2023 at the Bangabandhu International Conference Centre (BICC) in the capital this morning.
The Ministry of Posts and Telecommunications arranged the three-day fair aimed at showcasing the IT and ITES products and services in the country.
In her message, the prime minister also hoped that the digital goods would play a significant role in investments and exports.
"Digital Bangladesh is now a reality. Our next target is to build Smart Bangladesh and Smart Nation. There is no alternative to using ultra modern technology to achieve the target of building Smart Bangladesh," she said.
The prime minister said her government wants Bangladesh to become economically prosperous, ensuring maximum use of digital technology including official intelligence, internet of things, virtual reality, augmented reality, robotics and big-data.
In this connection, she went on saying, "Five-G services will be ensured at the industrial regions."
Mentioning that Bangladesh saw a revolution in digitisation, she said young generation is now dreaming of building Smart Bangladesh.
Father of the Nation Bangabandhu Sheikh Mujibur Rahman had set up the country's first Satellite Earth Station at Betbunia in Rangamati district on June 14 in 1975, through which, the information technology use here started, she said.
The premier said they had announced Vision-2021 in the electoral pledge of 2008 whose main aspect was to ensure socio-economic development of Bangladeshi people by establishing Digital Bangladesh.
She said her government had launched Bangabandhu Satellite-1 to the orbit in 2018 which has brought a revolutionary change in the broadcasting and telecommunications sectors.
The prime minister said her government had been able to resume the telecommunication system that was snapped in Sylhet, Sunamganj and Netrokona districts during the cyclone Sitrang last year.
Besides, she said Bangladesh is earning huge foreign currency by using unused frequencies from satellites.
"Bangladesh is now a proud 57th member of the satellite family in the world," she said.
The prime minister also said steps have been taken to install Bangabandhu Satellite-2 into orbit with multifaceted working capacity aiming to materialise the target of establishing Smart Bangladesh.
She said her government is going to set up a third submarine cable by 2024 as they have already installed the first and second submarine cables, adding that Bangladesh has so far achieved a bandwidth capacity of 3400 GBPS.
The premier continued that the bandwidth capacity will be increased to 7200 GBPS in the middle of this year, while it will be 13200 GBPS after installation of the third submarine cable.
She mentioned that Bangladesh is earning 4.81 million US dollars every year through giving bandwidth leases to Saudi Arabia, France, Malaysia and India.
The prime minister said Bangladesh doesn't need to depend on foreign satellites any more.
She noted that nearly 956298 kilometers optical fibre cables have been set up till union levels across the country while 10 Gigabyte capacity has been ensured in every union, helping provide high speed internet to the people and the government offices.
A total of 8600 post offices across the country have been turned into digital ones using the infrastructure, she said, adding that nowadays 18 crore mobile SIMs are being used while the number of internet-using people is 12 crore.
"The digital inequality and prices of broadband internet between the rural and urban areas has been erased due to it," she added.
Highlighting her government's successes in reaching telecommunications networks up to remote and inaccessible areas, she said a common tariff of "One country one rate" has been introduced across the country.
In this context, the prime minister said Bangladesh was honoured with ASOCIO-2022 Award in recognition of introducing non-discriminatory "One Country One Rate" tariff system across the country.
Education Minister Dr Dipu Moni, Posts and Telecommunications Minister Mustafa Jabbar, Posts Telecommunications and Information Technology Ministry's Parliamentary Standing Committee President AKM Rahmatullah and Secretary of Posts and Telecommunications Division Abu Hena Morshed Zaman spoke at the function.
At the programme, the firstly introduced Posts and Telecommunications Award was distributed among 22 organisations and persons in 14 categories in recognition of their praiseworthy works in the telecom sector to build Digital Bangladesh.
Unauthorized use or reproduction of The Finance Today content for commercial purposes is strictly prohibited.