National /
SDG advocate Queen Mathilde visits Cox's Bazar Rohingya camps
---
Diplomatic correspondent
Published:
2023-02-08 00:56:02 BdST
SDG advocate Queen Mathilde visits Cox's Bazar Rohingya camps
---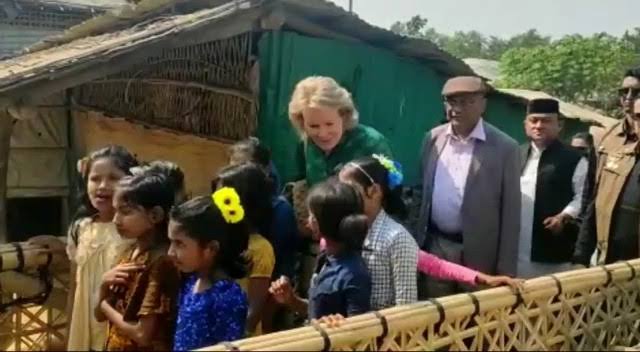 UN Secretary-General's Sustainable Development Goals (SDGs) advocate Queen Mathilde visited Rohingya camps in Cox's Bazar district today.
Information Minister Dr Hasan Mahmud, among others, accompanied the Belgian queen during her visit there.
She visited a learning center, participated in a session with women working on preventing gender-based violence, interacted with women learning new skills and joined a short briefing on the work on mental health and spoke with mental health volunteers.
She is scheduled to return to Dhaka this evening and join a dinner hosted by Parliament Speaker Dr Shirin Sharmin Chaudhury.
The UN Country Team in Bangladesh on Monday warmly welcomed Queen Mathilde.
In the context of the Covid-19 pandemic which stalled and reversed development progress globally, and the subsequent Russia-Ukraine war that induced a cost-of-living crisis, this visit "highlights the heightened importance of the SDGs, and also showcases Bangladesh's dynamism and commitment", said the Office of the UN Resident Coordinator in Dhaka.
On her first day to the country, the Belgian queen visited Fakir Apparels Ltd, a garment factory in Narayangan that produces clothes for major international brands.
About one-third of the factory's employees are women, who have participated in women's empowerment initiatives by the UN International Labour Organisation (ILO) and the International Finance Corporation (IFC) through the Better Work programme.
Partnering with 47 of the world's leading brands and employers' associations, the Better Work programme supports 450 factories and has impacted more than 1.25 million workers in Bangladesh.
This work contributes to the sustainable development goals of achieving gender equality, promoting inclusive and sustainable economic growth, and ensuring decent work for all.
The Belgian Queen met with some of the women working at the factory and visited the childcare facilities.
"I am delighted that the Queen of Belgium has joined us in advocating for decent work and the SDGs in Bangladesh. Ensuring decent work contributes to progress on many other SDGs including those related to inequality, poverty, food security, health, and the environment — particularly for dynamic countries like Bangladesh," said Tuomo Poutiainen, ILO Country Director for Bangladesh.
Afterward, she visited an Ability Based Accelerated Learning centre in Dhaka's Khilgaon area, where she spoke with the children about how the Covid-19 pandemic had disrupted their lives and education.
In accordance with the sustainable development goal of quality education, UNICEF-supported learning centres and catch-up programmes offer flexible education for over 80,000 Bangladeshi children aged 7-14 who have dropped out, are at risk of dropping out from school, or have never been enrolled in formal education.
Once children reach age-appropriate skills, the centres support their enrolment in formal primary schools.
Queen Mathilde ascended to the throne in 2013.
She is the honorary president of both Child Focus, a foundation for missing and sexually exploited children, and UNICEF Belgium.
In 2001, Queen Mathilde established the Princess Mathilde Fund (now the Queen Mathilde Fund) to promote the care of vulnerable people. As an SDG Advocate, she is particularly focused on mental health.
Unauthorized use or reproduction of The Finance Today content for commercial purposes is strictly prohibited.