National /
Right based CSO demand climate justice free from fossil fuels
---
Mustafa Kamal Akanda
Published:
2023-09-16 01:27:00 BdST
Right based CSO demand climate justice free from fossil fuels
---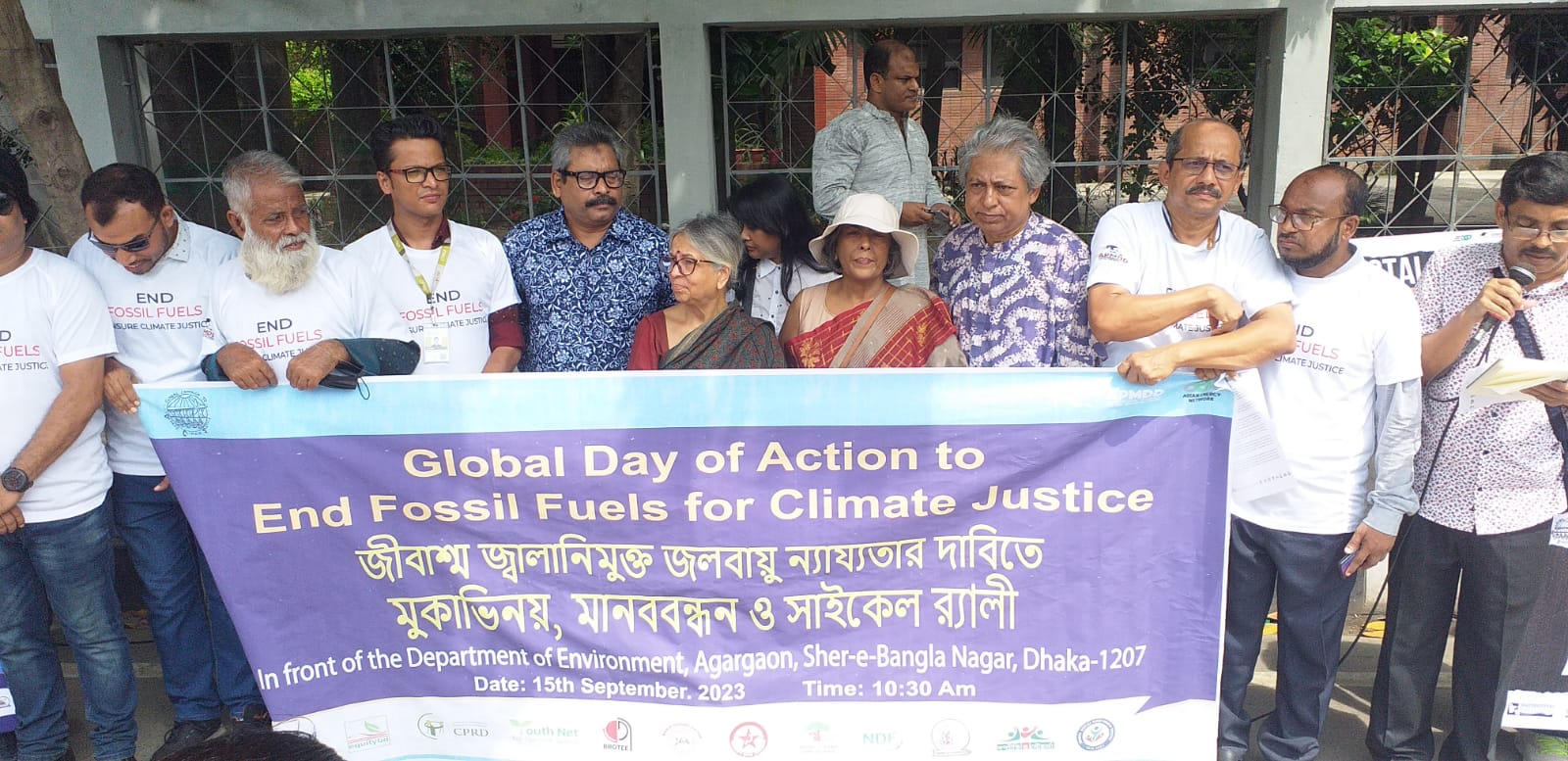 A group of rights-based organizations today united their voices to advocate for a future free from the constraints of fossil fuels.
They organized a human chain in Dhaka. The human chain was jointly organized by Waterkeepers Bangladesh, EquityBD, Brotee, Sundarban and Upakul Surakka Andolan, Youth Net for Climate Justice, Centre for Participatory Research and Development, Global Law Thinkers Society, Bangladesh Krishaka Federation, and Bangladesh Cycle Lane Bastabayn Parishad.
During the event, speakers emphasized the critical role of the upcoming United Nations General Assembly, scheduled for September 20th in New York, USA, as a pivotal global platform for deliberating and resolving international issues, due to its representation of all member states.
Simultaneously, the UNSDG Climate Ambition Summit'23, announced by the UN Secretary-General, holds the promise of much-needed reforms in climate policy making. Nevertheless, the positions of affluent and industrialized nations in these forums continue to impede progress toward meaningful climate change solutions.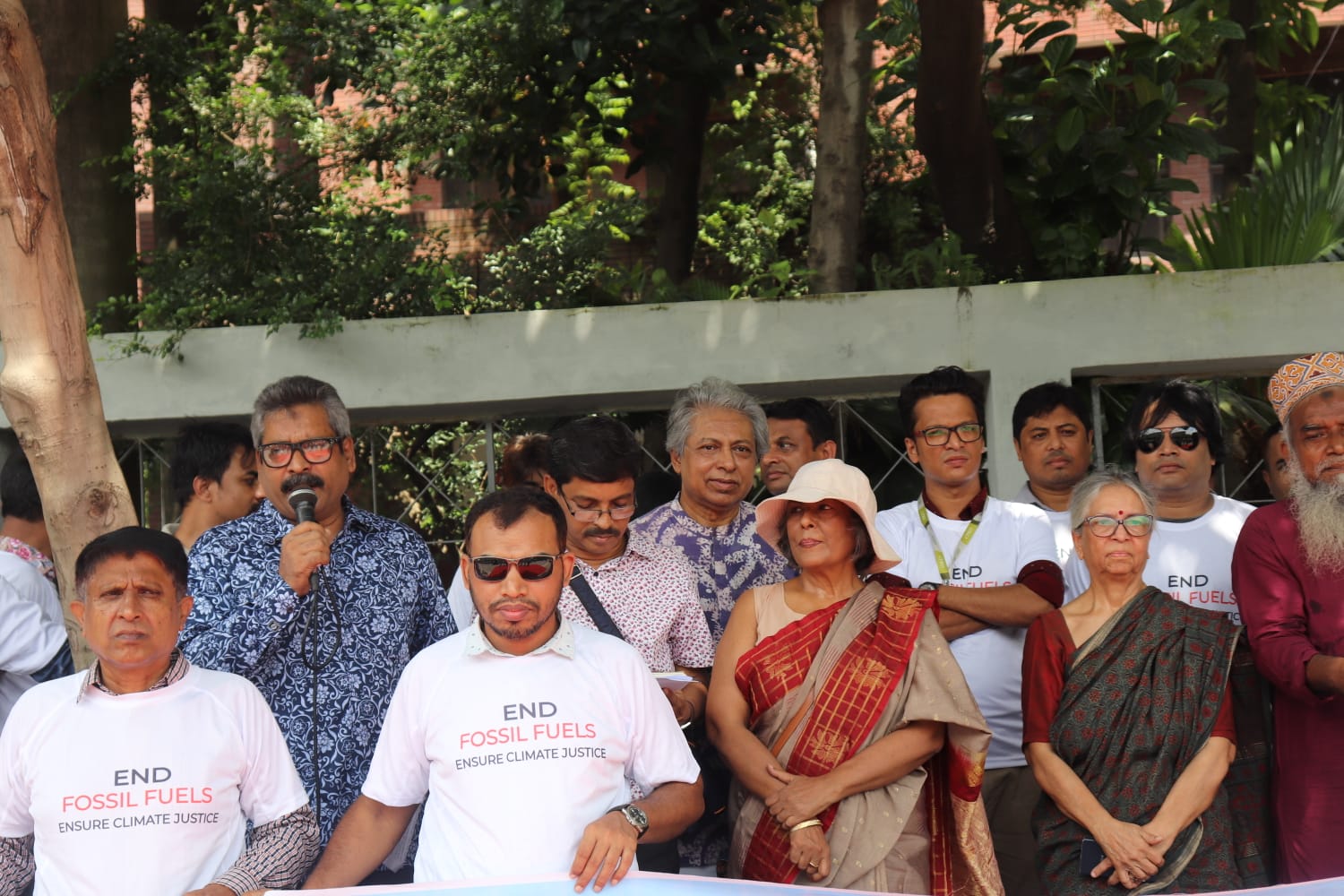 Speakers further expressed their concerns that, despite impassioned pleas from international organizations and climate-affected nations, representatives at the 2023 COP-27 summit failed to reach a consensus on transitioning away from fossil fuel-dependent energy systems. Previous efforts to combat climate change were thwarted by the resistance of numerous countries seeking to safeguard their financial and business interests. The intransigence of wealthy nations has obstructed the implementation of critical climate initiatives.
Additionally, countries in the Global North have aggressively bolstered their non-renewable energy production with substantial subsidies and incentives. In 2022 alone, G-7 nations poured $1.4 trillion into fossil fuels, nearly doubling pre-pandemic levels. The G-20, another group of prosperous nations, appears poised to perpetuate their reliance on fossil fuels, endangering global climate efforts.
The speakers also drew attention to various countries' actions, such as the United States and the United Kingdom's plans for new gas fields, Japan's ambitious pursuit of the Asian LNG market, China and Korea's expansion of fleet capacity, and India and Indonesia's intention to continue coal-based energy usage for economic growth.
These actions, they contended, demonstrate a shocking disregard for the climate crisis. While powerful nations articulate lofty rhetoric in international forums, their true intentions are becoming increasingly evident. Climate change is viewed by these nations as a new arena in which to assert dominance.
They treat climate change as they would any other national security concern, prioritizing self-protection from its adverse effects and seeking to establish dominance in the realm of climate diplomacy on the global stage.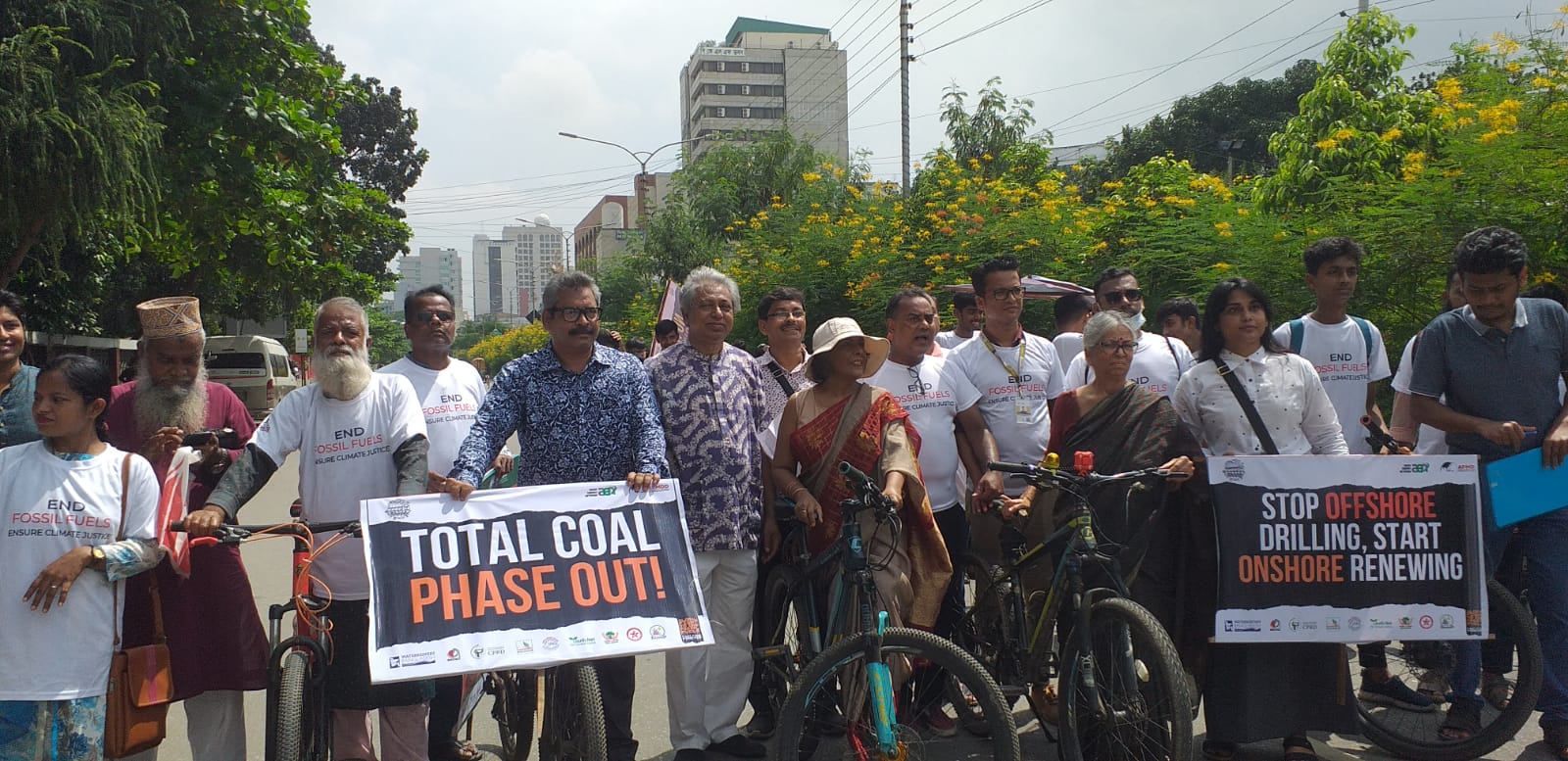 The organizers of today's human chain event underscored the critical importance of disseminating information about climate change and the imperative of abandoning fossil fuels to the media, organizations, and the general public.
They called for unwavering support for the discontinuation of fossil fuel use and urged the widespread dissemination of this demand.
This event, held simultaneously across the country, including Dhaka, is part of a global movement aimed at mobilizing public opinion for climate justice and advocating against the use of fossil fuels.
Unauthorized use or reproduction of The Finance Today content for commercial purposes is strictly prohibited.