National /
BD faces socio-economic shock of longer Rohingya stay
---
Rubel Rana
Published:
2018-08-26 10:40:43 BdST
BD faces socio-economic shock of longer Rohingya stay
---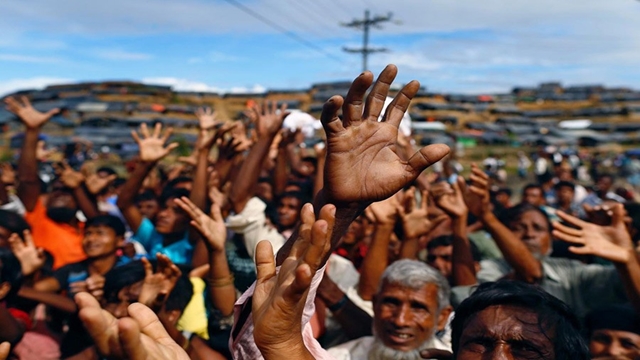 FT ONLINE
As hopes of quick repatriation of over one million Rohingya are fading away, Bangladesh is facing the challenge of absorbing the social and economic shocks of hosting a large number of refugees for an indefinite period.
Economists and foreign relation experts believe that long stay of the Rohingya people in the country will be catastrophic for its socio-economic structure.
The Bangladesh government, led by Prime Minister Sheikh Hasina, has shown unprecedented generosity in hosting such a large number of Rohingya people who fled Myanmar due to 'the textbook case of ethnic cleansing' by Myanmar security forces since August last year.
"As their stay lingers, hosting them will be a tough job considering our limited resources," former foreign secretary Towhid Hossain said.
Already the country paid hugely due to an influx of one million Rohingya with the loss of a vast area of forest, fall in labour wage, degradation of environment and rise in living cost in Cox's Bazar and adjacent areas.
Economists mentioned that each month around Tk 8 billion will be required for hosting Rohingya and per day expenditure per Rohingya stands at US$ 2.45 or BDT 198.
"The humanitarian support currently provided by the international organisations will not continue for a long period. Hence, the burden will fall on the government of Bangladesh," said Prof Mustafizur Rahman, Distinguished Fellow of the Centre for Policy Dialogue (CPD).
On March 16, 2018, the United Nations and its partners launched a Joint Response Plan (JRP) for the Rohingya Humanitarian Crisis calling for US$ 951 million to continue delivering lifesaving assistance from March to December 2018. As of early August 2018, the JRP remains just 32 per cent funded.
United Nations High Commissioner for Refugees (UNHCR) is appealing for US$ 238.8 million as part of its Supplementary Appeal for 2018 in order to continue to respond to the needs of hundreds of thousands of refugees.
"We have to keep in mind that we are housing a population with a size of Bhutan in only 6,000 acres of land. So, definitely this will have a huge socio-economic impact in hosting them," said Prof Imtiaz Ahmed of Dhaka University.
A recent damage assessment of the Rohingya influx shows that around 6,000 acres of land was deforested by the Rohingya camps damaging resources worth Tk 7.41 billion or US$ 86.7 million.
A total of 3,713 acres of forest lands have already taken for camp settlement and around 90 per cent of forest lands will be cleared within 10-km buffer zone, if firewood is collected at the current rate as total monthly requirement of firewood for Rohingyas is approximately 6,880 tonnes, according to an estimate presented by CPD.
The Rohingya crisis impacts employment, daily wage, cost of living, tourism and law and order situation.
In Kutupalong and Balukhali areas where nearly 0.6 million refugees are encamped, locals are suffering from low wage as a huge number of Rohingyas offer their labour at half price.
Talking to the FE, a local restaurant owner at Balukhali said he employed four Rohingya youths in his hotel at Tk 150 per day basis whereas he had to pay Tk 300 to a local labourer per day.
Another problem is black marketing of relief goods by some refugees. In Rohingya camps, surplus relief materials like rice, lentils, edible oil and milk powder are available at lower prices which also affect local traders.
It was found that rice was sold at Tk 35 per kg against Tk 50 in the local market, lentils at Tk 70 per kg against Tk 150, and edible oil at Tk 60 per litre against Tk 120 in the local market.
Locals also alleged that transport cost and house rent increased manifold in the locality.
About echo-system degradation it says, Teknaf Wildlife Sanctuary (TWS), Inani National Park and Himchari National Park may be affected by firewood collection.
Asian elephants are becoming critically endangered due to this influx. According to International Union for Conservation of Nature (IUCN), 40 elephants have been trapped in the west side of Rohingya camp near Myanmar border.
There are also concerns regarding the placement of tube-wells because some of the implementers have installed shallow ones at a much lower height (30-40 feet). This means tube-wells will become useless after sometime since they will not reach the groundwater. Hence, scarcity of safe drinking water is likely to arise.
Citing an example of environment degradation experts said major shelter materials in camp area are tarpaulin, aluminium and bamboo which are non-disposable item except bamboo.
Drinking water is supplied to the Rohingya camps through plastic containers that is another environment issue, said experts.
There are also concerns about human trafficking, forced prostitution, drug cartel and violence. There are reports of growing law and order problems both inside and outside the camps and sometimes intra-Rohingya violence are taking place.
Home Secretary Mostafa Kamal Uddin said though these concerns were genuine, the government had taken strict measures to stop trafficking and to maintain law and order.
But international funding is not coming at a required pace.
"This was the fastest growing refugee crisis in the world and the challenges have been immense. Countless lives have been saved thanks to the generosity of the government of Bangladesh, the local community and donors, and the hard work of all those involved in the humanitarian response," said Giorgi Gigauri, Chief of Mission of International Organisation for Migration (IOM) in Bangladesh.
"But we now face the very real threat that if more funding is not urgently secured, lives will once again be at risk," he added.
Unauthorized use or reproduction of The Finance Today content for commercial purposes is strictly prohibited.