National /
On-grid solar plant cuts load-shedding in Jamalpur
---
SAM
Published:
2018-10-03 14:08:57 BdST
Consumers relieved of disruption, pollutionOn-grid solar plant cuts load-shedding in Jamalpur
---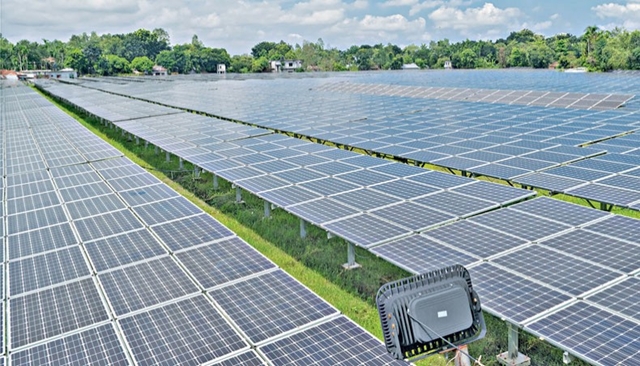 FT ONLINE
The first on-grid solar plant in the country has been producing renewable energy and supplying it to Sarishabari Sales and Distribution Division of Power Development Board (PDB) under the national grid for over one year.
Installed by a private company on Bangladesh PDB premises in Sarishabari upazila, the 3MW plant has contributed to reducing load-shedding for consumers under the division.
The 20-year-life-span Engreen Sarishabari Solar Plant set up by Concord Progoti Consortium Ltd (CPCL), which installed 11,600 solar panels on eight acres of land of the division, started generating power for 12 hours from sunrise to sunset and providing it to 33/11kv sub-station of the division in August in 2017, said plant manager Motaharul Islam.
A total of 17,514 consumers, including residents, educational institutions, health and diagnostic centres, business establishments, banks and different offices, under the division have a demand for 6,000 kilowatt of electricity per hour, said Mofazzal Hossain, executive engineer of the division.
The division can distribute 4,000 kilowatt to 4,500 kilowatt per hour among the consumers. As a result, the consumers had to face load-shedding for seven to eight hours daily before the solar plant started adding power to the division, said Mofazzal.
Load-shedding has declined to two to three hours as the solar plant is able to supply, on an average, 1,000 kilowatt per hour to the sub-station, from where the consumers are getting power with little disruption, he added.
A number of consumers, including owners of business establishments, told this correspondent that they have not been facing load-shedding frequently since the generation of the renewable energy.
Apart from this, the solar plant is also keeping the environment free from air and sound pollution.
The plant generates power from sunlight by converting light energy to electrical energy through mono-crystal cells of the solar panels. During the conversion process, the panels absorb carbon dioxide gas, the main culprit of the greenhouse effect, from the air.
The solar panels can absorb 78 grammes of carbon dioxide from each unit of power generation. The panels produce on an average 12,000 units from sunrise to sunset (12 hours) and absorb 936 kgs carbon dioxide daily, 28.08 tonnes monthly and 336.96 tonnes yearly.
Besides, there is no sound pollution when the solar panels generate the power, which is called green energy.
On the other hand, the fossil-fueled power plants emit a huge amount of carbon dioxide and pollute the air, which ultimately harms living things.
Moreover, people around those plants are exposed to high level of intolerable sound made by them, which is greatly harmful for health.
"Earlier, we had to face power disruption for half an hour to one hour or more every one or two hours daily, which hampered our businesses," said several traders, including Suruzzaman, who runs an electronic goods shop.
"Due to availability of power, students at Children's Home Public School in the upazila headquarters can now concentrate on their teachers' lectures and avail the opportunity of learning more from the classes conducted with multi-media," said Fazlur Rahman, headmaster of the institution.
Entrepreneurs from different sectors should be encouraged to set up more on-grid or off-grid solar plants to generate green energy so that the demand for power can be met and the environment saved from pollution.
CPCL invested Tk 54.22 crore to set up the plant, and is spending Tk 5 lakh monthly for staff salary. By selling power to PDB for Tk 15 per unit, the company hopes to recover its total investment and expenditures within the first 10 years and make profit of over Tk 50 crore in the next 10 years.
Unauthorized use or reproduction of The Finance Today content for commercial purposes is strictly prohibited.