National /
Parliament regains people's trust: PM
---
FT Online
Published:
2019-09-09 11:39:17 BdST
Parliament regains people's trust: PM
---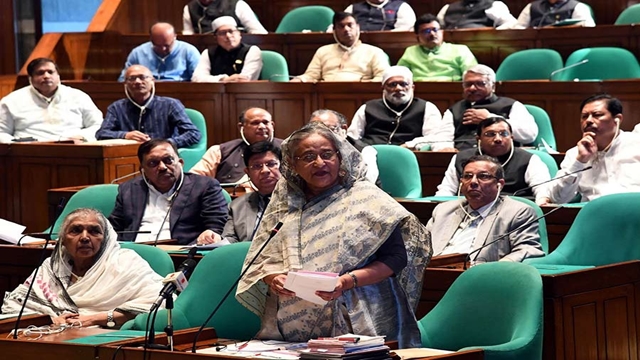 Prime Minister Sheikh Hasina has said the parliament of Bangladesh has regained the trust and confidence of the people in last 10 years.
"I believe that the confidence and trust of the people on parliament have returned in the last 10 years," she said while taking part in the discussion on an obituary motion taken by the parliament on Sunday.
The obituary motion was taken for deaths of dignitaries including Jatiya Party Chairman HM Ershad and Bangladesh National Awami Party (NAP) President Professor Muzaffar Ahmed and former lawmaker Sirajul Islam.
The prime minister said, "They (Jatiya Party-Ershad) have been working as (main) opposition party after the general election of 2014, which is necessary for the socio-economic development of a country."
She went on saying that the country has witnessed a huge socio-economic development and achieved a dignified position in the world.
Praying for eternal peace of the departed soul of the then opposition leader in the house HM Ershad, she said that nothing is left after death of a people despite there were many things to say as they (Awami League leaders and activists) were captured and inhumanly tortured by the then Ershad government.
"Despite the fact, we have compromised with many things for the sake of the country, people, democracy, and development and are working for the overall development of the country to reach the fruit of the independence to the doorsteps of the people," she said.
Sheikh Hasina accused Khaleda Zia of paving the way for HM Ershad to take over power in 1982 and enjoying various facilities from the former military ruler.
"Sattar (Justice Abdus Sattar) was the acting chairman of BNP. Though Begum Khaleda Zia didn't join politics at that time, she suddenly made a statement to oust Sattar from the post of chairman. I would like to say Khaleda Zia had created the scope for Ershad to grab power in 1982," she said.
"This is why General Ershad gave them not only two houses but also many other facilities, including Tk 1.0 million in cash. So, BNP didn't move for the Zia killing case at that time. After many years -- may be in 1991 or 1994 -- Khaleda Zia blamed Ershad for killing her husband.
Sheikh Hasina said Justice Abdus Sattar was BNP candidate in the 1981 presidential election. In fact, then Army chief General Ershad had made him (Sattar) the candidate.
In a foreign newspaper, Ershad announced Sattar as his candidate. But Awami League raised objection to such a candidature and urged for holding the election in a fair manner for the sake of the continuation of democracy, she said.
Unauthorized use or reproduction of The Finance Today content for commercial purposes is strictly prohibited.