National /
Samrat, Arman jailed for wildlife law violations, drunkenness
---
SAM
Published:
2019-10-07 14:43:52 BdST
Samrat, Arman jailed for wildlife law violations, drunkenness
---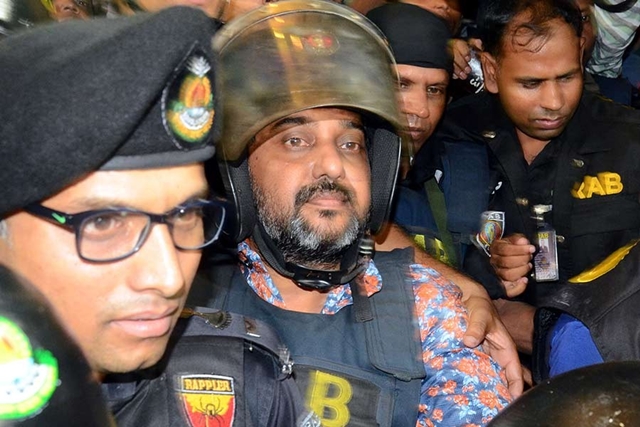 FT ONLINE
Hours after their arrest, Jubo League leaders Ismail Hossain Chowdhury Samrat and Enamul Hoque Arman were jailed by a mobile court for six months each on Sunday, for wildlife law violations and drunkenness, respectively.
RAB Executive Magistrate Mohammad Sarwar Alam came up with the information while talking to reporters after the end of a raid at Samrat's office in Kakrail area in Dhaka around 6:20 pm on Sunday.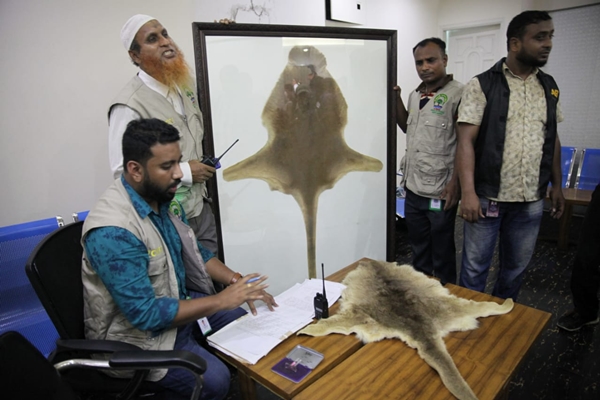 Samrat, allegedly a top casino kingpin, was sentenced under the Bangladesh Wildlife Preservation Act after a RAB raid found the hide of two kangaroos at his Kakrail office in Dhaka.
The executive magistrate added that Arman faced imprisonment as he was drunk while being arrested along with Samrat from the Chauddagram upazila of Comilla around 11 pm on Saturday.
Several hours later, Dhaka South city unit Jubo League President Ismail Chowdhury Samrat and Vice President Aarman were expelled from the ruling party youth wing for breaching party discipline and carrying out unethical practices.
Iqbal Mahmood Bablu, publication secretary of the Central Jubo League, confirmed the matter to media on Sunday afternoon.
Samrat, Arman hid at Jamaat leader's home
Samrat and Arman had gone into hiding in a two-story home belonging to Monir Chowdhury in the Kunjashreepur village under Alkora union in the upazila.
Monir is a local Jamaat leader, confirmed by our local correspondent, adding that the accused spent three days in the house before being arrested while Monir was present.
Monir's brother-in-law and Awami League leader Alauddin, who is the Feni municipality mayor, was also present during the raid, said Aalkora Union Parishad Chairman Golam Faruq Helal.
The chairman claimed that Monir was known to be a Jamaat leader in the area.
RAB-11 acting commander Pranab Kumar said they started raiding the area around 7:30 pm on Saturday.
"Some 12-14 of our vehicles were engaged in the operation, and we stopped traffic on different roads leading to our targeted spot," he said on Sunday morning.
Around 9:30 pm on Saturday, about 50 RAB personnel surrounded Monir's house and finally arrested Samrat and Arman, bringing them out of the building nearly one and a half hours after entering.
The RAB officials left the area along with the two around 1 am on Sunday.
Alkora Union Parishad Chairman Helal said they had little idea about Samrat and Arman taking shelter at Monir's house.
"However, Alauddin was seen visiting Monir's residence several times in the last two-three days," he added.
Samrat tried to flee to India
Some villagers said Islamil Hossain Bachchu, the former chairman of the union, is loyal to Samrat. Bachchu helped Samrat take refuge in Monir's house.
Since the Kunjashreepur village is close to the Indian border, locals suspect Samrat might have chosen the area with the aim to cross over into the neighbouring country.
What RAB said
In a media briefing at the RAB headquarters on Sunday afternoon, RAB Director General (DG) Benazir Ahmed said it took them longer than usual to locate the actual whereabouts of the casino kingpin.
He said Samrat went into hiding within two days of the illegal casino raids across the country.
The RAB DG said: "Due to the media's constant writing about Samrat, he applied various techniques so that law enforcement agencies could not find him."
However, DG Benazir did not elaborate on what techniques Samrat had used.
The RAB DG urged the media to be more careful from now on when writing about sensitive matters such as this.
When asked about the actual accusation against the Jubo League leader, the RAB DG replied: "Samrat's name came up when most of the casinos were raided, and based on that he was arrested."
His accomplice Arman was also arrested for his alleged involvement in the casino business.
Raids at Samrat's Kakrail office, residences
RAB cordoned off Samrat's Dhaka South Jubo League office in Kakrail around 1:40 pm on Sunday and started a raid there in the presence of Samrat, whom they had brought in from Comilla nearly 30 minutes earlier.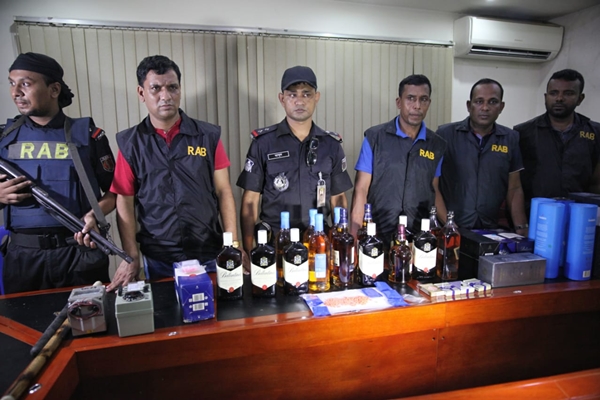 RAB Executive Magistrate Sarwoer Alam led the raid and found two kangaroo hides, more than 1,000 yaba pills, some bottles of liquor and one foreign-made pistol, one magazine, five bullets.
RAB Director (Legal and Media Wing) Lt Colonel Sarwar Din Quasem said they also recovered some electric gadgets. The force believes the gadgets may have been used to torture people.
RAB-2 and RAB-3 also raided Samrat's Mohakhali DOHS and Shantinagar residences, respectively.
Nothing illegal was found in his Mohakhali residence, where his second wife Sharmin Chowdhury, her brother and sister-in-law live.
The RAB-3 team managed to recover money in various currencies and credit cards from Samrat's brother's Shantinagar residence.
Raid at Arman's apartment
Led by Executive Magistrate Md Ansiur Rahman, RAB-4 raided an apartment allegedly owned by Arman at Mirpur. Some cheque books and documents regarding his wife's business were found.
RAB-4 second-in-command Major Kazi Saifuddin Ahmed said Arman's wife lives in the apartment with his children, but the elite force is not sure if Arman actually owns it.
"We raided there to check if there is something illegal. But they [Arman's wife and children] fled the home before we arrived," he added.
Gambling was Samrat's only hobby
During the raid at Samrat's Mohakhali house, his wife Sharmin Chowdhury told reporters that he always used to lead his life as if he were a Samrat (emperor).
"My husband, Samrat has been an all-time emperor. He did not have a house, other than the one in Mohakhali. He lives in Shantinagar," she said.
The second wife of the former Jubo League top leader said her relation with Samrat had not been cordial for the last two years, yet, he [Samrat] continues to bear the family expenses.
"He has not made any visits to his Mohakhali residence for the past two years, as he could not climb up the stairs, as he underwent an open heart surgery earlier," she added.
According to his second wife, Samrat does not own much property.
"He spends the money for the party which he earns from the casino business. And some money, that he used to keep in his possession, was spent in gambling and casino visits in Singapore," she said.
She said Samrat is used to behave well with everyone.
"Party people admired him a lot. He used to help people," she said this while explaining how her husband has been as a person.
The wife claimed that she knew Khalid Mahmud Bhuiyan, former organizing secretary of Jubo League Dhaka (South) city unit, and the man involved with the casino, but does not have any knowledge about Golam Kibria Shamim, better known as GK Shamim.
When asked about Samrat's association with joint casino business, Sharmin replied and said that politics changed over time.
"People do not participate in processions without money. He [Samrat] needed money for this and he might have got involved with casino businesses because he was in need of money," she said.
Sharmin claimed that Samrat had the courage and capacity to organize people for political events, street processions and meetings.
The second wife of former Jubo League leader, however, thanked Prime Minister Sheikh Hasina for launching a crackdown on illegal casinos.
Protests demanding Samrat's release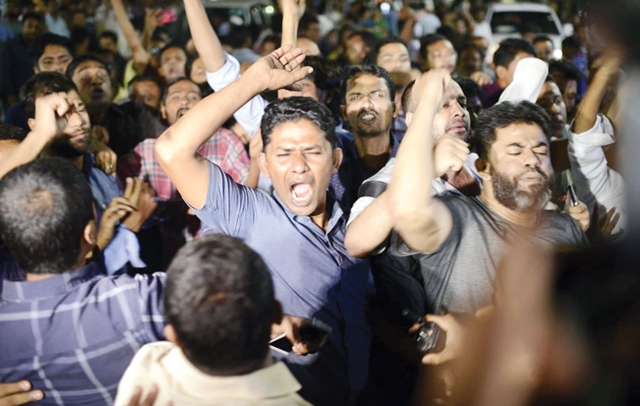 Around 300 Jubo League leaders and activists, as well as the supporters of Samrat, staged a demonstration when he was being taken to jail from his Kakrail office.
The incident took place around 7 pm in front of the Bhuiyan Mansion in Kakrail.
The protesters chanted slogans demanding his unconditional release and also scuffled with several law enforcement officials.
Police and RAB personnel, caught by surprise, charged baton to disperse the activists and detained three.
The detainees were mere supporters with no post in Jubo League, Ramna Police Station OC Mainul Islam said.
One of the leaders close to Samrat said on condition of anonymity fearing arrest that many have gone into hiding after the crackdown started.
Another leader said: "It may be possible for the party to tackle any violence by the opposition with the help of the administration, but if it loses power by chance, it will feel the need for fighters like Samrat."
"You can't do politics with the members of the civil society. You'll need mega-fighters (sic) like Samrat Bhai for politics. I feel bad to see such a leader, who devoted himself to the party, thrown out," he said.
Earlier, after being suspected of running illegal casinos, Samrat was issued with a travel ban and had gone into hiding, according to police.
The involvement of Jubo League leaders in overseeing illicit gambling operations came to light after the Rapid Action Battalion (RAB) uncovered illegal casino business during raids on the Fakiererpool Young Men's Club, Wanderers Club, and MuktijoddhaKrira Chakra on September 18.
The elite police unit arrested Khalid Mahmud, organising secretary of Jubo League's Dhaka south unit, the same day, before detaining Kalabagan Krira Chakra President and Krishak League leader Shafiqul Alam Firoz.
Two days later, Jubo League leader and businessman GK Shamim was arrested for money laundering, illegal possession of arms, and narcotics.
Unauthorized use or reproduction of The Finance Today content for commercial purposes is strictly prohibited.