National /
A rumour that triggers panic buying of salt
---
SAM
Published:
2019-11-20 17:07:04 BdST
A rumour that triggers panic buying of salt
---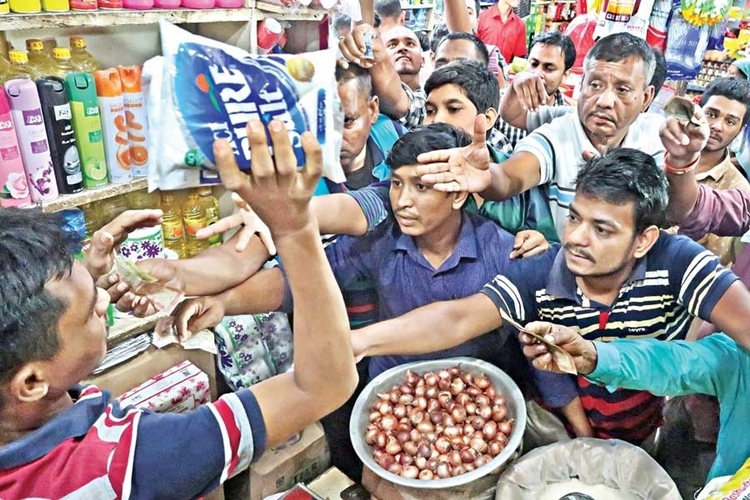 FT ONLINE
Just like any other day, Rupam Rifat, a private firm staff, was busy at his desk in the office. Things were going well until he received a phone call.
Rupam, not his real name, received the phone call from his elder sister. Now just guess what could be the issue!
It is really sad to say that it was all about salt price that started shooting up based on a rumour!
What did Rupam hear from his sister? The answer will surely surprise you. "
I heard salt will be sold at Tk 150 per kg from tomorrow, and I see some crowds around. Would you please buy some salt both for you and me today before it skyrockets tomorrow," Rupam, a newly-married man, quoted her sister as saying.
Rupam took the message seriously and was not ready to waste a moment. He stormed out of his office and rushed to a nearby grocery store to buy salt, whatever amount is possible, for his family, sister and relatives who live nearby.
With the ghostly episode of onion in mind, Rupam planned to go for a big buying. He went for it like a grocer and bought 20 kgs of salt in a big sack at Tk 36 per kg when it was still selling at Tk 35 per kg!
Hours later, Rupam was cursing himself as he came to know that it was nothing but a rumour as the country has adequate salt in stock.
Asked whether he wanted to verify the information of possible price hike of salt from Wednesday what he heard from his sister, embarrassed Rupam said: "No, I didn't. I should have done it before such a huge purchase."
The young man is now a bit confused about what to do! He put the sack of salt in a room on his office floor in an effort to avert taunting by colleagues.
This is the eerie story of Rupam. Embarrassed with what he did, he wanted to share so that others do not pay heed to any rumour.
Rupam is one of the victims of rumour over salt price which actually led to the quick vanishing of salt from some grocery stores and kitchen markets in the city.
The government on Tuesday said an unholy syndicate is trying to reap benefits by spreading misleading information through online media.
The government also urged all not to get confused with misleading information over salt stock and price being spread by an unscrupulous group saying the current salt reserve is much more than the country's needs.
"There's no shortage of salt. At present, the salt stock in the country is much higher than the demand," said Chairman of Bangladesh Small & Cottage Industries Corporation (BSCIC) Md Mostaque Hassan.
He said an unholy syndicate is trying to reap benefits by spreading misleading information through online media. "The people of the country are requested not to get confused."
The BSCIC chairman said the salt stock in the country was 6.50 lakh metric tonnes on November 15 and the country saw record salt production in the 2018-2019 fiscal year – 12.24 lakh metric tonnes - which was much higher than the target.
He said the government attained self-sufficiency in salt production due to the hard work of the salt farmers and the government's policy support.
At the directives from the Industries Ministry, a control room has been opened at the BSCIC headquarters (Phone No: 02-9573505, mobile phone: 01715223949) for all the salt-related information.
The Industries Ministry said some 4.5 lakh metric tonnes, out of the total 6.50 lakh metric tonnes of salt, are with the salt farmers of Cox's Bazar and Chottagram while there is a stock of 2.45 lakh metric tonnes in various salt godowns across the country.
The ministry also said the salt production season began this month and the new supply of salt, produced in Kutubdia and Moheshkhali Upazilas of Cox's Bazar, started coming to the market.
Adequate stocks of salt are also there with various salt dealers, wholesalers and retailers, said the government.
The monthly demand of edible salt in the country is more or less 1 lakh metric tonne whereas the current stock is over 6.50 lakh metric tonnes, said the Industries Ministry adding, "There's no question of shortage or crisis of salt."
The government said it appears that a vested group, in an unholy approach, is spreading rumor, to make a hefty profit and destabilize the salt market.
The Industries Ministry urged all not to get confused by the rumors.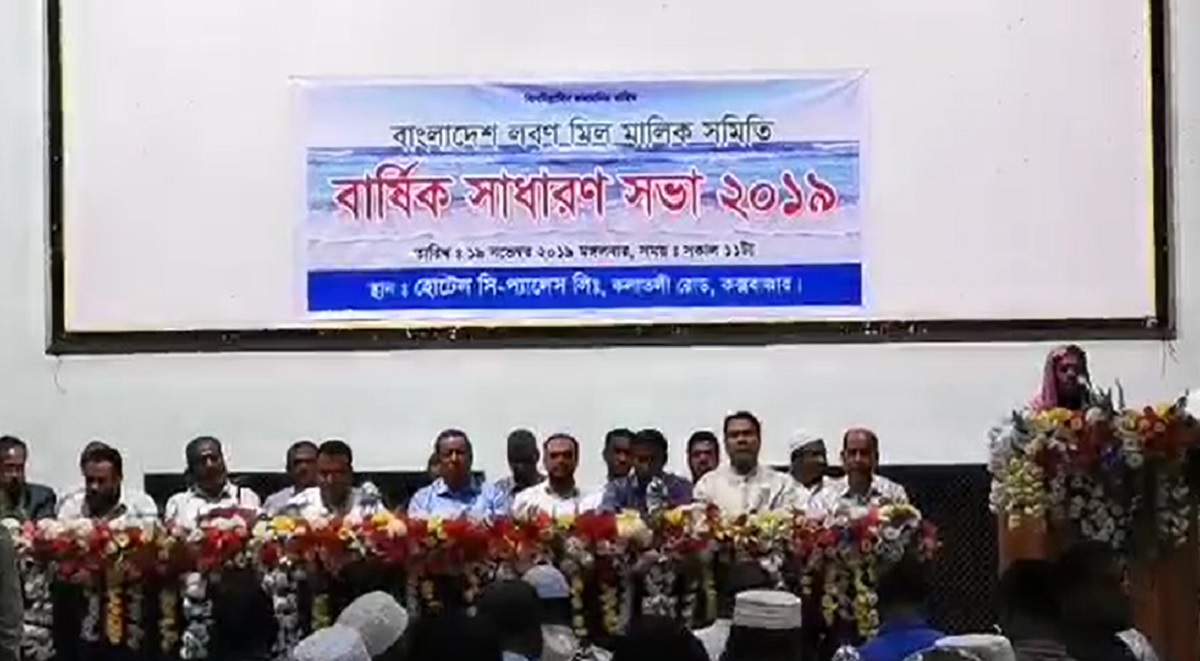 Leaders of the Bangladesh Salt Mills Owners Association (BSMOA) claimed that there was no shortage of salt. It also said a quarter was trying to create a crisis in Sylhet and other areas to make profit.
They made the comments in their annual general meeting at Cox's Bazar town on Tuesday noon.
The meeting was told that at present the market of salt in the country is completely normal as the country has a surplus of more than 0.3 million tonnes. They said that consumers will use surplus salt at least for the next three months.
The meeting was addressed among others by President of BSMOA Nurul Kabir, Vice president Motaherul Islam, Aftab Hossain, Master Abdul Kader, Fazlul Haq, Sajjad Hossain Chowdhury, Abu Hanif, Mir Ahmed and Kutub Uddin.
They said a section of smugglers was trying to import salt from abroad creating an artificial crisis in Sylhet and other parts of the country.
"Profit-monger traders spread a rumour that salt price was Tk 150 a kg. We want immediate punishment to them as they are hatching a conspiracy to destabilise the market", Nurul Kabir said.
He also said that some traders were importing toxic salt in the name of industrial salt.
Unauthorized use or reproduction of The Finance Today content for commercial purposes is strictly prohibited.