National /
Transport strike: Narayanganj protesters waylay vehicles, take away keys
---
SAM
Published:
2019-11-20 18:15:03 BdST
Transport strike: Narayanganj protesters waylay vehicles, take away keys
---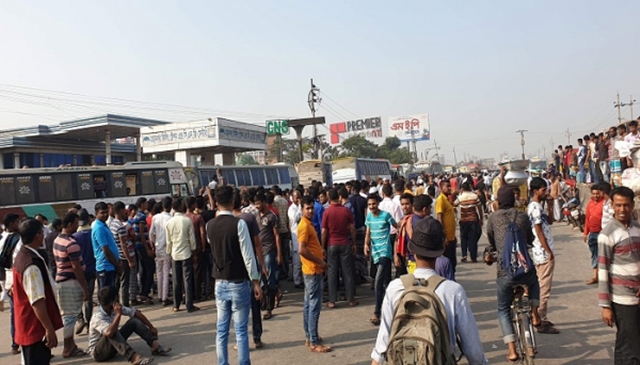 FT ONLINE
A group of transport workers from Siddhirganj took to the street as part of their indefinite strike protesting enforcement of the new Road Transport Act on Dhaka-Chattogram highway near Signboard area of Narayanganj on Wednesday morning.
They blocked the Dhaka-Chittagong highway and waylaid vehicles after they gathered in the area around 6:30 am.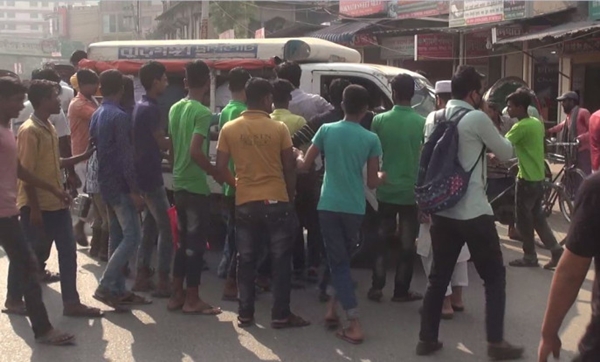 The protesting workers reportedly took away the keys from the drivers and got passengers out of the vehicles.
They created a blockade on roads keeping the 'seized vehicles' randomly on the high way. This blockade made chaos and suffered people in many areas of capital today.
Our correspondent from the Signboard area informed us that few of the protesters threating drivers of public buses who are willing to drive.
One of them told The Finance Today that he has a valid driving licence and his vehicle is fit for the drive. But when he intends to drive; some protesters take away his keys and threaten not to drive.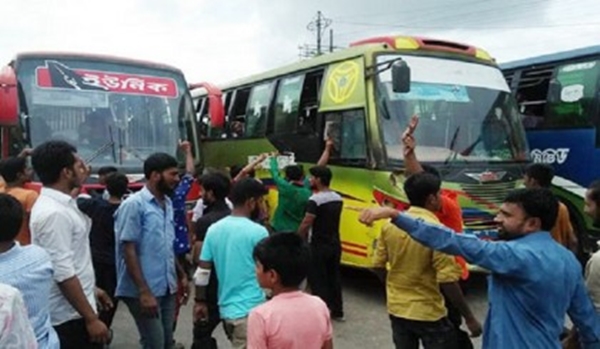 Another one informed our correspondent that those who are leading this blockade are BNP-Jamat activists. They are making a chaotic scene and want to suffer mass people.
Thousands of people were seen waiting for buses in Farmgate, Karwan Bazar, Bangla Motor and Kataban, Matuail, Donia, Jatrabari areas.
Our correspondent from Donia said that at least two to three hundred people standing in the Matuail, Donia and Jatrabari roadside and eagerly waiting for buses and faces an unexpected halt of public transport.
He informed us that without giving any prior notice, a section of transport owners and workers has started an unannounced blockade on that route.
Abdul Khaleq, a resident of Dhalpur area alleged that he along with his wife had been waiting at Golapbagh Biswa road for about an hour for transport.
"Only a handful of passenger buses are now plying on this route with excessive passengers. I along with my wife hardly tried to get into a bus but failed," he said.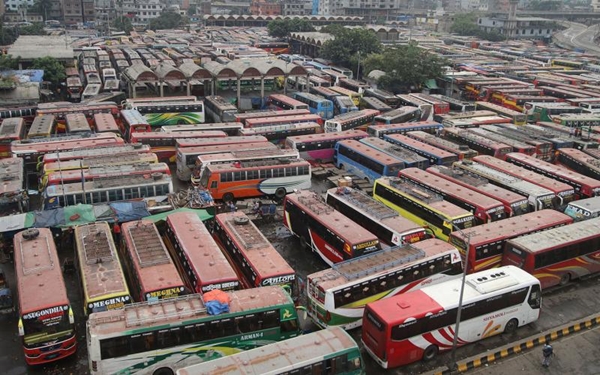 However, Long-route bus services from the Sayedabad bus terminal remained suspended since Wednesday morning as a section of transport owners and workers has started an unannounced strike to put more pressure on the government to amend the newly enforced Road Transport Act.
Hundreds of people were seen waiting for buses in the terminal as the transport workers suspended the operation around 6:00 am.
Terminal sources said that no long-route buses left Sayedabad for Noakhali, Cumilla, Chattogram and some other southern districts of the county since this morning.
Road Transport Act 2018 was approved by the Cabinet Division on August 6, 2018, following the nationwide student protest that took place on July 29, 2018 after two college students were killed by a speeding bus.
The draft law was passed in parliament on September 19 and approved by President Abdul Hamid on October 9 of 2018.
On October 23 this year, the Road Transport and Highways Division issued a gazette notification announcing that the law would go into effect from November 1.
The Road Transport Act 2018 is replacing Motor Vehicle Ordinance 1983.
Unauthorized use or reproduction of The Finance Today content for commercial purposes is strictly prohibited.