National /
Flyovers in Dhaka: Are they any solution to traffic gridlock or scraps?
---
FT Online
Published:
2019-11-30 16:11:54 BdST
Flyovers in Dhaka: Are they any solution to traffic gridlock or scraps?
---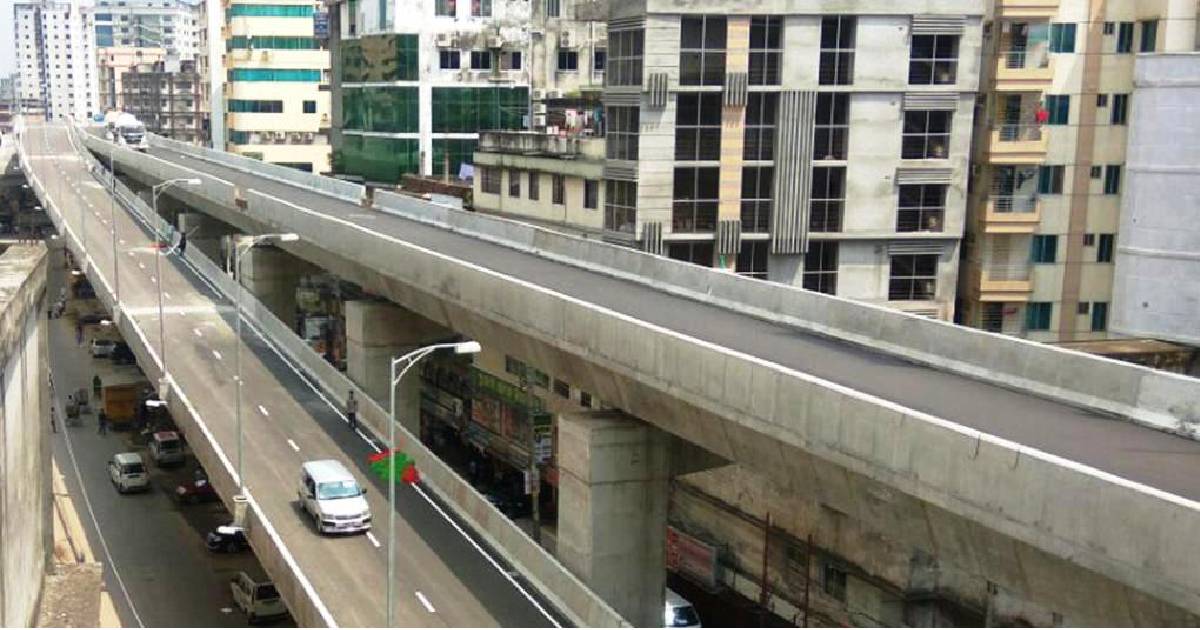 The capital city has witnessed seven flyovers built in and around it over the past 15 years, aiming to mitigate its nagging traffic jams but the virtually unchanged situation posed a question whether these high-cost mega infrastructures are really an effective solution to one of the most crippling menaces of the mega city.
A number of experts said the solution to gridlock lies not in erecting flyovers but increasing the number of public transports accessible to all sections of people and rapid decentralisation.
Seven flyovers --- Mohakhali, Khilgaon, Tejgaon, Banani, Kuril, Jatrabari and Mogbazar-- cumulatively offer an elevated road spanning of 29 kilometers and costing over Tk 4,000 crore.

Mayor Mohammad Hanif Flyover, opened in 2013, was constructed at a cost of nearly Tk 2,400 crore, and the 3.1 km-long Kuril Multipurpose Flyover (KMF) project was opened the same year costing nearly Tk 306 crore.
The last on this list is Mogbazar-Malibag flyover constructed at a cost of 1,219 crore after budget boost twice was opened in 2017.

Dr Shamsul Haque, a professor of Civil Engineering Department of Bangladesh University of Engineering and Technology (Buet) and an expert on road and transportation infrastructures, is doubtful about the usefulness of the flyovers scattered throughout the city.
"The first thing you've to know that there's no proof that the flyovers erected within the city have been able to add any benefit," he said.

Narrating the negative sides of excess intra-city flyovers, Dr Haque said, "Building a flyover within the heart of the city only increases the traffic pressure as both of its ends meet with the main roads get congested quickly."



"Take the case of Mogbazar-Mailbag flyover for example. The way it has been built, it merges twice the traffic in one road resulting in a rather deteriorated traffic condition in that area," he added.
"We've built roads over roads. These won't help solve the problem. Instead, we've encouraged the double volume of vehicles using the same route," Dr Haque pointed out.

He noted that the government needs to increase the number of mass transports like buses.
As there is an acute crisis of public transport to meet the demand of the public, investments should be made here instead of constructing flyovers, he added.

The transport expert went on saying, "For many reasons, the background cost of building flyovers in Dhaka city is extremely high. In many cases, the construction gets delayed, forcing the government to raise the budget. We had the opportunity to find a pragmatic solution but we failed to learn from mistakes…this crisis will trouble a consistent government like ours in the long run."

A research of Robert Gallagher, a transport planner, and South Asia specialist shows two major factors contributing to Dhaka's current traffic congestion -- lack of planning and preparation over previous decades, and an over-reliance on cars due to a deficient public bus system.

According to his study, the average traffic speed in Dhaka is currently 6.4 kilometers/per hour which may fall to 4.7 kilometers per hour by 2035 should the growth of privately-owned vehicles continue. An increased number of flyovers did not help the situation.

Dr Adil Mohammed Khan, a faculty member at Jahangirnagar University's Urban and Regional Planning department, the importance of sophisticated planning in transport infrastructure.

"Planning is a holistic affair; there're many components involving almost every stakeholder…building flyovers in the inner parts of a city brings no solution. The outskirts are somewhat facilitated but not the residents of the main city," he said.

Dr Khan who is also the General Secretary of Bangladesh Institute of Planners (BIP) mentioned that the opportunity cost of these flyovers is immense. "All the infrastructural development projects have specific opportunity costs…currently, seven flyovers are atop Dhaka which cost the government more than Tk 4,000 crore. This amount could've been used elsewhere to actually reduce traffic jam."

Dr Khan noted that if the said amount was used to buy more buses and introduce alternative transportation modes, its impact on the citizens had been more than the cumulative impact of the seven flyovers. "Another positive result of increased public transport would've been the reduction of private cars," he added.

He said: "Following this trend in Dhaka city, other important cities like Chattogram has seen rampant construction of flyovers that are barely used…subsequently, it will increase congestion there as well."

Dr Khan said there is no alternative to increasing the number of public transports to reduce the hazard of gridlock further complicated by flyovers.

"We've to boost the number of public transports, especially buses. They can be diversified according to the need of people in different areas…I think community-based mobility plans like 'Dhaka Chaka' can be followed to meet the transport demand of different classes," he said.

He emphaised the quick introduction of the much-anticipated 'route franchise' system where buses of all companies will run under one company in each zone, and the revenue will be shared among them. "This will reduce the competition among bus companies for grabbing more passengers resulting in safer roads."

The two experts said that proper planning for infrastructures, improved traffic management and reducing the number of private cars can also help minimise the problem, emphasizing the need rapid decentralisation.
Unauthorized use or reproduction of The Finance Today content for commercial purposes is strictly prohibited.