National /
Edible oil prices up for no reason
---
Abu Taher Bappa
Published:
2019-11-30 17:21:11 BdST
Edible oil prices up for no reason
---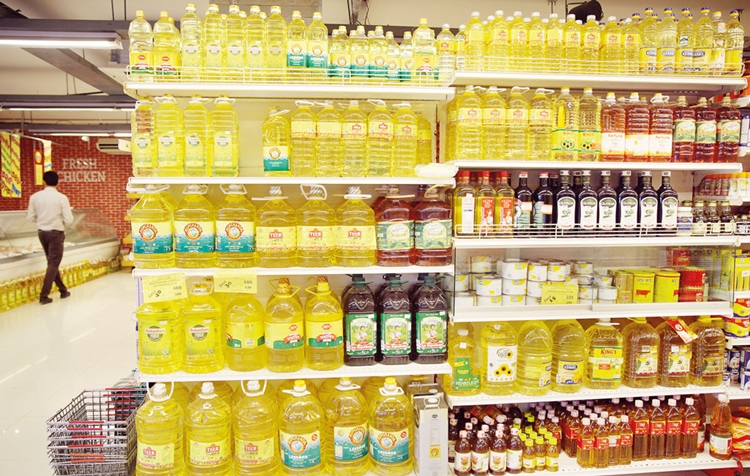 FT ONLINE
The prices of edible oils have soared despite a fall in the prices of the commodity in the global market over the last couple of months.
Soya bean oil (loose) increased to Tk 85-88 per litre -- a Tk 4.0-5.0 hike in the past two weeks.
Palm oil prices shot up by Tk 5.0-6.0 per litre and retailed at Tk 74-76 (super) and Tk 70-72 (normal) a litre on Friday.
However, the prices of bottled soya bean oil were found static at Tk 100-110 a litre.
Against this backdrop of a price hike, refiners and wholesalers have blamed each other for a spike in the prices of edible oils.
Prices of edible oils dropped globally for the past three months as crude soya bean oil hovered between $770 and $790 a tonne, according to Index Mundi.
Palm oil (crude) prices were below $600 a tonne for the last one year, said the global commodity web portal.
Despite a decline, local market sources said, prices of the two key edible oils are increasing in Bangladesh.
Faruq Hossain, a grocer at Rayerbazar area, said the prices of soya bean and palm oil have increased by Tk 3.0-4.0 a litre at Dhaka's Moulvibazar in recent weeks.
Abdur Rahman, a Moulvibazar wholesaler, said soya bean and palm oil prices have increased in Chattogram by Tk 1.5-2.0 a litre, forcing them to raise prices.
TK Group director Tariqe Ahmed said they have not raised prices of edible oils.
"No major price adjustment has taken place in the past three months," he added.
Biswajit Saha, director of City Group, the parent company of Teer brand, echoed Mr. Ahmed on the matter.
Wholesalers and retailers might have overcharged soya bean and palm oil compared to mill-gate prices, he mentioned.
Consumers Association of Bangladesh (CAB) secretary Humayun Kabir Bhuiyan said soya bean costs a refiner Tk 68-70 a litre, considering the rates during the September-October period.
He said the cost of palm oil (refined) is the highest Tk 54 a litre for refiners.
Mr. Bhuiyan said a hike in loose soya bean or palm oil means it will directly affect low-income groups who are already battered by rocketing prices of essentials.
Monitoring of the market must be heightened at mill gates, wholesale and retail outlets in Chattogram, Narayanganj and Dhaka to prevent any price spiral.
Bangladesh imports an estimated 2.4 million tonnes of edible oils and fats against the local demand for 1.9-2.2 million tonnes, according to the commerce ministry.
Of them, palm oil comprises more than 65 percent.
Unauthorized use or reproduction of The Finance Today content for commercial purposes is strictly prohibited.