National /
Mill-gate rice price hike could weigh on retail mkt
---
SAM
Published:
2020-02-10 18:22:26 BdST
Mill-gate rice price hike could weigh on retail mkt
---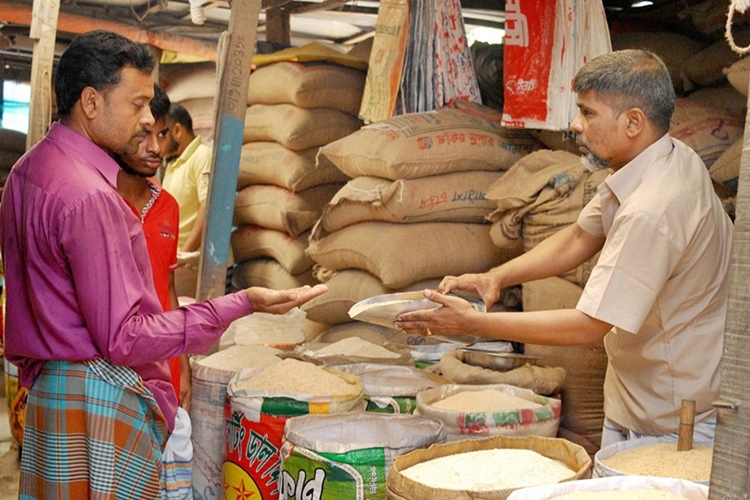 FT ONLINE
Prices of rice increased further at the mill-gates, strengthening fear about its spillover effect on the retail market over the next few days, traders say.
Some found a link between the announcement of 15 percent cash incentives on rice exports and the recent price spike, while others saw it as a normal market trend.
Apart from off-season varieties, prices of seasonal Aman went up, the traders said.
A 50 kilogramme sack of Swarna and BR -11, seasonal coarse rice variety, was trading at Tk 1,340-Tk 1,380, marking a Tk 50-60 hike, according to millers in Nilphamari, Dinajpur, Naogaon and Kushtia districts. This means per kg rice was selling at Tk 27- 28.
Off season Brridhan-28 prices rose to Tk37-Tk 37.5 a kg, Miniket/Jeera Tk 44-Tk 47 a kg depending on quality-a Tk 1.2-Tk 1.5 a kg hike during the last three days.
Md Shamsul Haque, proprietor of Nilphamari-based Shamsul Auto Rice Mill, said price increase is a normal market trend.
He said paddy prices increased by 60-70 a maund (40 kg) in the last one week, especially crops from the last Boro season.
He said Boro season variety Brri-28 paddy was selling at Tk 800 a maund now.
Seasonal Swarna paddy prices also increased to Tk 620-Tk 650 a maund-a Tk 60-Tk 80 hike in a week.
Abdur Rahman Babul, a trader at Shapahar in Naogaon, said prices of rice started increasing in the wake of government announcement of cash incentives for exports.
He said many traders started procuring rice in large volume for exports, which pushed up prices.
But K M Layek Ali, secretary of the Bangladesh Auto Major Husking Mill Owners Association, differed, saying the incentives on rice exports have hardly any relation to the recent price hike.
He said prices of a few varieties of Boro season increased, triggered mainly by a decline in supply.
Still, he argued overall rice prices are still much lower than what was a year ago.
He said the recent hike could help farmers get better prices.
Despite the spike at the mill-gate, prices of rice in the city retail markets were stable as coarse Swarna rice was selling at Tk 37-Tk 40 a kg.
However, wholesale prices in Dhaka have started increasing slightly from Sunday, according to traders.
Mohammad Asadullah, a Badamtoli-based rice trader, said prices have increased by Tk 20-25 a sack during the last two days.
Once the older stocks end, he feared the retail market would feel the heat in the next few days owing to the recent wholesale price hike.
Secretary of the Consumers Association of Bangladesh Humayun Kabir Bhuiyan said prices of most commodities have been showing an uptrend for the last two and a half months.
He said if such trend continues, prices of daily essentials, including rice, onion, edible oil, and pulses, will go beyond the control of the government during the holy Ramadan.
He called for reinforcing the monitoring of commodities market to give some relief to the common consumers.
He said policies on rice export and import should be reviewed and implemented timely to avoid any kind of volatility.
Rice production was an all-time high of 37.2 million tonnes in the last financial year, according to the primary estimate of the state-controlled Bangladesh Bureau of Statistics.
Even Aman harvest is expected to reach 14.5 million tonnes, predicted the state-run Department of Agriculture Extension.
Unauthorized use or reproduction of The Finance Today content for commercial purposes is strictly prohibited.