Opinion /
We are all equal in social level
---
Rezaul Karim Chowdhury
Published:
2023-03-26 04:35:48 BdST
We are all equal in social level
---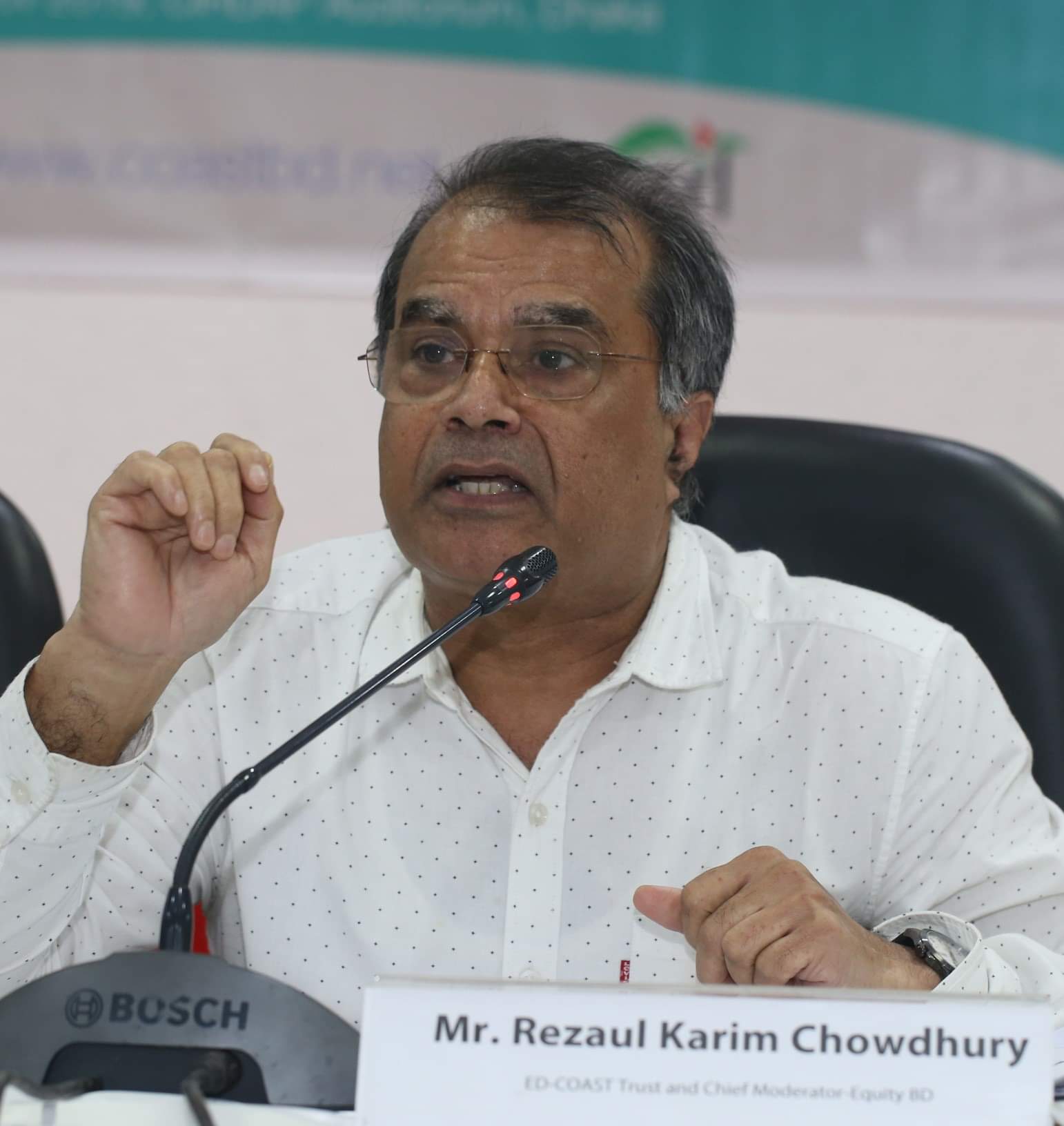 May be during 1999, while I was working in Charfassion, Bhola Island, and then prominent personality Robert Chambers, who was also nominated for Nobel Prize for his book "Putting People First". He was a board member of Action Aid board in UK. I am in Charfassion Bhola with the promise to make the Action Aid Bhola project for nationalization or localization. We have already transformed to COAST. He has visited us, staying two nights in our campus. After the visit he wrote me a hand writing letter to me, he praised one of our values, i.e., whether we have difference in salary and power, in social level, we all equal, in respect giving and taking respect and honor. Our values have had been prepared in a very participatory approach. In COAST in respect daily allowance, all are same including for our service staff and drivers.
In my family the values is so strong as we have seen the equal treatment from my father, one of my cousin, who follow my father in politics, I read a lot of books from him on left politics, especially on secularism and socialism. His son is a goverment physician now, and his daughter is an advocate now.
You have seen in social media, in Bogra, that how young children protesting behavior of a government employee, one of the girl gave interview, said that, in our class or education institution, we all are in a same class, no differentiation. I am so astonished and so encouraged. I know our Honorable Prime Minister (HPM) Shiekh Hasina. There was a program in Sheraton, on way to the program, she supposed to visit our stall, at the last moment she decided not to visit any stalls. Our stall was on community radio. While she was crossing, I approach her addressing "Sir", immediately she turned to me, I understand that I did some mistakes, then asked "Apa" (Sister), then she smiles and said "no sir or madam, called me Apa". I have succeeded to brief her on how his policy has worked for establishing community radio in Bangladesh, along with Ban Ki Moon and other high officials spend around 5 minutes listening to us, with a very smiling mode. From Barisal Kazal Apa – AVASH and from Khulna Shamim Bhai – AOSED with me on the stall. We have succeeded in our advocacy, while all other stall givers including of government agencies has failed to draw attention of HPM.
Recently one of our NGO Chief Executive wrote an article in the newspaper, the head line was, we are changing our culture. I like the phrase, but sorry that, I have not read the article. Whenever I visit places in country or abroad, I have never given my bag to hotel bellboy, last time on 4th March I was in Doha Qatar for UN conference, it is a 5 star hotel, boy came to me, and tried to take the bag, I said that, we are all equal, and still I am physically fit, I can take my bag. The bellboy was so astonished, said that, this is his first time, he listen such vibe, he said, I am different. It is not only government and also in our NGO sector, most of our officials, do not get down from car, until the driver comes and open the door. I feel it is a sort of humiliation to a person. Even I have seen such a practice with our expatriate too, even some of them, want a vehicle and driver have to be in standby, when I have not arranged this, the expatriate reported against me in his headquarter. When we have arranged a small vehicle for another one expatriate s/he asked me to change the car, s/he needs a bigger car. While I worked as a Training and Communication Advisor in Rangpur, in a very first day, a Land rover came in my house gate, standing to take me in our office, on that very first day, I advise the car pool, do not send the car to my house any more.
We have also different approach with furniture and decoration in our NGO sector, some of the EDs room is so different, so lavish in Chairs and Table. In COAST we have same design of Chair and Table in all of our offices, we set the table to the wall, that we get huge space and a sort of discouraging gossiping in the office.
As I do a lot of networking and advocacy, I have to do a lot of inter institutional interaction, I have seen some of NGO leader, sometime who asked issues, what are the background, whether he or she came from an elite family. We have to build up a democratic society which should have some values, that may be we have differences in salary, positions and powers, but in respect of social level, we all are equal in respect of honor, this is a sort of approach to empower people. Bravo, salute to Bogra girls, you have shown the path. We really want to change the culture.
Unauthorized use or reproduction of The Finance Today content for commercial purposes is strictly prohibited.