Opinion /
Bangladesh: From ashes to prosperity
---
Dr Atiur Rahman
Published:
2020-01-21 21:20:26 BdST
Bangladesh: From ashes to prosperity
---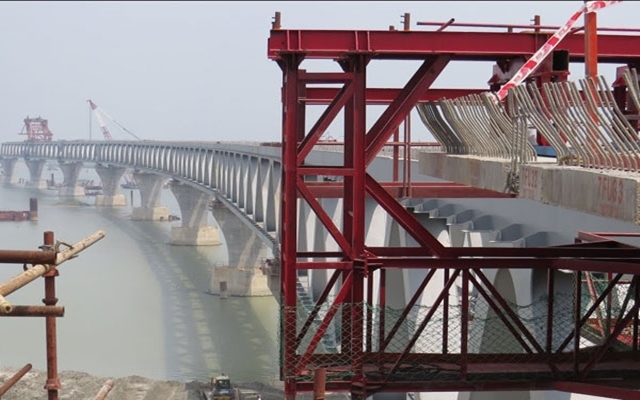 Bangladesh's development journey is indeed amazing. The story, however, is still evolving and yet to be told comprehensively to the world. The total economy of the country was only about eight billion US dollars in 1972, which could hardly feed nearly 75 million mouths.
Both hunger and poverty were abysmally high and haunting the newly born independent Bangladesh. The country used to be cited as an ideal case of Malthusian paradigm with too many people and very cruel nature during those challenging days.
That Bangladesh has come of an age. The total GDP of Bangladesh is now well over $300 billion. The annual per capita income has nearly tripled during the last decade reaching $1,908 last year.
The growth of medium and affluent consumers with nearly five thousand USD per capita income per year has been phenomenal, adding two million of them every year since 2015. The consumption has also increased simultaneously at the bottom of the pyramid, reflecting nearly halving of the poverty rate and rising life expectancy.
The fast declining infant and maternal mortality rates also speak a volume about Bangladesh's progress in social development. The promising domestic consumer market and inclusive development policies of the government, along with the inclusive financing strategy of the developmental central bank, have been providing impetus to the impressive macroeconomic transformation.
Bangladesh has now lofty dreams of becoming an upper middle-income country in 2031 fuelled by vision 2021 and achieving SDGs by 2030. It also plans to become a developed country after 2041.
This Bangladesh story of "Ashes to Prosperity" cannot be fully comprehended unless we place it in the context of 1971 when a new nation was born out of an exploration of aspirations for equitable "Sonar Bangla" spearheaded by Father of the Nation Bangabandhu Sheikh Mujibur Rahman.
This journey of transformation started in challenging global political environment and amid natural shocks. Many thought Bangladesh would become a "basket case" which can never be filled up.
They considered Bangladesh as a "test-case" of development, which meant if Bangladesh could develop than any other country can develop as well. But the country which used to be trashed by development pundits is now being considered as a global trend setter of sustainable inclusive development.
No doubt, Bangladesh had to overcome many of the challenges to come to this stage of development. The fighting spirit of its creative people unleashed seamless entrepreneurship of low-cost solutions for some of these challenges and made this possible.
This paradigm shift was made possible by innovative collaboration between the state and non-state actors. While state-led investment in social development for inclusive health and education helped create ground for desired human development, the complementary role of non-state actors in providing small credit and social services at the bottom of the pyramid must be recognised in making this inclusive development possible.
The courageous government also provided space and incentives for private sector for export-led growth, making Bangladesh the second-largest apparel industrial power in the world. The innovative entrepreneurship drives of both the government and private sector have made this manufacturing transformation possible, providing millions of employment to women. More than 36 percent of women are now in formal labour force with a huge impact on changing their norms and behaviour towards fertility and hence the drastic fall in total fertility rate.
This had a positive impact on population control and as well as rising per capita income. The faster reduction in poverty also owes to this social gain as well.
Bangladesh has been able to establish a new development paradigm through its novel approach of broad-based socioeconomic development. Bangladesh has been maintaining high economic growth fighting inequality which made the growth inclusive.
However, the recent high growth of a few super-rich taking advantage of their closeness with the political power-structure has been pushing up the "Gini-coefficient," making inequality steeper.
Besides being self-dependent in many areas, including food production, Bangladesh has been maintaining collaborative international trade relations and contributing significantly in the world economy through its growing export performance.
The RMG sector, as indicated earlier, has been the star performer in global trade. This particular strength of the economy will possibly sustain for a couple of decades as the sector is going green to cater to the demand of the climate-friendly millennial consumers of the developed countries.
Nearly a hundred RMG factories have already received LEED (Leadership in Energy and Environmental Design) certificates including a few of them rated platinum. However, despite these gains with long-term positive implications, the export economy cannot remain oblivious to the call for diversification to avoid risk of riding on a single horse, particularly at a time of a looming global financial crisis which is knocking at the door.
With a vision of broader socio-economic transformation, Bangladesh is undertaking investment-driven and resource-dependent endeavors in achieving specific milestones. The ordinary people of Bangladesh are working hard to keep the wheels of both agriculture and the industry moving.
On specific milestones, a perspective plan (2010-2021) and two five year plans, 6th (2011-15) and 7th (2016-20), have moved the nation from investment-driven and resource-dependent framework to a broader socio-economic transformation trajectory.
Macro-economic transformation
Bangladesh's stunning macro-economic transformation is noticeable if we look at the various macroeconomic trends. In terms of GDP growth we have experienced a significant shift from 5.57 percent to 6.46 percent in 2010-11 fiscal year.
From then on, the GDP growth has been consistently going up, reaching 8.13 percent in FY2018-19. ADB projects that the growth rate will remain about the same in the coming fiscal year as well. Inflation has been kept under control in the last decade successfully, thanks to the cautionary monetary policy of the central bank.
Inflation has been brought down to 5.78 percent in FY2017-18 from 12.30 percent in FY2007-08. This has now come down to 5.47 percent. Decreasing overall inflation more than half is, undoubtedly, a remarkable macroeconomic performance. Performance in controlling inflation rate for non-food items in both urban and rural areas is even more praiseworthy.
In FY2009-10, inflation rate for non-food items in rural area was 7.40 percent, which has decreased to only 3.48 percent in FY2017-18. Thus the rural people can now spend more on goods and services. This macro-economic performance is leading Bangladesh to have a more inclusive society.
Per capita income has increased near about four-folds during 2005-06 to 2018-19. In the FY 2005-06, the per-capita income was $543 which has become $1,908 in FY2018-19. This increase in household income has helped increase the consumption level of the people living at the bottom of the pyramid, as the consumption gini-coefficient has been stabilized around 0.35 over the last decade or so.
As already indicated, consumption almost tripled during this period. In FY2007-08 consumption in Bangladesh was around Tk4,500 billion, which has become more than Tk15,000 billion in FY2016-17.
During the same period, overall investment has been quadrupled. Though the absolute number still remains low, there has been a phenomenal growth in FDI (51 percent) during the last fiscal year. And Bangladesh Investment Development Authority (BIDA) expects this momentum will continue even in the current and coming fiscal year.
Inclusive growth
Growing domestic demand has been a particular strength for inclusive Bangladesh. It is an emerging market for the consumers. Every year a large number of consumers are entering the domestic market accruing huge demand for consumer goods.
The Middle and Affluent Class (MAC) population is increasing rapidly in the country. The Compound Annual Growth Rate (CAGR) of MAC population from 2015 to 2020 is 10.5 percent, which is higher than Myanmar, Philippines, Indonesia and even Thailand.
By 2025, Bangladesh will have 33 major cities where number of MAC population will be more than three hundred thousand. Currently there are only ten such cities.
Currently 41 percent Bangladeshis and 68 percent of MAC population have smartphones with internet. In the last six years, the total number of mobile financial services (MFS) clients have reached 75 million. At the same time other digital solutions such as agent banking are also expanding.
Moreover, $165 million flows daily to the rural areas through DFS (MFS+ agent banking) which is enhancing aggregate expenditure significantly. All these factors are helping to reduce the rural-urban gap and build up more inclusive society.
Bangladesh has made significant progress in providing electricity to rural and urban areas in the last decade. In FY2007-08, installed capacity of electricity generation was 5,201 megawatts, which has been increased to 18,079 megawatts in FY2018-19.
This almost tripled capacity in electricity generation and has facilitated increased production and improved quality of life in both rural and urban areas. Even people living in remote areas are getting electricity. The availability of millions of solar home systems even in the remotest parts of the country has complemented the growing access to electricity to all.
Recently, the honorable prime minister has committed 100 percent electricity coverage by 2021. Once the mega-projects, including the Padma Bridge and hundred plus Special Economic Zones, start functioning there will be a boost in industrial growth along with deeper connectivity facilitating the growth of industrial corridors across the country.
Millions of employments will be created in the process making Bangladesh's development even more inclusive. The availability of electricity will help Bangladesh become an industrial powerhouse in the near future.
However, despite these consistent gains in macroeconomic transformation, Bangladesh will continue to face challenges in a number of areas.
The prudent inclusive development policies of the Government of Bangladesh over the last decade appears to have paid off to a significant extent. Noble laureate and former World Bank Chief Economist Paul Romer pointed out in 2016 during his visit to Dhaka that Bangladesh has proven that "it is possible to have more growth and more equality."
The World Economic Forum's inclusive development index report of 2018 puts Bangladesh at 34th place among 74 emerging economies. Bangladesh's score in terms of the inclusive development index is 3.98 (out of 7).
As a result Bangladesh remains significantly ahead of its sub-regional peers such as Sri Lanka (3.79), Pakistan (3.55), and India (3.09). Between 2012 and 2016, Bangladesh's score has increased by 4.55 percent (it was 3.81 in 2012).
This implies not only Bangladesh is significantly ahead of the neighboring economies, but also it is most likely to go further ahead in the coming years as its score is increasing at more than one percentage point per year.
Concluding Remarks
The future will be all about digitisation and e-commerce. The digital transformation, which is already in motion in Bangladesh, will be further strengthened if we can continue to put policy thrust on technology as the driving force.
Simultaneously, we must be ready to invest more on quality education to enhance the drive for skill-based human resource development. Bangladesh has already made huge progress in expanding the base of the educational pyramid.
The challenge remains how we can improve the quality of education at all levels including skilling and re-skilling of human resources to face the challenges of an automated world.
Small and medium enterprises (SMEs) and related innovations will be key to macro-economic success. The small entrepreneurs will have to be provided new skills and funding support so that they too respond to the call of the global market in addition to meeting the local demand.
The role of the private sector will be pivotal in attaining inclusive growth. The scope of public-private partnership will have to be expanded to take advantage of the entrepreneurial strengths of our private sector in a favorable investment environment.
However, as there is already a global consensus on protection of our future generation and the planet since the Paris Climate Agreement, despite Trump, our growth process must be both inclusive and adaptive to climate change.
For that matter, we should remain focused on sustainable finance, so that ugly finance cannot destabilize our hard-earned gains in inclusive development. The need for maintaining financial stability against the challenges of toxic assets must be at the heart of our development journey.
Dr Atiur Rahman is a noted economist, Bangabandhu Chair Professor at the University of Dhaka and former Governor of Bangladesh Bank. He can be reached at [email protected]
Unauthorized use or reproduction of The Finance Today content for commercial purposes is strictly prohibited.