Plan is to take country to rank of developed nation:PM
---
A H Khan
Published:
2018-09-13 10:45:28 BdST
Plan is to take country to rank of developed nation:PM
---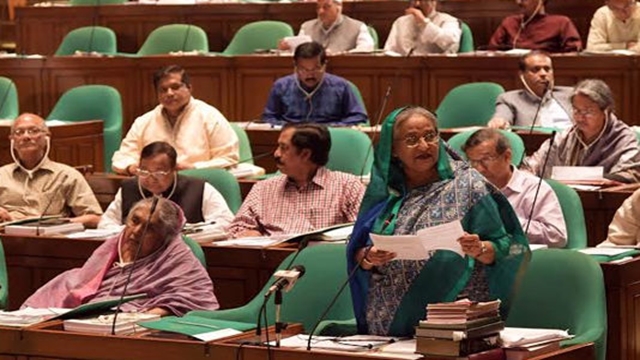 Prime Minister Sheikh Hasina today said her government's plan is to take the country to the rank of developed country by 2041.
She expressed her firm optimism that Bangladesh would be hunger and poverty free
progressive, democratic and secular country through safeguarding good governance at all
level of the society, institutionalisation of democracy and participation of mass people.
Speaking in the parliament in response to a question from treasury bench member Momtaj
Begum the prime minister said Bangladesh has already come out from the status of low
income country in 2015 which is the reflection of continuous development of the country.
By next three years Bangladesh would be a poverty and hunger free country, she said adding
the government is working to prepare a long term development perspective plan for the year
2041.
"Our plan to take Bangladesh to the rank of the developed and prosperous country by next 23
years and by 2041 Bangladesh would be a peaceful, developed and happy country," the prime
minister said.
Sheikh Hasina said her government has expanded cooperation with the regional countries and
given highest importance to build up relation with foreign country based on boosting relations
in the areas of trade, commerce and investment.
Diplomatic relation with international community would be more expanded to implement the
vision of 2041, she said.
The prime minister said the 7th Five year Plan has chalked out the strategies to achieve
average 7.4 percent development growth which would increase to 8 percent by 2020. Poverty
rate would be declined to 18.6 percent by 2020 from existing level of 22 percent, she said.
Pointing out the preparation of Bangladesh Delta Plan-2100 the prime minister said the plan
has been designed for sustainable development growth in agriculture, fisheries, industries,
forest, water management, public health and environment.
Unauthorized use or reproduction of The Finance Today content for commercial purposes is strictly prohibited.