Over-length vessel anchors at Ctg port
---
SAM
Published:
2018-10-07 17:36:38 BdST
Over-length vessel anchors at Ctg port
---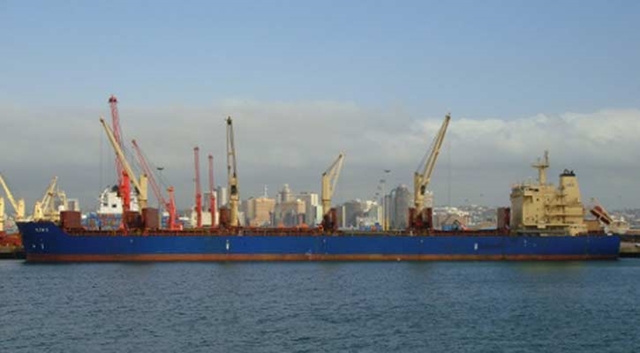 FT ONLINE
An over-length vessel of 196 metres has anchored at Chattogram port against an approved limit of 190 metres.
Sources in the shipping sector said MV Zanpol Force anchored safely at jetty number 13 of the port's general cargo berth (GCB) on Friday.
It brought materials for the Padma Multipurpose Bridge Authority and was allowed to anchor after getting approval from Dhaka, they added.
The ship has an overall length of 196 metres as per information available on the internet.
An investigation reveals that MV Zanpol lay at the port for the first time in 22 years after a vessel of the same size anchored here back in 1996.
At that time, it carried rail wagons and was allowed to anchor as a special case.
The Chittagong Port Authority (CPA) allows vessels with 190 metres in length and 9.6 metres in draft for the Karnaphuli's narrow channel and other limitations.
However, port users have hailed the CPA move saying that the berthing of larger vessels will cut the cost of doing business.
This will also reduce the stay time of vessels at the port's outer anchorage and enhance revenue of the port authorities, they added. A senior port official said the anchoring of any over-length vessel is unimaginable as the CPA's approved limit is 190 metres.
Bangladesh Shipping Agents Association president Ahsanul Huq Chowdhury has called for dredging the channel for movement of larger vessels in jetties.
The movement of such over-length vessels will benefit both the businesses and the CPA, he said.
"We hope the CPA will consider the matter and take necessary steps to this end for the greater interest of the country," Mr Chowdhury mentioned.
He said shipping agents will write to CPA Chairman Cdre Zulfiquer Aziz seeking steps to allow vessels with a length of 200 metres.
Berth Operators, Ship Handling Operators and Terminal Operators president Fazle Ikram Chowdhury said berth operators, shipping agents and the CPA recently discussed allowing over-length vessels.
Larger vessels could be allowed to anchor in the jetties 11, 12 and 13 if the port channels are regularly dredged for smooth navigation in the channel, he added.
"If steps are taken to regularly dredge the channels, 200-metre ships of 9.00 metres draft could anchor in GCB berths," Mr Ikram mentioned.
He said such a move will help the CPA avoid hassle of smaller vessels.
When asked, CPA member (admin and planning) Md Zafar Alam said the anchor of over-length vessels in the port is very challenging.
"So, we are not currently thinking of allowing such vessels," he said.
Unauthorized use or reproduction of The Finance Today content for commercial purposes is strictly prohibited.