Full text of PM's address to the nation
---
Habib
Published:
2019-01-26 18:09:42 BdST
Full text of PM's address to the nation
---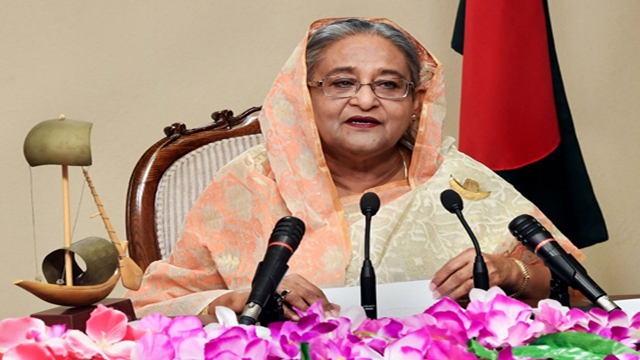 Following is the text of Prime Minister Sheikh Hasina's today's address to the nation:
Bismillahir Rahmanir Raheem
Dear Countrymen,
Assalamualaikum
Greetings to you all.
The 11th Jatiya Sangsad elections were held on December 30 in 2018. I am extending my heartfelt thanks to you for electing the Bangladesh Awami League-led Grand Alliance in a huge margin in the election. Simultaneously, I express deepest gratitude to Almighty Allah.
I am grateful to those who made us victorious by casting their votes in favor of 'Boat'. I am also extending thanks to those, who did not vote for us, for taking part in the elections. I am thanking all parties, alliances and candidates who participated in the polls.
I thank all leaders and workers, supporters and well-wishers of Bangladesh Awami League. We have been able to secure the landslide victory because of tireless work and cooperation of all.
I extend deep gratitude to the countrymen, the Election Commission, all officials and employees and members of law enforcement agencies and armed forces who were involved with the polls.
With profound respect, I recall the greatest Bangalee of all times, Father of the Nation Bangabandhu Sheikh Mujibur Rahman. I am remembering four national leaders and 30 lakh martyrs of the Liberation War and two lakh repressed mothers and sisters. I am saluting (salam) the freedom fighters.
I recall, with deep sorrows, all martyrs of the August 15, 1975 heinous killings, including my mother Begum Fazilatunnesa Mujib, my three brothers-freedom fighter Captain Sheikh Kamal, freedom fighter Lieutenant Sheikh Jamal and 10-year-old Sheikh Russel–, newly married Kamal and Jamal's wives Sultana Kamal and Rosy Jamal, my uncle freedom fighter Sheikh Naser, Military Secretary to Bangabandhu Sheikh Mujibur Rahman Brigadier Jamil and ASI of Detective Branch of Police Siddiqur Rahman.
I pay glowing tributes to Maulana Abdul Hamid Khan Bhashani, founding president of Awami League, one of the oldest political parties in the subcontinent, founding general secretary Shamsul Huq and champion of democracy Huseyn Shaheed Suhrawardy.
I extend profound respect to Language Movement martyrs who embraced martyrdom for establishing dignity for Bangla.
I recall 22 Awami League leaders and workers of including Ivy Rahman who were killed in the August 21, 2004 grenade attack.
I remember 21 thousand leaders and workers who became victims of brutal killings after 2001 (election) including former Finance Minister Shah AMS Kibria, Awami League leaders Ahsanullah Master, Manzurul Imam and Mamtazuddin.
I recall those who were killed in arson terrorism and petrol bomb attacks carried out by BNP-Jamaat alliance from 2013 to 2015. I am extending sympathy to wounded and family members who lost their near and dear ones.
A total of 24 leaders and workers were killed in the attack of BNP-Jamaat terrorists centering the 11th Jatiya Sangsad election. I pray for eternal peace of their departed souls and extend profound sympathy to the bereaved family members. I wish quick recovery of the injured people.
I pray for eternal peace of two-time former general secretary of Awami League and Public Administration Minister and elected Awami League candidate in the just- concluded 11th parliamentary election Syed Ashraful Islam and other members of parliament of the 10th Jatiya Sangsad who passed away.
Dear countrymen,
The massive victory of Awami League in this election was much expected. Surveys at home and abroad also gave hints alike prior to the polls. You might have noticed survey results of London-based Economic Intelligence Unit and Research and Development Centre. I would like to present few reasons before you behind our landslide victory.
The common people got the benefit of development that took place in the last 10 years.
Almost 10 years ago, a boy/girl who usually studied using lamp or hurricane never saw pucca road in the village, but now in his/her youth he/she is studying with the facility of electricity, travelling on motor vehicles.
An elderly male or female who was neglected in their families now gets old-age allowance and allowance for widow. This has taken them to a dignified position in their families.
There are few families in the rural areas who are not beneficiaries of social safety net programmes of the government. Somehow each and every family is getting the benefit.
The living standard of the lower income people including farm labour, construction workers, van or rickshaw pullers has improved. Ten years ago, a farm labourer could buy maximum 3 kg rice with his daily wage. Now he can buy 10 kg rice.
The salary and allowances of the public servants have increased two and a half to 3 times in the last 10 years.
The wages of the private and public sector workers and employees have also increased equally. The minimum wage of the garment workers increased five times to Taka 8,000 from Taka 1,600.
The farmers are being given incentives through providing subsidies on different agricultural inputs including fertilizer and seed.
The business and industry-friendly environment is creating employment and also expanding export trade. The common people are getting its benefit.
The people have kept confidence in the present government as the mega projects like the Padma Bridge, Dhaka Metrorail, Rooppur Nuclear Power Plant, upgradation of the highways into four-lane have been visible.
People want their own and the country's dignity. We have brought that dignity for Bangladesh. Graduation to lower-middle income status after 44 years of independence and a developing country status after 46 years have made the people proud. Bad name as a beggar nation has been removed. The people, who tried to bring honour for the people, must be honoured – it is natural.
Bangladesh Awami League took preparation for the election after 2014. Each possible candidate intensified public relations in his/her constituency and contributed to the development of his/her area. All the party leaders and activists have worked on behalf of the nominated candidate in the elections.
Our elections preparation was massive. We spearheaded a massive campaign in electronic, print and social media side by side with maintaining communication with the common people.
People of all strata extended support to Bangladesh Awami League during the polls campaign. Businessmen, physicians, engineers, agriculturists, academicians, former bureaucrats, ex-members of law-enforcement agencies and armed forces, artistes, writers, journalists, religious leaders openly extended their support to Bangladesh Awami League. When almost all sections of people of a society extend their support to a particular party, it could never be confined. On the other hand, you know very well about the electoral strategy of our opposition alliance. I do not want to talk about this. There are many reasons behind their defeat:
-Giving nomination to 3-4 candidates or more for a single seat.
-Massive allegations on nomination trade and nomination of weak candidate.
-Uncertainty about the issue that who will be the prime minister after getting majority in the elections.
-They have failed to highlight what they will do for the people. On the other hand, their campaign preferred what type of vindictive action will be taken against us after assuming power.
-They could not highlight their success except making criticism against the Awami League on the social media.
Apart from this, countrywide fire-terrorism and mayhem unleashed by the BNP-Jamaat from 2013 to 2015 were not erased from the mind of the common people.
In fact, the young voters cannot accept nomination of Jamaat leaders with the electoral symbol of sheaf of paddy. The young generation cannot favour the anti-liberation forces.
There are many examples for which the voters rejected BNP in the general election and a mass wave was created in favour of "Boat".
Dear countrymen,
You have given mandate to Awami League for three consecutive terms for assuming office and the party has been given mandate for four terms since 1996. Your absolute mandate has enhanced our responsibilities and duties many times.
I personally think that this verdict is an opportunity for marching one step forward to serve the people, to end unfinished tasks of the Father of the Nation and establish "Sonar Bangla".
Bangladesh Awami League does not believe in politics of lip service. We implement whatever we pledge. We have already implemented most of the pledges given before 2008 and 2014 general elections. We have announced our election manifesto 'Samriddhir Agrojatray Aprotirodhya Bangladesh' ahead of the 11th parliamentary election. I highlighted summary of our election manifesto. Many of you have already read the manifesto.
I want to assure you that this election manifesto will work as guidelines while taking any policy and implementing any development programme.
Bangladesh has achieved remarkable strides in different socio-economic indicators including development of living standard, poverty reduction, expansion of education and healthcare services, reduction of child and maternal mortality rates and women empowerment in the past ten years. Not only Asian countries, some achievements have surpassed many developed countries. For this, the world leaders have recognized Bangladesh as a role model of development.
Our journey was not smooth. We have sincerely worked dealing with hundreds
of unfavourable situations. Today, people are getting the benefits of the
work. This achievement is not only for the government, but also for every
hard working people of the country.
Today, Bangladesh has achieved the status of a developing country. The
poverty rate has come down to 21.8 percent from 41.5 percent during the BNP
government in 2005-06. Per capita income has increased to US$ 1,751 from
$543. Foreign exchange reserve has increased to $33 billion from $3 billion.
The size of national budget was Taka 61,000 crore in the BNP government's
fiscal 2005-06. We declared Taka 4,64,573 crore budget for the fiscal 2018-19
which is 7.6 times bigger than the budget of 2005-06 fiscal. The amount of
Annual Development Programme (ADP) is Taka 1,73,000 crore. Ninety percent of
the total ADP works are being implemented by its own fund. We do not need to
beg hand to anyone.
Our GDP growth rate was 7.86 percent in the last fiscal. Inflation has been
brought down to 5.4 percent. As a result, the prices of essential commodities
have come under the purchase capacity of the common people.
Bangladesh is now one of the top five countries in the economic growth
index. According to PricewaterhouseCoopers, Bangladesh's economy will achieve
the 23rd position in the world by 2040.
According to the HBSC projection, Bangladesh will be the world's 26th
largest economy by 2030. We have launched Bangabandhu Satellite-1 in space.
The problems of enclave have been resolved by implementing land boundary
agreement with India.
There is a gap between the today's Bangladesh and 10 years ago Bangladesh.
People's living standard is now much better. Now, people are dreaming to live
with beauty. We want to develop the country. So, there are lots of works for
us to do. We will have to go through more difficult ways. I will be able to
cross the difficult ways with you, Inshallah
Dear countrymen, The biggest responsibility for us is to create employment
opportunities for the educated youths. We have taken special schemes for
creating more employment opportunities.
These include ensuring different facilities for young entrepreneurs
including providing easy financial support, providing special facilities and
incentives for young women entrepreneurs, employment plan through the
government initiative, taking initiative to get international patent of the
young innovators, creating skilled manpower for job in home and abroad and
establishing technical colleges in each upazila for creating technically
educated skilled manpower. The establishment of technical college has already
started.
We have set a target for creating more 1.50 crore employment opportunities
within the next five years. The work of establishing 100 economic zones in
the public and private sectors is going on. In the economic zones, local and
foreign investors are coming for more investment.
Constructions of over two dozen high-tech parks and IT villages across the
country are going on. A huge opportunities for institutional and self-
employment will also be created in other sectors including agriculture,
fisheries, livestock rearing, tourism and service sector.
We have taken initiatives to complete the ongoing development projects
within the stipulated time. Specially, the implementation of fast track mega
projects, including Padma Bridge, Metro Rail, Elevated Expressway, Rooppur
Nuclear Power Project and Moheshkhali-Matarabari Integrated Development
Project, will be expedited up.
Initiatives will be taken to reach the facilities of city in every village
of the country. Electricity will be reached in every home of the country.
Opportunities will be created for ensuring better education atmosphere for
every child. Fresh drinking water and sanitation will be ensured.
Infrastructures will be built for recreation facilities and sports. Internet
and Information Technology will be reached everywhere across the country.
Dear countrymen, Marking the birth anniversary of the Father of the Nation
in 2020, we will celebrate the 'Mujib Year' in 2020-2021 and the Golden
Jubilee of Independence in 2021. In the two august time of the Bengali
nation, we want to take the country to a unique height in the socio-economic
sector. And as a strategy of this, we are implementing Vision-2021 and
Vision-2041.
Besides, we have formulated 100-year 'Bangladesh Delta Plan-2100' for achieving desired development overcoming the adverse impacts of climate change.
We are implementing the seventh five-year plan having similar goals as the SDGs. We have started to formulate the eighth five-year plan. Our foreign policy 'Friendship to all, malice to none' is the main tool for strengthening relations with rest of the world. Bangladesh is marching towards prosperity as a result of successful implementation of the policy. Relations of Bangladesh with rest of the world are now strong and deep compared to any time in the past.
Dear countrymen,
Now we need national unity.
We have to march forward in unison forgetting all differences. The spirit of the War of Liberation, non-communalism, democratic values, equity and justice, development and prosperity will be the main sources of national unity. We formed government after victory in the national election. All citizens of the country are equal to the government irrespective of party and opinions. We will work for all.
We will take initiatives to bring transparency and establish accountability and good governance in service sector and uphold rules of law in all spheres of national life. The Jatiya Sangsad (JS) will be the centre point for taking all decisions.
The number of Members of Parliament (MPs) of opposition parties in the 11th parliament is very few. But, we would not judge them on the basis number. Whatever be the number of lawmakers of the opposition parties, we will consider their fair and logical proposals, discussions and criticisms properly.
I urge the elected MPs of the opposition parties to join the parliament after taking oath.
I know that an uncomfortable situation prevails in all spheres of society due to corruption. I urge the corrupt people to correct themselves. Corruption will be rooted out through strict enforcement of law. We have taken initiatives to combat corruption through expansion of the use of information communication technology (ICT). Participation of people is a must to stop corruption. So, mass awareness campaign will be continued through the mass media against corruption.
We have been successful against drug, militancy and terrorism through taking 'zero tolerance' policy. This drive will be continued.
We want to establish a peaceful society where there will be no jealousy and hatred and the people of all castes, creeds and communities could live in peace. All could perform their respective religious rites with proper dignity.
We have seen that some youths were engaged in terrorism and militancy being misguided by the global influence or local provocations. Islam is a religion of peace. There is no room for terrorism in Islam. I call upon all of the society to take firm steps against drug addiction and militancy.
We are taking effective measures for expansion of religious education. Madrasa education is being made production-oriented through its modernization. Qaumi Madrasa's Daware Hadith degree has been made equivalent to master's degree. 560 mosque-cum-Islamic cultural centres are being set up across the country.
Dear countrymen,
The youths are the future leaders. We have full respect and confidence in the creativity, spirit and strength of the youths. The youth means sacrifice for Bangla language, 1969 mass upsurge, 1971 liberation war and shedding blood of Asad-Motiur and Noor Hossain. The youth means red-green flag, 'Amar Sonar Bangla, Ami Tomai Bhalobashi', the youth means Bangalee and Bangladesh.
The Bangalee nation earned the victory in the great liberation war in 1971 by responding to the call of Father of the Nation Bangabandhu Sheikh Mujibur Rahman. While the voters of the country made Bangladesh Awami League which believes in the spirit of the liberation war victorious in another victory month in 2018 and give us an opportunity to serve the country.
I said earlier and am saying again that I have no personal expectation. Losing father, mother and brothers, I am pursuing politics for materializing the dream of the Father of the Nation and for the welfare of the people. The common people of the country could live better and get a developed and prosperous life — materializing this dream is only aim of my life.
The Father of the Nation Bangabandhu had said: "Great sacrifice is needed for great achievement." We are moving ahead following the path of sacrifice. We have sacrificed my present for the future generation. We will engage the strength, merit and thinking of the youths in building Sonar Bangla. Today youths could bring the economic freedom of the people by taking the country towards the path of development and prosperity.
Dear countrymen,
I have constituted my cabinet combining the young and veterans. We are expressing determination to reach our goal through the experiences of the veterans and spirit of the young.
You have given your mandate by keeping confidence in me. I am giving you my words that I will try frantically to repay that confidence. For this, I seek support and cooperation of all citizens irrespective of parties and opinions. With your cooperation, we will establish a hunger, poverty and illiteracy-free non-communal Sonar Bangladesh as dreamt by Father of the Nation Bangabandhu Sheikh Mujibur Rahman Insha Allah.
I want to say in the language of Poet Sukanta Bhattacharya:
"Jatokhkhan dehe achhe pran pranpone prithibir sorabo janjal, e bishwake e shishur basjogya kore jabo ami – nobojataker kachhe e amar dridha ongikar" (I will clear the odds with all my efforts so long I'm alive. I will make the earth livable for the children; it's my firm commitment to a new born).
All stay well and healthy. May the Almighty help us.
Khoda Hafez.
Joi Bangla, Joi Bangabandhu
May Bangladesh Live Forever.
Unauthorized use or reproduction of The Finance Today content for commercial purposes is strictly prohibited.