Voting in DNCC, DSCC begins
---
FT online
Published:
2019-02-28 11:10:19 BdST
Voting in DNCC, DSCC begins
---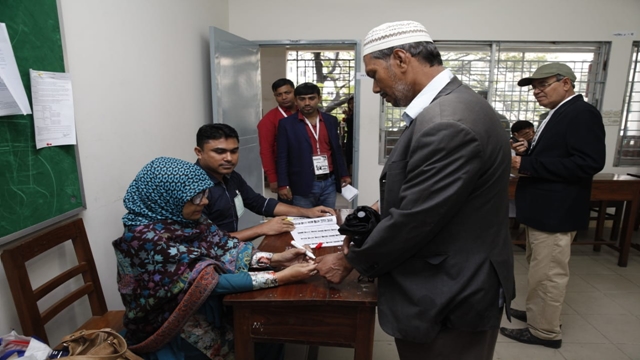 Voting in Dhaka North City Corporation (DNCC) mayoral by-election, and in 36 wards of Dhaka north and south city corporations has began.
The casting of ballots began at 8am Thursday morning, and will continue uninterrupted till 4pm.
Many major political parties, including the BNP, Jatiya Oikya Front and Bam Ganatantrik Dal are not participating in the election, which may have reduced the presence of voters at polling centres.
However, the number of voters might increase as the day progresses.
Mayoral candidates
While five candidates are vying for the mayoral position, only ruling Awami League-nominated candidate Atiqul Islam was seen to be electioneering, which ended on Monday.
The other candidates are Shafin Ahmed from Jatiya Party, Anisur Rahman Dewan from National People's Party, Shahin Khan of Progressive Democratic Party, and independent candidate Abdur Rahim.
Polling for mayoral elections will be held in 54 wards of DNCC. Also 36 new wards, 18 in DNCC and 18 in DSCC, are up for election on the same day.
In DNCC, 116 candidates are contesting in general wards, and 45 in reserved wards. In DSCC 125 candidates are contesting in general wards, while 24 in reserved wards.
Unlike the mayoral by-polls, vigorous campaigns are being conducted by candidates for councillor posts, as the posts are being contested for the first time.
Security arrangements
During the vote, 19 law enforcement personnel will remain deployed in regular polling centres, and 23 will guard risky centres. A total of 27 mobile teams and 18 striking forces, comprised of police, APBN and ansars have also been deployed.
A total of 27 teams from Rapid Action Battalion (RAB) and 25 Border Guard Bangladesh platoon members have also been deployed.
Vehicle restrictions
According to a Home Ministry circular, motorcycle transport will remain banned in DNCC polling areas from Tuesday midnight till Friday 6am.
Meanwhile, all vehicle traffic in the area—excluding emergency services—will remain banned for 24 hours starting Wednesday midnight to Thursday midnight.
Vehicles affected by the ban during the by-election are: motorcycles, trucks, motorized three-wheelers, taxis, microbuses, jeeps, pickups, and cars. Water vessels moving through the area will also fall under the vehicle ban.
However, the restriction on vehicle traffic will be loosely implemented on important roads, streets, and highways leading into and out of Dhaka, and at inter-district bus terminals.
The circular also directed non residents or voters in the DNCC to leave the area by Tuesday midnight, to ensure a peaceful by-election, and to avoid facing legal action on voting day.
Along with two Dhaka city corporations, voting is also being held in two municipalities and 11 Union Parishads across the country.
Unauthorized use or reproduction of The Finance Today content for commercial purposes is strictly prohibited.