Salvaging stock market: Brokers seek Tk 100b govt funds
---
Abu Taher Bappa
Published:
2019-12-05 16:52:10 BdST
Salvaging stock market: Brokers seek Tk 100b govt funds
---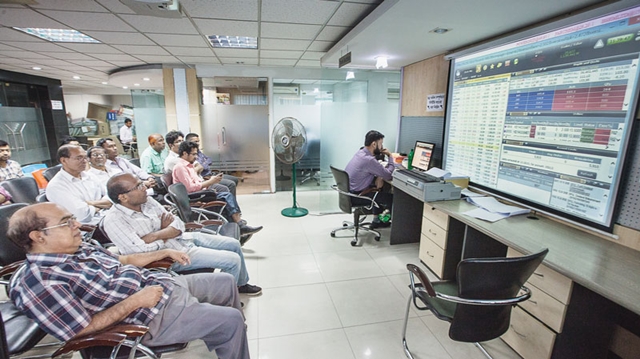 FT ONLINE
Stockbrokers have submitted a work-plan for an investment of Tk 100 billion funds, sought earlier from the government, to support the country's ailing capital market.
They submitted the work-plan to the ministry of finance (MoF) on Wednesday, as the ministry demanded a plan following their plea of fund support for the capital market.
On October 24, around 20 stockbrokers, including Dhaka Bank Securities and EBL Securities, submitted a proposal to the MoF, seeking Tk 100 billion from the government. They sought the fund at a flat interest rate of 3.0 percent.
The stockbrokers said their work-plan includes details on utilizing the government's fund.
"The brokers will invest the fund in shares of the listed companies, which have the record of disbursing at least 10 percent cash dividend," said the CEO of a brokerage firm.
Besides, the listed companies having a growth record for at least three years, out of the last five years, will be chosen for investing the fund.
"The listed companies should also have at least a 10 percent return on equity (ROE)," he added.
ROE is the measure of a company's annual return (net income) divided by the value of its total shareholders' equity, expressed as a percentage. The percentage represents the total return on equity capital and shows the firm's ability to turn assets into profit.
According to the work-plan, the stockbrokers will invest the Tk 100 billion fund in shares of the listed companies having a market capitalization of at least Tk 5.0 billion.
It said the first year will be the moratorium period, while only the interest will be paid in the second year. The government's loan will be repaid in the last four years.
The stockbrokers also made the proposal of disbursing the loan by keeping their portfolios as collateral. In October, the state-run Investment Corporation of Bangladesh (ICB) also sought Tk 50 billion funds from the government to support the capital market.
The entity also submitted a proposal for floating another unit fund as part of its market supportive measures.
An official of the corporation said they are yet to be informed of any update regarding their proposals.
After the 2010-11 stock market debacle, the government provided Tk 9.0 billion under the capital market refinancing scheme.
The fund was handed over to the ICB in three equal installments to reduce the sufferings of small investors, affected in the market crash.
Unauthorized use or reproduction of The Finance Today content for commercial purposes is strictly prohibited.