Tech /
Google Launches Android 10 GO: What Does It Offer?
---
FT Online
Published:
2019-11-17 22:06:02 BdST
Google Launches Android 10 GO: What Does It Offer?
---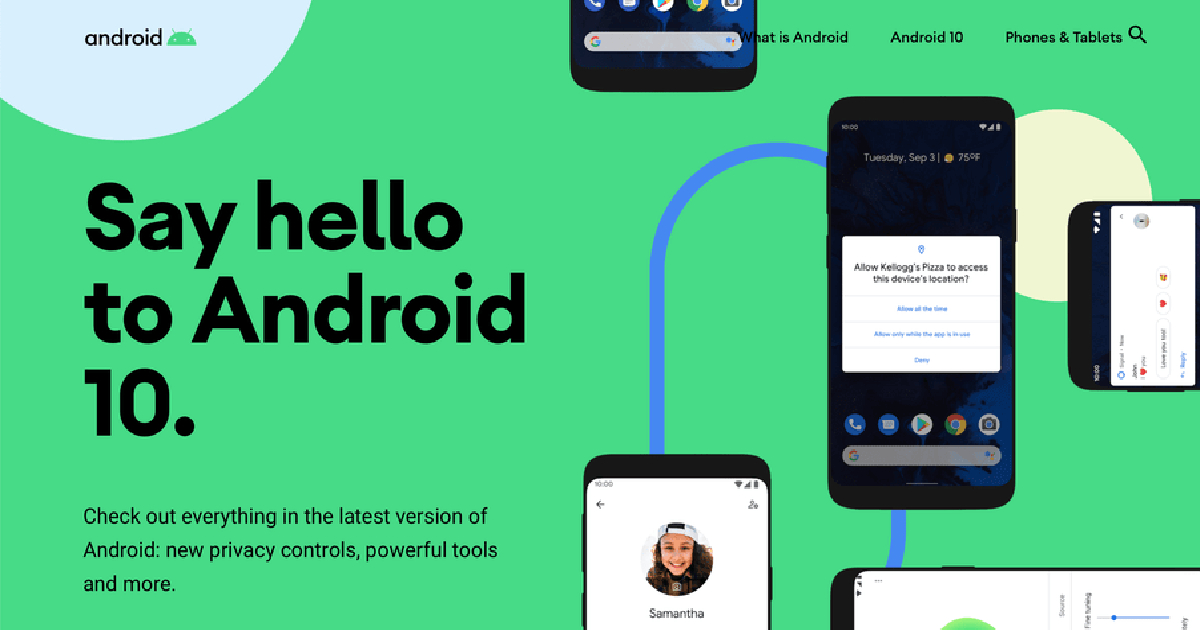 Google Android 10 GO edition got released on the 3rd of September in 2019. Google calls off the tradition of naming their major version OS after desserts through the announcement of branding their "Android Q" OS as "Android 10". Besides the Google Pixel devices, the Android 10 GO would comply with many other Smartphones. Let's see what it offers!
Google's Android 10 Go Edition is smart enough to add captions whenever you start playing any media file – like, audio message, video, image, podcast, etc. – on your adorable phone. Interestingly, this amazing featurecan work without internet or WiFi connection.
If you love taking selfies or capturing videos every now and then, the 'Live Caption' feature would be a blessing for you. It canautomatically includesubtitles on whatever you capture or record. All you need to do is, touching the volume button, then tapping the related icon.
While someone messages you, the Android 10 GO's'Smart Reply' option can discern intention of that message content and wittily show suggestive response without delay. It offers a clever way to maintain communication with other people investing limited time and energy.
This 'Smart Reply' feature not only suggests relevant replies, but also offers related actions. For instance, it can display directions on the Google map, if someone asks you for an address. This cool feature complies with diverse messaging apps like WhatsApp, Signal etc.
What if you are working in a noisy zone and receiving important calls at the same time? The surrounding noisemight interfere your hearing to the conversation. To overcome these kinds of situations, the Android 10 GO Operating system is programmed with'Sound Amplifier'feature.
This handy feature can efficiently filter the background echoes and noises. Boosting the sound system of your phone, it can improve the audio quality. Furthermore, it can fine tune the sounds so you can listen to lectures, music or conversation more comfortably.
Google has improved its'Gesture Navigation' system in the latest Android 10 Go edition. Unlike the Android Pie's One-Button mechanism, the Gesture control system appears under a thin bar in Android 10 without taking much space on the screen. Itsintuitive navigation system allows the user to swipe forward or backward easily to access different apps or return the home screen in a fasterway.
Extensive use of Smartphones not only hurts the eyes but also attenuates the battery-power. Thanks to Google for bringing 'Dark Theme'feature in the new Android 10 GO version. It's high-end 'Force Dark' option can open the apps – which lack integrated Dark Mode – automatically through offering darker schemes. This eye-soothing dark mode saves the battery power keeping it alive for long hours.
Google OS Android 10's improved design integrates all the Privacy Control options in one place. Now you can alter your privacy setting easily within a few moments.
Google Android 10 gives you the scope to choose whether you wanna share your location with various apps. You can also decide when or how long you would like to turn 'ON/OFF' the location sharing option of your Smartphone.
When the apps of your Smartphone are not updated regularly, it runs the risk of getting attacked by malwares, virus, or even hackers. Don't worry! Android 10's advanced 'Security Updates' feature can appear as a savior! It fetches the latest Security fixes, and privacy updates keeping the OS up-to-the-minute.
It is quite annoying when your Smartphone is overloaded with a number of distracting, unused or less necessary apps, which you don't wanna delete right at this moment. Android 10 OS is blessed with 'Focus Mode' which gives you the opportunity to pause or turn off an unwanted app – through a single tap – temporarily until you want it back.
Are you a cautious parent who wannamonitor the actions and presence of own kids round the clock? If yes, then check out the 'Family Link' feature of Google Android 10 GO Edition. This pragmatic feature assists you in setting the Smartphone's screen time.
Using this feature you can limit the access of your kids to different apps or web contents. Moreover, you can stay updated about your kid's movement through tracing out the current location of the device. What else you need?
Unauthorized use or reproduction of The Finance Today content for commercial purposes is strictly prohibited.