Tourism /
Biman counts $1.1m losses for cancellation of ticket bookings
---
FT Online
Published:
2019-08-27 12:11:17 BdST
Biman counts $1.1m losses for cancellation of ticket bookings
---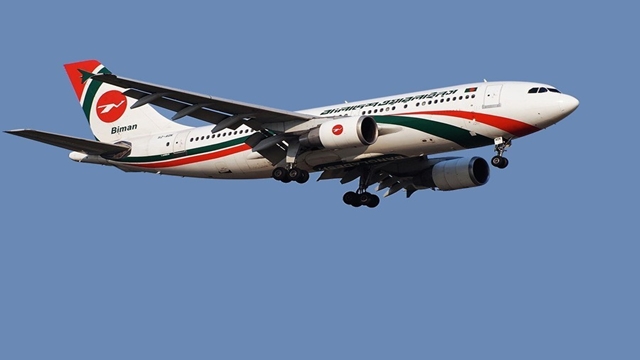 A probe body of Biman Bangladesh Airlines has recommended taking punitive action against 53 travel agents of 12 countries for the cancellation of a significant number of air tickets.
It has found that these travel agents cancelled ticket bookings from 75 per cent to 96 per cent during the period between July 2018 and April 2019.
The probe committee submitted its report to the Ministry of Civil Aviation and Tourism, Prime Minister's Office, chairman of the Biman board of directors and other high-ups of the national flag carrier recently.
According to the investigation report, cancellation of such a vast number of ticket bookings caused a loss of US$ 1.1 million to Biman during the 10-month period.
Biman Bangladesh Airlines had to pay the amount to four Global Distribution Systems (GDSs) as per the agreements signed with Amadeus, Abacus, Galileo and Sabre.
According to the deals, Biman is required to pay US$ 0.35-0.40 to the GDSs for the cancellation of each of ticket bookings.
The investigation committee headed by Atiqul Haque, Additional Secretary of the Civil Aviation and Tourism Ministry, also found major inconsistencies in the agreements signed with four GDSs.
Talking to the FE, Mr Haque said the probe body has submitted the report for consideration by the government's high-ups.
It also apprehended collusion between travel agents, both local and international, and the GDSs for the cancellation of such a large volume of ticket bookings.
Of the travel agents, the investigation committee recommended cancellation of Billing Statement Plan (BSP) link belonging to 22 agents of five countries who had the ticket booking termination ratio above 80 per cent.
The investigation committee also proposed taking legal action against the Bangladeshi travel agents who had cancelled above 80 per cent of ticket bookings of Biman.
Besides, the probe body recommended suspending BSP link of some 31 agents of seven countries, seeking an explanation for the cancellation of ticket bookings above 75 per cent and below 80 per cent.
The investigation committee had found lack of coordination in the Revenue Integrity (RI) wing of Biman which has been assigned to monitor ticket bookings, block and duplicate bookings.
All the air tickets of Biman are sold online. With the suspension or cancellation of BSP link, travel agents will lose their authority over ticket sales of Biman.
The probe body alleged that GDSs with the help of some travel agents had taken a huge amount of bills from Biman.
Talking to the FE on Monday, Abdus Salam Aref, Secretary General of Association of Travel Agents of Bangladesh (ATAB), said some of the air tickets could be cancelled on valid grounds but it should not exceed 30 per cent.
Such a large volume of ticket cancellations should be controlled to curb irregularities along with revisiting the GDS agreements, he added.
Mr Aref said travel agents have to pay around $ 2.0-$ 5.0 per ticket for the cancellation of higher ticket bookings known as churning.
When an agent cancels ticket booking more than four times under the same PNR (Passenger Name Record), it is called 'churning'.
Some 150 agents of Bangladesh had cancelled a total of 290,533 bookings during the 10-month period which was 70.38 per cent of their total bookings.
Some 29 agents of Saudi Arabia cancelled 72.23 per cent of bookings while 21 agents of United Kingdom cancelled 71.44 per cent and 36 agents of Abu Dhabi 71.69 per cent.
The team had sat with the accused agents to hear from them. However, the agents cited lack of expertise, technical fault and unintentional mistake as the reasons for higher booking cancellation.
The investigation team had recommended punitive action rejecting their excuse that caused huge losses to Biman.
According to the probe report, five travel agents of Abu Dhabi, eight of Bangladesh, one of Malaysia, two of Oman, and four of Saudi Arabia cancelled above 80 per cent of ticket bookings during the 10-month period.
The travel agents of Abu Dhabi are: Al Tareeq Al Mumtaz, Golden Travel LLC, Golden Travel, Air Guide Travel LLC, Ahmed Travel.
Travel agents of Bangladesh include: Urmi Travel Agency, Motherland Tours and Travel, Shams Air Tours and Travel, Chowdhury International, Muna Travel Tours, Dharul Eman Int'l Travel, Biplob International, Travel Centre.
Travel agents of Saudi Arabia are: Superior Tracks Travels and Tour, Eirad Int'l Tours Travel, International ticket for Tours and Fursan Travel.
JMK Holidays Travel and Tourism of Malaysia, Jamal Nasser Travel and Tourism and Jawahara Bahar Al Arab Travel of Oman are also on the list of booking cancellation of above 80 per cent.
Besides, the investigation team had found the agreements with the GDSs are quite 'old. Biman signed the agreements with Abacus in 1992, followed by Galleo in 1993, Amadeus in 2010, and Sabre in 2013.
It also expressed doubt whether there was approval from the Biman board of directors or chief executives before signing those agreements. It found that the agreements were signed with the approval from the Biman director (marketing and sales).
"It is not logical to sign such agreements, involving huge financial matters, without approval from the Biman board of directors," it said.
It recommended reviewing those agreements, identifying a number of major flaws in the agreements.
As per the deals, the GDSs are empowered to increase booking and cancellation cost unilaterally by giving prior notice to Biman.
It had found that all of the GDSs had increased their charges at high rates several times in different years after signing their respective agreements with Biman.
The probe body also found that integrity software of Biman is not monitored by its department concerned.
However, Biman is going to take up a new programme titled 'Abuse segment ADM (agency debit memo) processing (ASAP)' from its audit firm 'Airlogica' to make the ticket selling process transparent.
Biman gives its authorized agents the link of BSP. There are two systems of ticket cancellation---general cancellation and churning. There are some 3,599 authorised agents in Biman.
Unauthorized use or reproduction of The Finance Today content for commercial purposes is strictly prohibited.