Tourism /
Nepal building tourism infra with new int'l airport
---
SAM
Published:
2019-12-05 11:38:06 BdST
Nepal building tourism infra with new int'l airport
---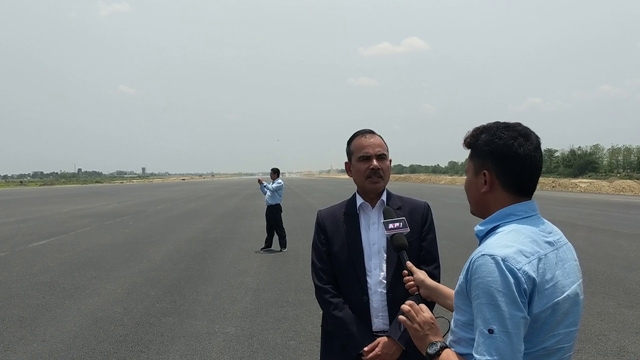 FT ONLINE
It is very rare nowadays that the tourists visiting Nepal without experiencing delays in cases of landing in and departing from the country's lone busy international airport.
But government officials of Nepal say that days are not too far the visitors would enjoy a changed scenario as a domestic airport is now being upgraded to an international one which is expected to be operational soon, lessening loads of Tribhuvan International Airport (TIA).
The Civil Aviation Authority of Nepal (CAAN) is developing the new airport at Bhairahawa -- some 24 km from the Goutam Buddha's birthplace of Lubmini, few kilometres off from an Indian border of Uttar Pradesh and a place with a comparatively shorter distance from some of Nepal's natural and wildlife tourist spots.
The new airport, Goutam Buddha International Airport (GBIA), is expected to be a new gateway to Nepal, officials said.
"The GBIA will be an important gateway particularly in a regional context as its capacity is being improved to handle international flights like Airbus A340 and Boeing 777," said Naresh Pradhan, senior project officer (transport) of ADB's Nepal Resident Mission.
He said Sri Lanka and some other countries have already shown interest to open direct flights soon after opening up the GBIA.
As the TIA has long been operating in a saturated and risky condition to handle nearly 100 international and 400 domestic flights per day, the GBIA is expected to take a load of visitors to the Himalayan nation.
In cases of emergency, the lone airport now diverts flights to Bangladesh, India or Myanmar due to not having any alternative.
While visiting the GBIA site along with a group of journalists from Bangladesh, Bhutan, India, Sri Lanka and Nepal, the FT Team also experienced delays for hours due to not getting clearance by the TIA authorities for taking off.
All the eight journalists from the South Asian countries also went through the same experience while landing at the TIA as part of a South Asian media tour organised by the Asian Development Bank (ADB), the main development partner of the GBIA construction project under South Asia Tourism and Infrastructure Development Project (SATID) which was approved in November 2009 to develop and improve tourism-related infrastructure in Bangladesh, India, and Nepal.
While talking to the journalists at the ADB's Nepal office, Country Director Mukhtor Khamudkhanov said the GBIA is really a transformative project to help promote tourism in the regional context.
He said the ADB also supports the Lumbini Development Trust to improve tourism destination and will also have some provision of funding to some components for the development of regional trade and tourism.
Initially, the CAAN has planned to develop the GBIA as a regional airport but later revised the plan to make it an international airport with the support of the ADB and other funding agencies, including OPEC Fund for International Development and Asian Clean Energy Fund (ACEF).
While visiting the tourist spots in Lumbini, it is found that the main thoroughfares linking the airport to the Buddhist holy place have been developed into a four-lane highway with the ADB finance under the SATID project to accommodate an increased number of traffic.
Various infrastructure, including five-star hotels and resorts, is being developed in and around the airport area.
Prabesh Adhikari, a senior official at CAAN, said major infrastructure of the airport's arrival and departure terminals along with administrative building and control tower have been completed.
"We are hopeful to complete the construction work by March and start direct flights with the countries in Asia and the Pacific," he said.
With reference to Bangladesh, Senior External Relations Officer at the ADB's Nepal office Binita Shah Khadka said Bangladeshi tourists would also be able to avoid Kathmandu for visiting tourist destinations like Lumbini, Chitwan, Pokhara etc. through the new airport.
According to the project information, the new airport will have the annual capacity to handle 760,000 passengers by 2030, including 280,000 visitors of Lumbini.
Naresh Pradhan said that in addition to helping increase the number of visitors to Lumbini from the traditional markets of India, Myanmar, Sri Lanka, and Thailand, upgrading the airport is also expected to increase the number of visitors from China, Japan and Korea, among others.
The official said Nepal has signed bilateral air service agreements with a number of countries including Cambodia, Japan, Viet Nam and Sri Lanka where Buddhism is practiced.
The new airport will help propel Nepal's tourism sector by bringing in more tourists while migrant workers to Malaysia and Gulf countries from the Terai belt of Nepal would be able to fly directly from Bhairahawa, Mr. Pradhan said.
Unauthorized use or reproduction of The Finance Today content for commercial purposes is strictly prohibited.