Lockdown, fuel price hike hit Bangladesh farmers hard
---
Staff Correspondent
Published:
2022-01-03 14:10:43 BdST
Lockdown, fuel price hike hit Bangladesh farmers hard
---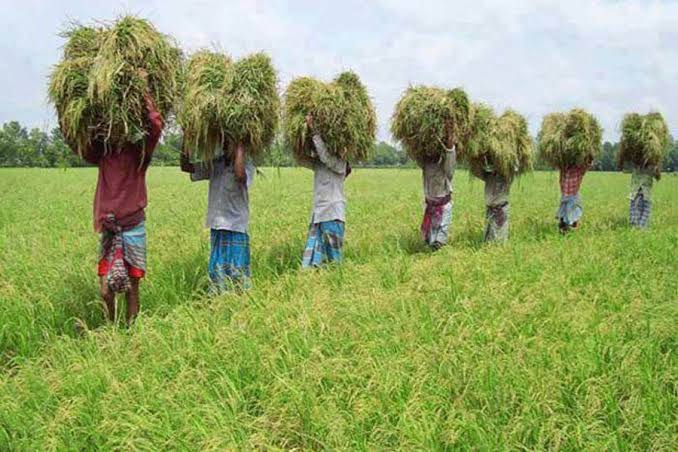 The lockdown-induced value-chain disruption in April-August period as well as the surge in diesel and fertiliser prices in the second half curbed farmers' profits in the last calendar year (2021).
Meanwhile, an above 24-percent increase in Boro, potato and other winter crop-farming costs casts a shadow over getting back their investments with ample return in 2022, said the farmers.
The year 2021 started with a happy beginning for the farmers, as they got a minimum 8.0-percent to 20-percent profits for rice, potato, winter vegetables, garlic, oil crops, onion, wheat and other Rabi crops, according to the Department of Agricultural Marketing (DAM) primary estimation.
The farmers got some 8.0-10.0 percent profit in Boro season by selling paddy and straws, while jute also remained a return-generating crop in the year, according to the DAM.
"But the hard lockdown, which was imposed from April 14 and continued until August (with a few days break), caused severe loss to dairy, fisheries, poultry, mango and summer vegetable growers," said Prof Abdul Hamid, chairman of Agrarian Research Foundation, Bangladesh (ARF).
"While the farmers, who made profits by rice, potato and onion farming in the first half, started losing their returns amid an artificial hike in fertiliser prices before the Aman season from August."
"A low rain during the cultivation period also increased Aman production costs in the key growing regions, like - Rangpur and Rajshahi, that cut profit shares," he also said.
Thousands of farmers in the southern region also lost Aman crop due to heavy wind and rain for the cyclonic storm 'Jawad' in November.
"The most shocking news for the farmers was the hike in diesel and kerosene prices by Tk 15 a litre in November that shot up irrigation and ploughing costs by 35-40 per cent just before the Boro and Rabi crop cultivation period," he noted.
"Overall Boro paddy production cost was minimum Tk 19,500 per bigha last year, which would reach at least Tk 24,000 this year for surge in most of the input prices," said Abdul Latif Sheikh, a farmer at Dihi union in Sharsha under Jashore district.
He opined that it would be tough for the farmers to make profits, even including sale of straws.
"Price of BRRI-28 paddy should remain at minimum Tk 1,060 a maund during the beginning of harvest in May 2022, and output has to be at least 21 maunds on one bigha of land. Only then we could make some profits," he added.
Rayhan Sarker, a farmer at Shangalshi in Nilphamari Sadar Upazila, said production cost of seasonal potato is going to surge by more than 24 percent amid hike in fertiliser, seed, pesticide, ploughing, water and other costs.
"Prices of early variety potato have already declined to Tk 12-14 a kg at farm level. Allah knows what will happen to seasonal potato in the February-March period," the farmer said worriedly, as he just cultivated potato on his four bighas of land.
Bangladesh Poultry Industries Central Council President Mashiur Rahman said the lockdown caused closure of 40 per cent of farms, which is now causing a price hike in the chicken market, as the overall production declined.
Broiler chicken prices dropped to just Tk 100-110 a kg at farm level in the April-May period last year, against more than Tk 145 a kg production cost.
The farmers, who incurred loss both in the 2020 and 2021 lockdowns, were not compensated later, he mentioned.
The closure of many farms is now affecting consumers, as broiler chicken price shot up to Tk 185-200 a kg last week, marking above 49 percent hike in a year, said market sources.
Meanwhile, Bangladesh Dairy Farmers' Association Secretary Md Shah Imran said above 50 percent of the total milk production (1.0 million litres) remained unsold per day during the strict lockdown imposed from April 14 last year.
The dairy farmers counted a minimum loss of Tk 4.0 billion between April and August for the lockdown, which caused a drastic fall in demand like that of 2020, he concluded.
According to the chambers of commerce in Rajshahi, Chapainawabganj, Naogaon, Rangpur, Dinajpur and Satkhira districts, mango orchard owners and traders incurred more than Tk 10 billion loss in 2021 for the lockdown.
Farm economist and value chain expert Prof Golam Hafeez Kennedy said production cost should be minimised - both for the farmers and the consumers.
The diesel price surge caused transport fare hike by 20-30 percent across the country, which caused rise in all farm input prices.
"So, diesel price should be reviewed immediately before the massive irrigation begins across the country during the Boro season from February-March."
He noted: "Apart from this, the farmers should be given cash incentives, as they had to spent 20-30 percent extra for fertilisers although the government did not raise prices."
Farm machinery, like combined harvester, should be provided to the marginal farmers at free of cost to reduce their production cost minimum by 25 percent.
"The overall supply chain of farm produces should remain sound and uninterrupted, even if the Covid pandemic third wave comes," he added.
Unauthorized use or reproduction of The Finance Today content for commercial purposes is strictly prohibited.