Massive agri-rehabilitation programs taken in Rangpur region
---
FT Online
Published:
2019-07-28 15:48:22 BdST
Massive agri-rehabilitation programs taken in Rangpur region
---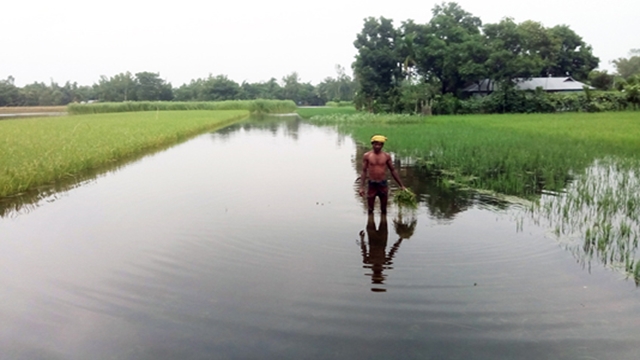 The agriculture extension department (DAE) has taken massive post-flood agriculture rehabilitation programs to assist farmers recouping huge crop losses incurred by current deluge in Rangpur agriculture region.
Talking to BSS, Additional Director of DAE for Rangpur region Muhammad Ali
said DAE and other agriculture related organisations have started post-flood
agriculture rehabilitation activities as per government directives.
"We are preparing over 100 community seedbeds on one acre of land each in
flood-hit areas of Kurigram and Gaibandha from where farmers would get Aman
rice seedling for re-transplantation on affected croplands after recession of
floodwater," he said.
The DAE is ready to prepare buffer seedbeds of late variety Aman rice on 75
hectares of land in compounds of two Agriculture Training Institutes, three
Horticulture Centres and three BADC Farms in Rangpur division.
"The flood-affected farmers also have 260 tonnes of late 'Ganjia' variety
of Aman rice seed in their hands and they are ready to prepare seedbeds in
Kurigram, Gaibandha and other affected areas in the region," Ali said.
Deputy Director (Seed Marketing) of BADC at Rangpur Agriculturist Dr. Md.
Sultanul Alam said they have a reserve of 5,999 tonnes of high quality seed
of seven late and flood-tolerant varieties of rice.
"We are ready to supply Aman rice seed to departments concerned and seed
dealers so that farmers could easily get those to prepare seedbeds for re-
transplantation of seedling on croplands after recession of floodwater in the
region," Alam said.
DAE officials here said current flood inundated 34,210 hectares land
standing crops and totally damaged 20,960 hectares land crops, causing
production losses of 69,549 tonnes of crops worth Taka 235 crore in the
region.
The floods badly affected 3.36-lakh farmers in Rangpur, Gaibandha,
Kurigram, Lalmonirhat and Nilphamari districts.
The submerged crops include standing Aush rice on 9,196 hectares of land,
Aman rice on 52 hectares, Aman rice seedbed on 6,198 hectares, jute on 14,731
hectares, vegetables on 3,192 hectares, spices on 548 hectares, Banana on 170
hectares, Sesame on 50 hectares, sugarcane on 70 hectares and betel leaf on
three hectares of land.
Of them, floods have totally damaged crops on 82.50 hectares of land in
Rangpur, 7,520 hectares in Gaibandha, 13,060 hectares in Kurigram, 231
hectares in Lalmonirhat and 66.50 hectares of land in Nilphamari districts.
"The submerged crops on 34,210 hectares of land account for 24.66 percent
of total standing crops on 1.38-lakh hectares of land in the region,"
Horticulture Specialist of DAE at its regional office Khondker Md. Mesbahul
Islam told BSS today.
As per primary estimations, the totally damaged crops on 20,960 hectares of
land account for 61.50 percent of total submerged crops on 34,110 hectares of
land in all five districts of the region, he said.
"The farmers incurred 461 tonnes of crop production losses worth Taka 1.46
crore in Rangpur, 10,672 tonnes worth Taka 76 crore in Gaibandha, 58,388
tonnes worth Taka 156 crore in Kurigram, Aman rice seedling worth Taka 1.16
crore in Lalmonirhat and 27.50 tonnes of crops worth Taka 24-lakh in
Lalmonirhat," Islam added.
Agriculturist Dr. Md. Abdul Mazid, who got Independence Award in food
security category last year, suggested for preparing late variety Aman rice
seedbeds to distribute those among flood-affected farmers to assist them in
recouping crop losses.
"The farmers can prepare floating seedbeds of late variety Aman rice and
take short-term and middle-term steps in cultivating substitute crops on
their submerged croplands after recession of floodwater," Dr. Mazid told.
Unauthorized use or reproduction of The Finance Today content for commercial purposes is strictly prohibited.