Business /
Official data mismatch allows traders to deprive salt farmers
---
FT online
Published:
2019-03-20 11:06:24 BdST
Official data mismatch allows traders to deprive salt farmers
---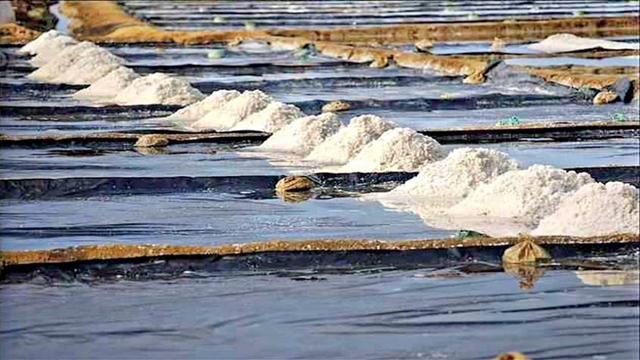 Three government agencies are generating three separate figures of the country's demand for salt, encouraging unscrupulous traders to import the essential item illegally and depriving the local salt farmers of fair price.
Bangladesh Tariff commission (BTC) put the figure at about 2.9 million tonnes while National Board of Revenue (NBR) estimates it to be around 2.4 million tonnes and Bangladesh Small and Cottage Industries Corporation (BSCIC) over 1.6 million tonnes.
Meanwhile, the BTC and NBR provide separate statistics also on salt import - 1.4 million tonnes and 0.9 million tonnes respectively in 2018.
The BSCIC fixes the annual demand for salt with a 10 per cent annual growth commensurate with the growing population, general manager of the state-run agency Bashir Ahmed (extension)
The domestic annual demand is over 1.65 million tonnes at present. The country failed to achieve the salt production target of 1.8 million tonnes in the current season due to unfavorable weather in the salt-bed areas, he added.
The country produced 1.62 million tonnes of salt in fiscal year 2015-16 and 1.66 million tonnes in the FY 2016-17, BSCIC sources said.
According to a source, some unscrupulous traders have allegedly been importing a huge amount of sodium chloride in the name of chemical items through false declaration.
As a result, the supply of salt surpassed the demand, pulling down the price for the producers. Besides, the government is being deprived significantly of huge amount of duty due to illegal import of the salt.
When contacted, Cox's Bazar Salt Mill Owners Association President Rais Uddin said, "We want to stop importing sodium sulfate as we are being affected due to import of the item. The local farmers are not getting fair price for their salt."
Unauthorized use or reproduction of The Finance Today content for commercial purposes is strictly prohibited.