Myanmar police seized 200 million meth tablets
---
SAMI
Published:
2020-05-19 08:50:35 BdST
Myanmar police seized 200 million meth tablets
---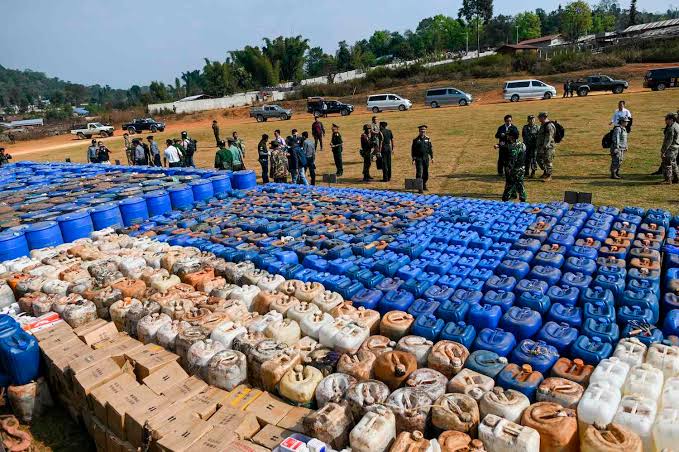 Myanmar police have made Asia's biggest drug bust in decades, seizing hundreds of millions of dollars worth of contraband including "unprecedented" amounts of methylfentanyl, a chemical used to make a dangerously potent synthetic opioid.
The seizures announced Monday were conducted during a three-month operation that centered around Lwe Kham village in Kutkhai Township in Myanmar's northeast Shan state. Thirty-three suspects were arrested.
Jeremy Douglas, the regional coordinator for the United Nations Office of Drugs and Crime (UNODC), said the scale of the seizure was "truly off-the-charts."
Police seized nearly 200 million methamphetamine tablets, more than 500 kilograms of crystal methamphetamine, and 35.5 metric tons and 163,000 thousand liters of precursor chemicals used to manufacture illicit drugs, Myanmar authorities and the UNODC said in a joint statement.
They also seized nearly 3,750 liters (990 gallons) of liquid methylfentanyl, which is used to make a powerful synthetic opioid like fentanyl.
It is believed to be the first time authorities have discovered such a massive amount of fentanyl or one of its analogues in Southeast Asia.
The region has so far been spared an opioid crisis like that in the United States, but experts have warned that drug producers in Asia may eventually chose to supply those who use opiate drugs like heroin with synthetic opioids, which are made to mimic the chemical structure of poppy-based drugs.
Their potency means it is easier to overdose on synthetic opiods, especially if drug users do not know what they're consuming. A trio of overdoses in Bangkok in September were believed to be the first indications that fentanyl had shown up in the Thai capital's heroin supply. One of the users who witnessed the overdose said the group thought they were taking heroin, not fentanyl.
Douglas said that the amount of methylfentanyl precursor seized could have been used to produce a batch of synthetic opioids large enough to replace the region's heroin production for a year.
"This may be the moment we have feared -- synthetic opioids are in the region in a big way," he said.
Unauthorized use or reproduction of The Finance Today content for commercial purposes is strictly prohibited.