Economy /
FY19 exports rise by 10.55pc, hit $40.53b
---
FT Online
Published:
2019-07-09 15:00:05 BdST
FY19 exports rise by 10.55pc, hit $40.53b
---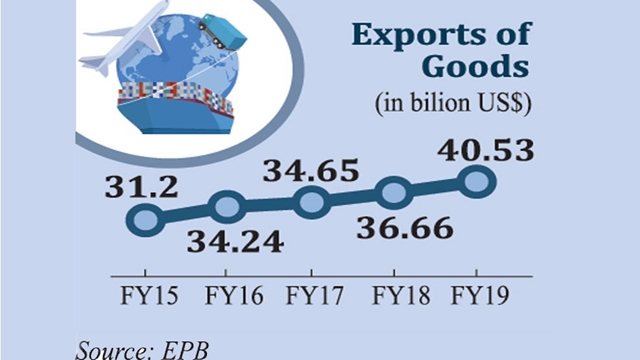 The country's export earnings reached an all-time high of US$ 40.53 billion in the just concluded fiscal year (FY), 2018-19, registering a 10.55 per cent growth over that of the previous fiscal, according to official data.
Bangladesh fetched $ 36.66 billion in FY 2017-18.
The export earnings in FY 19 also surpassed the target, set for the fiscal, by 3.94 per cent, according to the Export Promotion Bureau (EPB) data released on Monday.
The single month earnings in June 2019, however, declined by 5.27 per cent to $ 2.78 billion over that of June 2018. The June earnings also fell short of the target by 22.65 per cent, according to the data.
The ready-made garment (RMG) sector contributed more than 84 per cent or $34.13 billion to the total export income in FY 19.
In last fiscal, the RMG exports grew by 11.49 per cent from $ 30.61 billion of FY 18. The sector's earnings also exceeded the respective target in FY 19 by 4.42 per cent.
The country earned $ 16.88 billion from knitwear exports, registering a growth of 11.19 per cent. Bangladesh fetched $ 15.18 billion from knitwear exports in FY 18.
Earnings from export of woven garments were $ 17.24 billion in last fiscal, up by 11.79 per cent. The earnings were $ 15.42 billion in FY 18.
On the other hand, earnings from home textile exports fell by 3.07 per cent to $ 851.72 million. The figure also fell short of the twelve-month target by 9.39 per cent.
Mohammad Hatem, Vice President of the Exporters Association of Bangladesh (EAB), focused on a number of local and global factors behind the overall export growth.
Buyers are now placing more orders to local companies, as they are satisfied with workplace safety situation here.
He also said the ongoing trade war between China and the US is offering an opportunity to local exporters.
The country's garment exports in the US market have increased in the wake of the trade war between China and the US, as the latter is shifting orders to other countries, including Bangladesh.
Mr Hatem, a former leader of the Bangladesh Knitwear Manufacturers and Exporters Association (BKMEA), however, expressed concern over the closure of some factories in recent times.
He also claimed that profit margin is gradually declining with the rise in growth.
The companies are forced to take orders at lower rates to continue operating factories, as their workers as well as installments of bank loans need to be paid, he noted.
Meanwhile, the jute sector has demonstrated a negative growth throughout the last fiscal.
The earnings from exports of jute and jute goods fell by 20.41 per cent to $ 816.27 million in FY 19 from $ 1.02 billion in the previous fiscal.
The country fetched $ 1.01 billion from exports of leather and leather goods in FY 19, registering a 6.06 per cent decline over FY 18.
Earnings from leather footwear export, however, increased by 7.48 per cent to $ 607.88 million in FY 19.
Exports of frozen and live fish also declined by 1.58 per cent to $ 500.4 million in the just concluded fiscal year, according to the EPB data.
The Bangladesh Frozen Food Exporters Association President Kazi Belayet Hossain said exports of frozen shrimp and fish fell drastically in the major markets in recent years.
It happened, as the local shrimp varieties failed to compete with small-sized, low-rated vannamei in the international market, he noted.
Moreover, local variety of 'Bagda', one of the major export items of the sector, is selling at Tk 600-700 per kg in the local market, which is much higher than its global market price, while one kg of vannamei is globally traded at Tk 350 per kg.
As a result, local exporters are incurring huge loss, he claimed.
On the other hand, export earnings from plastic products grew by 21.65 per cent to $119.8 million, pharmaceuticals grew by 25.60 per cent to $129.95 million, and furniture grew by 18.53 per cent to $ 74.89 million in the last fiscal.
Unauthorized use or reproduction of The Finance Today content for commercial purposes is strictly prohibited.