Economy /
Eighth FYP set to deal with multiple challenges
---
SAM
Published:
2019-10-17 21:12:41 BdST
BD on track for graduation in 2024Eighth FYP set to deal with multiple challenges
---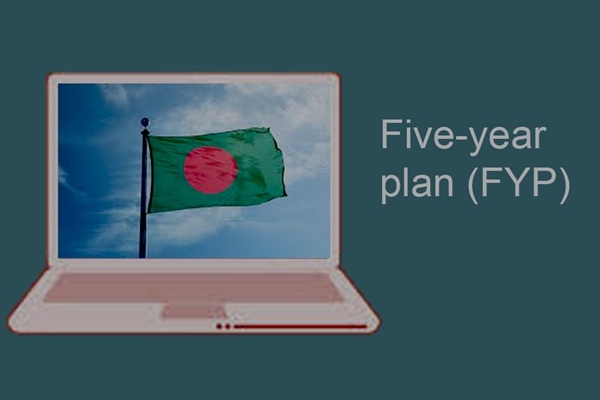 FT ONLINE
The next eighth five-year plan (FYP) is set to deal with multiple challenges to be faced by Bangladesh after its graduation to middle-income status in 2024.
A review meeting on the apex national planning document was told last September.
The eighth FYP will be implemented from fiscal year (FY) 2020-21 to FY 2024-25.
Principal coordinator for sustainable development goal (SDG) Affairs Md Abul Kalam Azad chaired the event at the planning commission.
United Nations resident coordinator Mia Seppo, General Economics Division (GED) member (senior secretary) Dr. Shamsul Alam, secretaries, senior ministry officials and representatives from allied agencies attended the meeting.
The eighth FYP will be implemented at a time when Bangladesh would graduate from its least developed country (LDC) status, said an Economic Relations Division (ERD) official.
As the business environment will change significantly after graduation, there is a need for adopting strategies to cope with the challenges, he added.
The cheap loan facility will no more last after graduation alongside some barriers in shipment in terms of imposing higher duties, the official cited.
Government representatives and development partners discussed at the meeting the country's upcoming graduation, he said.
The official said, "We've highlighted the key challenges that the country may face during and after its LDC graduation and what measures the government is taking to this effect."
The government will also pay special attention to its development goals for further economic uplift in the next FYP.
Mr. Azad told the meeting that "A paradigm shift is necessary for development planning as the mode of business environment is changing in line with the present day's necessity."
He sought more aggressive and proactive steps to fulfill the demand of modern age as the eighth FYP has to cope with the LDC graduation challenges.
"The basis of the plan will quicken the country's prosperity and inclusive growth considering long-term plans like Vision-2041, Delta Plan-2100 and the government's election manifesto," said Mr. Alam.
The plan will take care of GDP growth, employment generation, structural transformation, resource mobilisation, acceleration of private investment and women empowerment, financial sector reformation, climate change and sustainable development.
It will also identify development challenges like meeting inadequately of infrastructure, export diversification, income equality and skills.
At the meeting, Ms. Seppo suggested that the plan address issues like LDC graduation, inequality, climate change, air, water and sound pollution.
Bangladesh is now implementing its Seventh Five-Year Plan which spans from FY 2015-16 to FY 2019-20.
The government already formed a high-powered 62-man national steering committee (NSC) with planning minister MA Mannan as its chairman and GED senior secretary as a member secretary.
Other members include PM's economic affairs adviser, planning ministry's parliamentary standing committee chairman, cabinet secretary, PMO principal secretary, principal coordinator (SDG), senior secretaries and secretaries of ministries and divisions.
Planning commission issued a circular on July 01 last after setting up NSC on the upcoming development plan, a senior assistant secretary said.
Since the 1971 independence, GED has been framing five-year plans except 2003-2011 when three poverty reduction strategy papers were adopted.
In 2011, GED prepared a perspective plan for the first time in the country's history to articulate Vision-2021, defining milestone economic and social outcomes to be achieved by 2021.
The target of Vision-2021 and associated 'perspective plan of Bangladesh (2010-2021)' were aimed to be achieved through the implementation of the sixth FYP (2011-15) and seventh FYP (2016-20).
During the sixth plan regime, the country made remarkable progress in raising income, reducing poverty and improving social indicators compared to any other previously implemented plan.


The seventh FYP began with the country having entered the ranks of the middle-income countries.
It sought to raise GDP growth rate progressively from 6.5 per cent in FY '15 to 8.0 per cent by FY '20.
The average growth rate was projected at 7.4 per cent during the period under review.
The process of preparing the eighth FYP was initiated at the end of 2014, according to GED documents.
Unauthorized use or reproduction of The Finance Today content for commercial purposes is strictly prohibited.