Children likely to get priority in next budget
---
SAM
Published:
2018-05-13 00:18:04 BdST
Children likely to get priority in next budget
---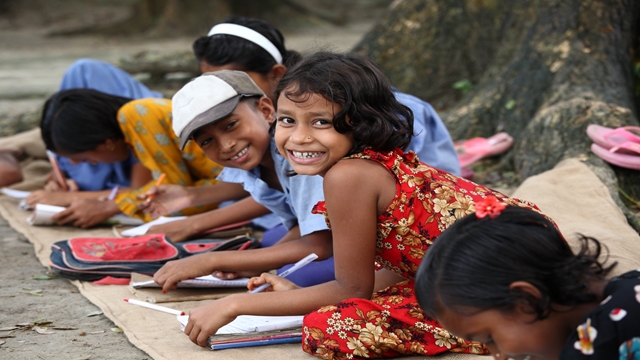 FT ONLINE
The government is likely to prioritise issues relating to children in the upcoming budget to be placed on June 07 next as it believes investment in infants will have their lifelong impacts, said people involved with budget preparation.
They also said such investment will help address their problems pertaining to stunting the country is facing for long.
The size of the next national budget will be Tk 4.6 trillion and different ministries combinedly will get an aggregate allocation equivalent to at least 15 per cent of the national budget on project and programmes involving children, people familiar with the development said recently.
The child-focused budget usually involves 13 ministries/divisions including the ministry of primary education and mass education, family welfare division, health services division as well as the ministry of women and children affairs.
"We'll focus on the child budget as it is very much important for preventing child stunting and ensuring their overall wellbeing," an official involved with the budget preparation said.
He, however, said a final meeting on the budgetary allocation will take place this week.
In the meantime, the budget preparation committee has enhanced allowance for lactating mothers by 60 per cent to Tk 800 up to 1,000 days.
The number of beneficiaries at upazila level will also be increased.
Wishing anonymity, the official said, "1000 days are very much important for both mothers and babies. If we can ensure good nutrition, then stunting problems will be minimized."
Vitamins and other medication facilities for the children will also be enhanced, people familiar with the development said.
A budget preparation team visited Peru recently as part of learning on the child budgeting from the South American country which is one of successful countries for child-focusing budgeting and its monitoring.
By ratifying the Convention on the Rights of the Child, 194 countries, including Bangladesh, have committed to investing in children to guarantee them a full, healthy, safe and happy life starting from the time of conception.
However, a number of NGO representatives who met with Finance Minister AMA Muhith on Thursday showed their interest in the child budgeting and demanded more analysis about budget allocations and its utilisations.
Shaheen Anam, executive director at the Manusher Jonno Foundation, said there is need for proper analysis as to whether the budget is properly addressing child related problems.
She also demanded a separate department for the children, which is now under the process.
The finance minister has been unveiling child-focused budget since the FY 2015-16 under the title of "Blooming Children: Prosperous Bangladesh."
However, many national and international researches show that investment in early childhood - a time that has lifelong effects on a person's well-being - contributes to breaking intergenerational poverty cycle by reducing socioeconomic, territorial, ethnic and gender inequalities.
Investment in early childhood has the highest cost-benefit ratio and the highest return per dollar invested: 7.0 per cent to 16.0 per cent annually (Rolnick and Grunewald 2007; Heckman et al. 2009).
Unauthorized use or reproduction of The Finance Today content for commercial purposes is strictly prohibited.