E-commerce giant 'Ek-Shop' reshaping rural economy
---
FT Online
Published:
2019-10-08 00:58:58 BdST
E-commerce giant 'Ek-Shop' reshaping rural economy
---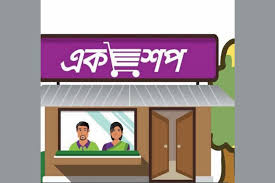 Bangladesh's unique e-commerce ecosystem 'Ek-Shop' has been changing the rural economic landscape through linking people with such local and foreign platforms.
Income generation aside, according to officials and beneficiaries, it gives a direct market opportunity to sell or buy products in rural areas where fair marketing is still a far cry.
Ek-Shop is an automated one-stop marketplace where major local e-commerce sites, delivery providers and digital transaction companies are connected.
From beauty products to air-conditioner and clothing items to medicines, ruralites are now buying stuff online. It saves time, money and energy.
Placing an order on Ek-Shop to buy things is plain and simple.
Visit a union digital centre (UDC), go to your desired site and you take delivery of the goods within four days by a logistic company in your area.
Under the system, you can only pay being satisfied with the delivered product. Unsatisfied, you can send back the product and get refunded automatically.
Domestic e-commerce has grown in volume in recent years, but growth is primarily urban-centric, depriving a big chunk of people of availing the service.
Access to information (A2I) under ICT ministry introduced Ek-Shop in February 2018 through UDCs as part of the government's long-term plan to attain SDGs (sustainable development goals).
Under the facility, an entrepreneur in a remote village can upload his/her products for sale and e-commerce firms showcase those at home and abroad.
Through this platform, rural entrepreneurs trade traditional products like handicraft, betel nut, shitalpati (locally made mat), nakshikantha (patchwork quilt) and sundry other perishable items.
Entrepreneur Mohammad Ismail, who runs Newazpur UDC under Noakhali district, said the platform is changing the trading pattern in his locality.
"Once villagers had to go to sub-district and district headquarters to buy things, but they're now coming to UDCs for the same," he said, adding that pressure keeps increasing gradually.
Citing his own example, Mr. Ismail said his diabetic mother needs multiple medicines and some of them are expensive so not available in the local market.
"I often order such medicine online, which makes my life much easier," he explained.
The happy Ismail said this Ek-Shop automated system is fast changing rural economy as local people sell items like shitalpati, coconut, betel nut and nakshikatha.
"I deal with some 15 people on average per day and the number keeps increasing," the man added.
The unique remote village-to-overseas marketing has led state entities like Bangladesh Small and Cottage Industries Corporation, Bangladesh Steel and Engineering Corporation, and SME Foundation to market their products.
Masudur Rahman, president of Rangpur-based Charushi Shatoronji and Craft Cooperative Society, said they have been selling products made by their members.
"It's a very good initiative. We're getting a good response from the platform," he stated.
Mr. Rahman suggests a warehouse in each division to further reduce costs and time of the customers.
Seeing Ek-Shop's success, the Asia-based International Invention, Innovation and Technology Exhibition awarded it the best international invention trophy in May 2019 just after one year into its launch.
The story does not end here.
A2I sources said the United Nations is also working extensively to replicate the same in other developing countries as it thinks the concept could help improve rural living standards.
A2I head of commercialisation and team leader (rural e-commerce) Rezwanul Haque Jami said they undertook the project to cover rural areas accounting for 70 per cent of the population.
It was launched in sync with the main slogan of SDGs 'no-one leaves behind'.
Mr. Jami said they introduced the unique platform which they called 'assisted rural e-commerce'.
"It means rural people might not have enough knowledge or training to use internet, but they can trade online coming to the UDC," he added.
There are 5,297 UDCs across the country and Ek-Shop service is available with 3,703 UDCs.
It served almost 0.3 million people until August 2019 and made transactions to the tune of Tk 40 million, according to the official.
To ensure secure payment, Mr. Jami said they have also created an escrow platform to help buyers get a refund if they are unsatisfied with their desired products.
They have signed a deal with a private bank and payments are kept in the Ek-Shop account.
A refund is made to the account of any buyer not satisfied with any delivered item, he said.
"It's an automated network. It's a platform aggregation mode of online business that you won't find in other countries."
They have a plan to create 20,000 micro-merchants or digital vendors by 2021 who will visit door to door to motivate people to ply their trade through the system.
"On a trial basis, we've already assigned 500 women to do the job in Jamalpur, Mymensingh, Sirajganj and Nilphamari districts," Mr. Jami concluded.
E-commerce is considered one of the key businesses globally in terms of creating employment and generating profits in the era of information technology.
Bangladesh has also paid due attention to e-trading.
The e-commerce market size here is estimated at Tk 18 billion, but it has the potential to reach as high as Tk 70 billion, according to industry insiders.
Unauthorized use or reproduction of The Finance Today content for commercial purposes is strictly prohibited.