National /
Co-production of Vaccine: Dhaka, Beijing sign deal
---
Diplomatic correspondent
Published:
2021-08-17 09:20:47 BdST
Co-production of Vaccine: Dhaka, Beijing sign deal
---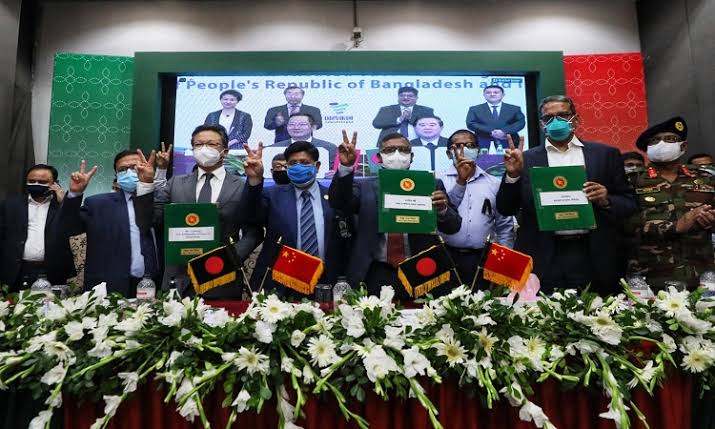 Bangladesh signed an agreement with China on Monday for co-production of Sinopharm vaccine here, aiming to speed up the ongoing national vaccination against coronavirus.
The government inked the tripartite agreement with the Chinese company Sinopharm International Corporation and local drug manufacturer Incepta Vaccine Limited to facilitate co-production of the inactivated Covid-19 vaccine (Vero Cell).
The memorandum of understanding (MoU) was signed by Health and Family Welfare Minister Zahid Maleque, Chinese Ambassador to Dhaka Li Jiming and Incepta Vaccine Limited Chairman Abdul Muktadir at a signing ceremony at Bangladesh College of Physicians and Surgeons (BCPS) auditorium in Dhaka.
"Bangladesh will produce Covid-19 vaccine through Incepta Pharmaceuticals with the help of China. Prime Minister Sheikh Hasina's dream is going to be fulfilled through vaccine production in the country," Zahid Maelque said.
He said through the agreement, Incepta will bring bulk Covid-19 vaccine from China and complete bottling, lebelling and finishing in Bangladesh.
He said the Prime Minister has also instructed officials concerned to take measures to produce vaccines under the authority of the state as she wants to make the country self-sufficient in coronavirus vaccine.
"We're taking the matter ahead. We will produce the vaccine in the country and will export abroad after meeting our demand."
"We need 26 crore doses of the vaccine for inoculation of 80 percent of the population or 13 crore people of the country, so we need more vaccines….We have contracts with different countries and we will continue to receive vaccines," the minister added.
He said Bangladesh has so far received 3.1 crore vaccines while two crore doses have already been administered and the rest are in stock.
Zahid Maleque said Bangladesh has already received 1.35 crore Sinopharm vaccines from China. "More 50 lakh Sinopharm vaccine will come after August 20/22."
After the function, talking to journalists, the health minister hoped that Incepta can go for the vaccine coproduction within a very short time.
"If each vial of the vaccine contains 10 doses, then the Incepta can produce 4 crore doses of vaccine every month. If the vial contains less than the amount then they can produce less. The Incepta authorities told us that they can go for co-production within three months," he said.
Zahid Maleque further said Incepta will produce the vaccine as per the government's demand.
"Now we are going for co-production of the vaccine through bringing bulk of the vaccine from China. But in phases, we will go for production of the vaccine here through bringing technology," he added.
Asked about price of the vaccine to be produced by Incepta, he said the price is not fixed yet. "However, if everything goes rightly, we will fix the price considering all things regarding this. Definitely the price of the vaccine will be less and it will easily available."
Speaking at the function, Foreign Minister AK Abdul Momen said this is an example of great partnership. "An excellent partnership."
He said the two countries have been very supportive to each other from the very beginning of Covid-19. "I thank the Chinese government."
Appreciating the health ministry's efforts, Momen said they are working as a team. "I think we did better than many other countries."
"We need huge Covid-19 vaccine. We are open to receive vaccine from different countries…. Now the vaccine will be produced in our country. So, it will not be problem for us to get the vaccine. We will get the vaccine at a comparatively cheap rate," the foreign minister said.
Speaking at the signing ceremony, Chinese Ambassador Li Jiming said China does not attach any political strings or economic calculations to carrying out vaccine cooperation with Bangladesh and other countries.
"The only purpose of China is to make vaccines global public goods that truly serves public interests and help the world defeat the pandemic at an early date. To this end, China will take further actions," he said, adding that at least three deficits -- distribution deficit, production deficit and cooperation deficit -- need to be addressed.
The ambassador thanked Bangladesh for respecting science, multilateralism and justice, and said he is sure that their anti-pandemic cooperation will only become stronger and more fruitful, leading to further contribution to the global fight against Covid-19.
"We'll continue increasing production capacity steadily, providing more accessible and affordable vaccines to meet the needs of developing countries, and supporting the WTO in making an early decision on IP waiver," he said.
Ambassador Li laid emphasis on working together to build a great wall against Covid-19, protect the health of people and humanity, win the victory over the pandemic with solidarity, and build a global community of health for all.
He said vaccines should be shared with greater intensity and speed to make them accessible to and affordable for developing countries around the world as quickly as possible, especially the least developed countries.
Li said China believes that tracing the origin of the virus is very important and it could give clues to predict and prevent future pandemics, whereas the Covid-19 origin-tracing is a serious scientific issue that should not be manipulated by politics, and can only be done by scientists, not by politicians or intelligence personnel of any country.
"Taking this good opportunity, I would like to make it very clear to our friends here that China doesn't oppose origin studies based on science. What we oppose is origin studies based on politics and using politicized origin tracing as a tool to exhaust China's diplomatic resources," he said.
With full support from China, the phase I origin studies led by the WHO have reached conclusions widely recognised by the international community and global scientists, and it should and must be upheld as a guidance for future work, said the envoy.
"Let us work together to build a Great Wall against COVID-19, protect the health of our people and humanity, win the victory over the pandemic with solidarity and build a global community of health for all," he said.
Speaking at the function, Incepta chairman Abdul Muktadir said, "We need some technical and other preparations for producing the vaccine here. At this moment, we are unable to fix the time for going production but we are trying to go for production of the vaccine as early as possible."
Joining the signing function virtually from Beijing of China, Sinopharm Chairman Liu Jingzhen said Incepta can produce five million doses of the Covid-19 vaccine every month.
In his welcome address at the function, Prof Dr ABM Khurshid Alam, director general of the Directorate General of Health Services (DGHS), said the government of Bangladesh will purchase necessary vaccine doses to be produced here at a cheaper rate.
Ji Rong, counsellor on Asia affairs of Chinese foreign ministry, and Liu Jingzhen spoke as special guests, connecting virtually from Beijing.
Chaired by health services division secretary Md Lokan Hossain Miah, the programme was also addressed among others by Foreign Secretary Masud Bin Momen and director general of Directorate General of Drug Administration (DGDA) Major General Mahbubur Rahman.
Unauthorized use or reproduction of The Finance Today content for commercial purposes is strictly prohibited.