National /
EU keen to send observers to oversee next JS polls in Bangladesh: Envoy
---
Diplomatic correspondent
Published:
2023-01-18 17:56:52 BdST
EU keen to send observers to oversee next JS polls in Bangladesh: Envoy
---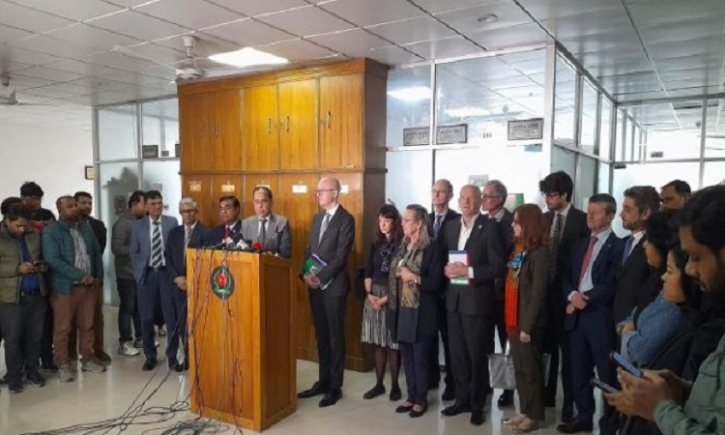 EU Ambassador to Bangladesh Charles Whiteley has said that the European Union is interested in sending observers to Bangladesh to oversee the next general election to be held either at the end of 2023 or early 2024.
Charles Whiteley also appreciated the positive attitude shown by the concerned authorities within the government about welcoming foreign observers.
He was talking to reporters after a meeting with Chief Election Commissioner Kazi Habibul Awal and other Election Commissioners held at the Nirbachan Bhaban in Agargaon area of Dhaka on Wednesday.
An 11-member EU delegation led by Whiteley met the CEC and his team and discussed Bangladesh's preparations for the 12th parliamentary election and election observers.
"Everybody wants to see a participatory election to be held in a free, fair and peaceful manner in Bangladesh," he said.
Besides, CEC Awal said it will be better for the country if foreign observers monitor the next general election.
About the use of Electronic Voting Machines (EVMs) in the election, he said the uncertainty about the use of electronic devices in the upcoming national election is not yet over as the approval of the project is still pending.
The Election Commission (EC) has decided to use the EVMs at 150 electoral constituencies out of 300 in the next general election.
But, BNP and other political parties have already rejected the CEC's plan in using the EVMs terming it as a faulty mechanism.
Despite the objection, the EC has also decided to procure 200,000 new EVMs at a cost of Tk 9,000 crore.
There are different opinions in the political parties. Dialogue is needed to resolve the difference. Political parties should discuss among themselves and resolve the issues, Awal said.
He also said that only then the voting will be held through democratic practices.
In this meeting, Election Commissioners Alamgir and Anisur Rahman were present.
The eleven-member delegation included EU Deputy Head of Mission Bernd Spanier, Danish Ambassador Winnie Estrup Petersen, Swedish Ambassador Alexandra Berg Von, German Ambassador Achim Tröster, Netherlands Ambassador Anne Gerard van Leeuwen, France Deputy Head of Mission Gillaume Audren de Kerdrel, Italy Deputy Head of Mission Mattia Ventura, Spain Charge d' Affaires Ignacio Siles Fernández-Palacios, Switzerland Ambassador Nathalie Chuard and Norway Ambassador Espen Rikter-Svendsen.
Unauthorized use or reproduction of The Finance Today content for commercial purposes is strictly prohibited.