National /
Dhaka awaits New Delhi's reply on Teesta note verbal: spokeswoman
---
Diplomatic correspondent
Published:
2023-03-24 21:18:24 BdST
Dhaka awaits New Delhi's reply on Teesta note verbal: spokeswoman
---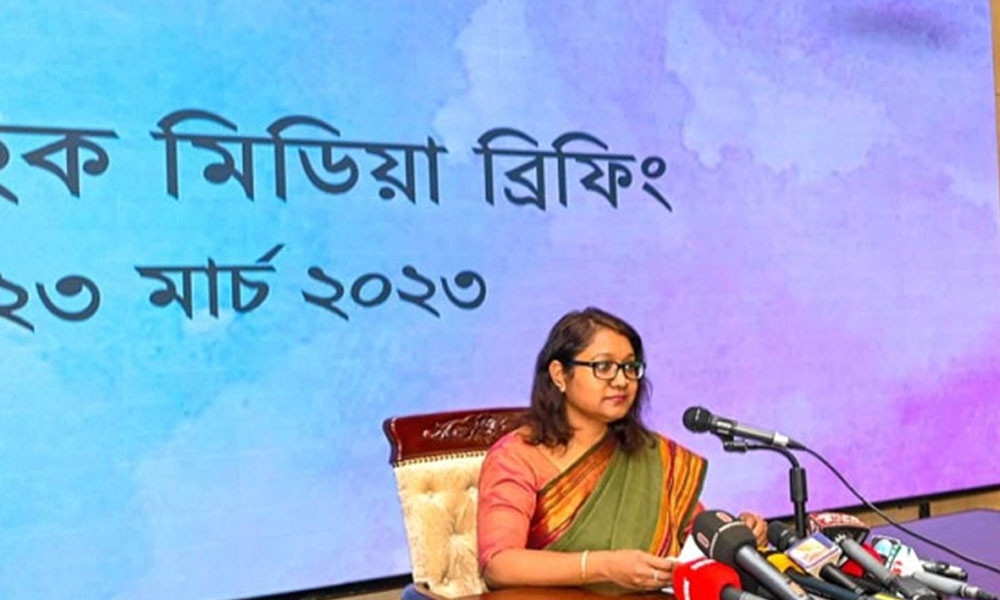 The foreign ministry on Thursday said Bangladesh awaits a New Delhi reply of its note verbal over the common Teesta River to fix the next course of action on the issue.
"We are yet to get any reply (of the note verbal) . . . we will take our next course of action after getting the reply (from New Delhi)," foreign ministry's spokesperson Seheli Sabrin told reporters in the weekly briefing at the ministry this afternoon.
Her comments came days after foreign secretary Masud Bin Momen told the media that Bangladesh sent note verbal to New Delhi seeking an explanation on West Bengal's proposed projects on the Teesta reducing its flow.
Sabrin said the foreign ministry sent the note verbal recently through the Indian high commission in Dhaka regarding reduced water flow and reiterating Bangladesh's insistence to ink a long expected deal for sharing of waters in the cross-boundary stream.
Asked whether Dhaka raised the issue of water sharing of trans-boundary rivers at the ongoing UN water conference in New York, Sabrin said Bangladesh highlighted its national policies on sustainable development of water resources at the meet.
The Teesta water sharing agreement has been in the talks since the Awami League government returned to power in 2009.
Dhaka and New Delhi were set to ink the Teesta Agreement during former Indian Prime Minister Manmohan Singh's Bangladesh visit in 2011 when West Bengal Chief Minister Mamata Banerjee was also supposed to be his entourage member.
But Mamata Banerjee precluded her from his entourage at the last minute opposing the treaty, frustrating the deal and largely upsetting the Indian premier's much hyped tour at that time.
India and Bangladesh agreed to sign the deal but it could not be materialised due to opposition from West Bengal state government.
Recent Indian media report suggested that West Bengal state government decided in principle to dig two new canals to divert the Teesta waters for irrigation purpose in Jalpaiguri and Coach Bihar districts.
The Telegraph newspaper report said the West Bengal government also planned to build two hydropower projects using the Teesta waters affecting its flows to downstream Bangladesh.
The foreign ministry earlier this week, however, said Bangladesh would keep on its efforts to resolve any emerging dispute with New Delhi through dialogue in view of the excellent bilateral relations.
The two countries had signed a landmark 30-year agreement on the sharing of water in the Ganges, removing a protracted irk in bilateral ties during Sheikh Hasina's previous tenure as premier in 1997.
Deve Gowda was her counterpart in New Delhi and Jyoti Basu was the West Bengal chief minister at that time while the deal ensured the minimum water flow in the Ganges River during the dry season.
Unauthorized use or reproduction of The Finance Today content for commercial purposes is strictly prohibited.