Sports /
New BFF committee stresses need for co-op
---
SAMI
Published:
2020-10-05 14:03:10 BdST
New BFF committee stresses need for co-op
---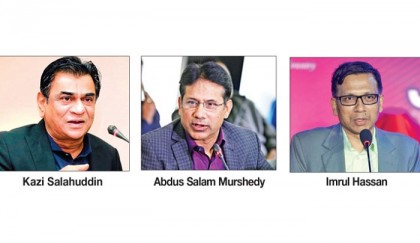 Country's football legend and three-time president of Bangladesh Football Federation (BFF) Kazi Salahuddin-led Sammilita Parishad gained a majority in BFF election and congress, also known as BFF Elective Congress 2020 on Saturday.
Kazi Salahuddin was re-elected for the fourth consecutive time while his panel claimed 13 of 20 executive committee posts including senior vice-president, three vice-presidents and 9 members.
After the victory, Salahuddin said that he and his panel members would work with other elected members for the development of football.
"They are all elected members, came here after being elected. Of course, we'll work with everyone. We are all here for football. I thank all the voters on behalf of my panel for electing us," said the former national team captain to the reporters.
"Perhaps, I've done something good in the past that's why people are still supporting me. I'm still popular with them, so they came here to congratulate me. I think I can keep the promises which I made in the manifesto. It is not possible to fulfill everything but I'll try. So, I need support from everyone," he added.
Sharing his plan, Salahuddin further said, "I will start working with administration, leagues, youth development projects and three major district competitions. The leagues must have fixed schedules. Besides, we'll arrange three major district competitions namely Bangabandhu National Football, Sheikh Kamal U-18/19 National Football and Sheikh Russel U-10 National Junior Football."
Salahuddin bagged 94 out of 135 votes while his nearest contestant Badal Roy got 40 and independent candidate Shafiqul Islam Manik only one vote.
Abdus Salam Murshedy also retained his senior vice-president post securing 91 votes while another candidate Sheikh Mohammad Aslam from Samannoy Parishad got 44.
Murshedy also thanked voters and dedicated his panel's victory to the Father of the Nation Bangabandhu Sheikh Mujibur Rahman on the occasion of Mujib Borsho.
Three out of four candidates from Sammilita Parishad were elected as vice-presidents. Bashundhara Kings President Imrul Hassan, who was competing for the vice-president posts for the first time, made his debut memorable.
Imrul became the first vice-president securing the highest 89 votes. Other two candidates namely Kazi Nabil Ahmed MP and Ataur Rahman Manik were elected as the second and third vice-presidents respectively. Nabil got 81 and Manik 75 votes.
After his memorable victory, the new BFF vice-president Imrul Hassan said, "I am overwhelmed. Thanks to all the voters and supporters for their trust. As I've already said that my plan is to work for the improvement of lower division leagues, clubs, divisions and districts including pioneer league, first division, second division, third division, age-level and district-level competitions. These leagues and competitions are the core of a country's football because those provide footballers in the pipeline for national teams. My first target will be to hold these events regularly. Now let's see."
Concurring Salahuddin, Imrul also said, "I believe if we all work together, we will be able to keep most of the pledges in the manifesto. I want to work with everyone. I believe everyone will support me."
Salahuddin-led Sammilita Parishad continued their domination over executive member posts. The panel got 9 out of 15 posts while Samannoy Parishad got the rest 6. Sammilita Parishad: Zakir Hossain Chowdhury (87), Bijan Barua (85), Nurul Islam (84), Mahiuddin Ahmed Salim (84), Satyajit Das Rupu (76), Elias Hossain (75), Imteaz Hamid Sabuj (74), Mahfuza Akter Kiron (70), Harunur Rashid (70). Samannoy Parishad: Abdul Wadud Pintu (86), Arif Hossain Moon (85), Tipu Sultan (81),Md Amer Khan (69), Saiful Islam (69), Mohidur Rahman Miraz (68).
Two incumbent vice-presidents Tabith Awal and Mohiuddin Mohi were tied as both of them got 65 votes each. The election commission decided to arrange re-election for breaking the tie between Tabith and Mohi on October 31 at BFF House. Tabith was competing as an independent candidate while Mohi represented Samannoy Parishad.
A total of 135 out of 139 delegates from clubs, districts, divisions and educational institutions voted to form the 21-member BFF executive committee including president, senior vice-president, four vice presidents and fifteen members.
The 3-member election commission, headed by Mezbah Uddin Ahmed, conducted the polls. Other two members are Mahfuzur Rahman Siddique and Motahar Uddin Saju. Ahead of the election, a two-hour Annual General Meeting (AGM) was held at the same venue. President of the world football's governing body FIFA Gianni Infantino sent a video message to Bangladesh Football Federation (BFF) on Saturday thanking all delegates who participated in the election and AGM.
Meanwhile, BFF EC announced the schedule on September 3. According to the fresh schedule, a total of 49 nomination papers -- three for president, two for senior vice-president, eight for vice-presidents and 36 for executive committee members -- were sold in three days of nomination distribution from September 5 to September 7. Aspiring candidates for the post of president, senior vice president and vice president and members bought nomination papers by paying Tk 1 lakh, Tk 75,000, Tk 50,000 thousand and Tk 25,000 respectively. Candidates submitted nomination papers on September 8 while BFF Election Commission scrutinised all submitted nomination papers on September 11.
Two candidates namely Saidur Rahman Manik and Zakir Hossain Babul withdrew their candidacy on the last date of candidature withdrawal on September 12. BFF incumbent vice-president Badal Roy, who was expected to compete against Kazi Salahuddin, withdrew his presidential candidacy on the same day. But BFF EC rejected it as the former football star submitted his application after the deadline of withdrawal candidacy at 05:00pm. However, BFF EC published the final list of candidates including Badal Roy and provided ballot numbers on September 13. Later, Badal asked for votes announcing himself the president candidate of Samannoy Parishad on Facebook a day before the elections on Friday.
Unauthorized use or reproduction of The Finance Today content for commercial purposes is strictly prohibited.