Business /
Country's largest solar power plant to start generation this month
---
Staff Correspondent
Published:
2020-10-13 02:20:09 BdST
Country's largest solar power plant to start generation this month
---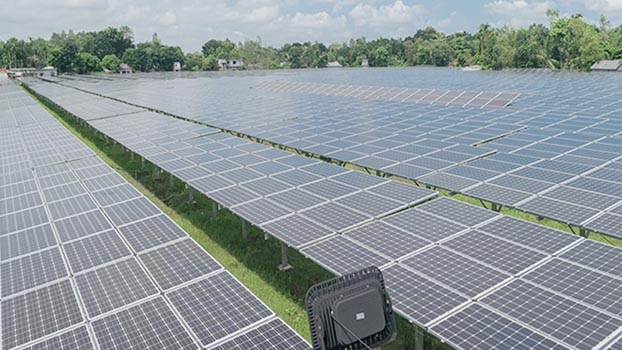 As renewable energy has been considered worldwide as the technology of choice for new power generation capacity, Bangladesh's largest solar power plant having a capacity of50MW of electricity will go into operation and also supply power to the national grid this month.
The power plant has been completed in Mymensingh as it may start its generationthis month, said officials of the Bangladesh Power Development Board (BPDB).
They said that the power plant was built in 'Sutiakhali' near the riverbank of the Brahmaputra River in the Mymensingh district, about 100km north of Dhaka. Its installed capacity is 60MW, which will generate 50MW of electricity and will supply 78,000Mwh (78,000,000 unit) to the national grid during sunlight hours annually.
The eco-friendly power plant will emit 54,600 fewer tonnes of carbon dioxide each year than a similar-sized diesel-run plant.
Md. Rafiqul Islam, Additional Chief Engineer (Acting) of BPDB, said that "All equipment installation and testing work of the power plant has already done. It is ready to go into power generation."
"Hopefully, the plant will go into commercial operation to the national grid this month. Now we are waiting for inaugurating the power plant by Prime Minister Sheikh Hasina," he said.
The project was built worth taka around 800 crore. It utilises the world's most efficient solar panel technology from Japan and is one of the largest high efficiency plants in the world currently.
It is also the largest recipient of Joint Carbon Mechanism grant by the Japanese government as part of the global climate change initiative.
BPDB had previously signed a 20-year Power Purchase Agreement (PPA) with the plant's owner, HDFC Sinpower Ltd, a joint venture between IFDC Solar Power (BD) Ltd of Bangladesh, Sinenergy Holdings Pte. Ltd of Singapore and Ditrolic (S) Pte Ltd of Malaysia.
HDFC Sinpower Ltd. started the construction work of power plant in 2017. Under the project, office building, construction of the Brahmaputra river dam, installation of solar PV module in an area of one sq km, construction of 132 KVA transmission equipment with sub-station, four km underground cable and one kilometer overhead cable line have completed.
Sources said the project has created the possibility of bringing about socio-economic change in the area of SutiaKhali. It will also create employment opportunities for about three hundred people locally.
In addition to it, Bangladesh is planning to gradually switch to renewable energy as the world is now turning to environment-friendly renewable energy due to the depletion of fossil fuels.
The government has taken various initiatives to enhance generation of renewable energy as part of its efforts to ensure energy security keeping carbon dioxide emissions at a low level. It has set a target to increase renewable energy generation to 2,000MW, 10 percent of the total generation, by 2021.
On June 2, a report by the UN watchdog International Renewable Energy Agency (IRENA), said the electricity generation cost from renewable energy sources such as solar and wind is declining by 13 percent each year. In the last 10 years, the generation cost of solar power has decreased by 82 percent and wind power by 39 percent.
"If renewable energy-based power plants were built instead of the world's 500,000 megawatts of coal-fired power plants, it would save $23 billion a year and reduce carbon emissions by 180 billion metric tons. In that case, the world's total carbon emissions will be reduced by five percent," it said.
According to the report, not only generation, but also the construction cost of renewable energy-based power plants has come down. In 2010, per unit generation cost of a solar power plant was $4,695, which was only $995 in 2019. The land-based wind power plant construction cost in 2010 was $1,849, which is now $1473.
Unauthorized use or reproduction of The Finance Today content for commercial purposes is strictly prohibited.