Economy /
Govt drops renewable power projects
---
Shamim Jahangir
Published:
2020-11-24 10:24:49 BdST
Govt drops renewable power projects
---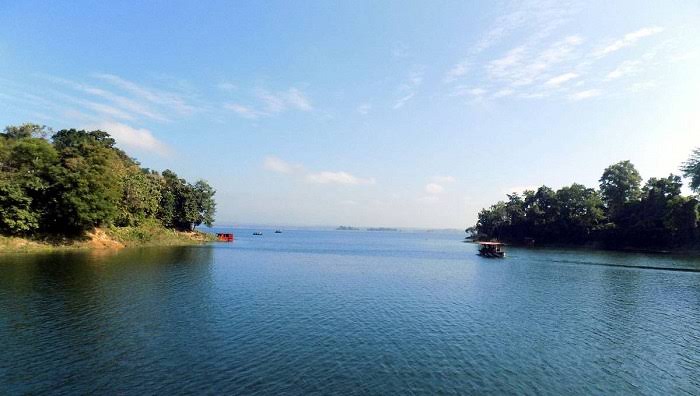 Proposed solar power plant in Kaptai Lake
The government has dropped a plan to set up renewable power projects in Kaptai and Mahamaya lakes on consideration of environmental risks.
Wildlife and ecosystem of the lakes might be put at risk if the projects were implemented on the sites selected by Asian Development Bank (ADB).
Despite cancellation of the sites, the government has selected two abandoned peat lakes at Barapukuria coal mine for setting up renewable power plants, power division officials confirmed.
The ADB has proposed to Bangladesh for funding renewable energy project under 'ADB Mission (KSTA-9628): Capacity Development for Renewable Energy Investment Programming and Implementation' last year.
The ADB has already conducted feasibility study on Kaptai and Mahamaya lakes in Chattogram, Joydia baor in Jhenidah and Bukbhara baor in Jashore under the scope of this project and submitted the reports to SREDA in February this year.
In the report, ADB has concluded that all four sites were found to be economically and financially viable for implementing floating solar power plants.
Afterwards, SREADA spotted two abandoned peat lakes having areas of 109 acres and 95 acres respectively, owned by Barapukuria Coal Mining Company Ltd.
The coal mine authorities have already given consent to conducting the feasibility study on the site, official said.
After approval, the consultant team of ADB has visited the Barapukuria site last month.
ADB, in the report, said the new site of Barapukuria is showing the highest opportunities in terms of environmental impacts because it's a recently formed lake with potentials for very small impacts to aquatic life, wildlife and human activities.
ADB is planning to have around one percent coverage of the Kaptai Lake for implementing the solar project and expressed hopes that they may implement a pilot project there which could be extended in future.
In its report, ADB claimed that the selected site near Kaptai dam would avoid impacts to fisheries and to the national park when floating solar panels are installed.
About Mahamaya lake, ADB found it to be a sensitive site from aesthetic and ecological viewpoint, but believes that there are a lot of opportunities to develop special recreational or solar tourism facilities there.
According to ADB, the most difficult sites from the environmental prospective are baor sites, where such projects would pose a risk for aquatic life and may have significant impact on fishing and village activity in the relatively densely populated area.
Implementing floating solar projects at the baor sites would require quite a lot of effort by the government to satisfy the many stakeholders, the ADB said to Power Division.
In an ADB presentation to this report at an Inter-ministerial meeting last month, environment, forest and climate change joint secretary MD A Razzaque Sarkar said Kaptai lake has been declared as a national park and the forest department is carrying out a number of activities regarding wildlife conservation in this area.
"Installing a floating solar power plant would cause disturbance to wildlife and this may put the ecosystem at risk," he feared at the meeting.
Likewise, the ministry of environment also requested to drop the installing a floating power plant in Mahamaya lake as it would cause serious damage to its ecological system, he added. "Kaptai and Mahamaya have already been declared as reserve forest," he pointed out.
Deputy secretary of water resources Md Mahmud Hasan said department of Bangladesh Haor and wetlands development owns the baors.
"If the water body has an area below 20 acres, it's ownership rests with the district administration with more than 20 acres are owned by land ministry," he pointed out.
The power division has decided to seek opinion from the ministries.
ADB representative Hongwei Zhang, at the meeting, said the ABD would not conduct the feasibility study at Barapukuria site due to COVID-19 pandemic.
The ADB will conduct a feasibility study after coronavirus pandemic, he said.
"If the site is found to be feasible, the government may ask Bangladesh Power Development Board to implement floating solar plant there," Power Division joint secretary Dr Shah Mohammed Helaluddin said at the meeting.
The government is producing 650.32MW of electricity from renewable energy. Of them, 416.39MW will come from solar based power plants.
Unauthorized use or reproduction of The Finance Today content for commercial purposes is strictly prohibited.