Tk 9.60 lakh stolen from Pubali Bank ATMs
---
SAM
Published:
2019-11-20 16:26:00 BdST
Tk 9.60 lakh stolen from Pubali Bank ATMs
---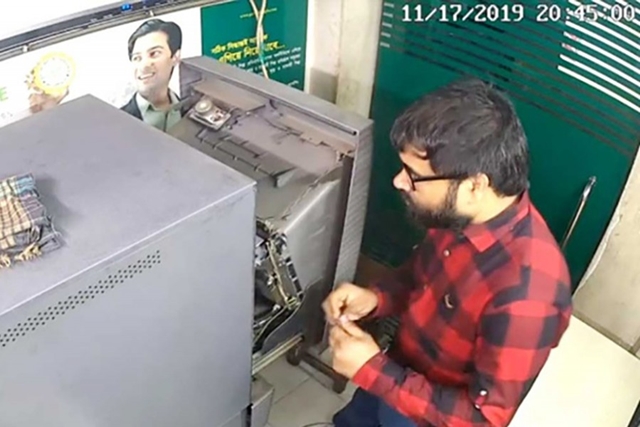 FT ONLINE
Three ATM booths of Pubali Bank Limited in Chattogram and Cumilla were tempered by fraudsters and Tk 9.60 lakh have been stolen in two days.
The stolen money was not slashed from any customer's account as the fraudsters disconnected the machines from the main server first, according to officials.
The government bank filed general diaries (GDs) at the local police stations.
Police have published photos of two suspects from security cameras of the ATM booths and urged all to identify the duo.
Shahidur Rahman, additional deputy commissioner (east) of Detective Branch of police, said Tk 9.60 lakh was looted from two ATM booths in Chattogram and another in Cumilla on November 17 and 18.
The fraudsters stole Tk 650,000 from two ATMs in the port city's Chawkbazar and Double Mooring and the rest from another in Cumilla, Pubali Bank Managing Director Abdul Halim Chowdhury said on Tuesday.
"We've given clear images of the thieves to the police," he said and added the photos would be published in Wednesday's newspapers.
Halim also said he hoped the criminals would be caught and the money would be recovered soon.
Pubali Bank officials said the money was stolen from the ATM booths on Chattogram College Road and Agrabad Sheikh Mujib Road between 6:00 pm and 9:30 pm on Sunday.
Minhaz Uddin Sarwar, the manager of the bank's College Road branch filed a GD at Chawkbazar Police Station on Tuesday, Inspector Reaz Uddin Chowdhury said.
The fraudsters stole Tk 334,000 from the College Road booth of the bank between 6:00 pm and 7:00 pm on November 17, according to the GD.
Agrabad Sheikh Mujib Road branch manager Shahed Ali in another GD with Double Mooring Police Station on Monday said Tk 310,000 was stolen from the booth between 8:30 pm and 9:30 pm on November 17, Inspector Zahir Hossain said.
Dhaka Metropolitan Police's news portal published a video obtained from the CCTV camera at the Pubali Bank ATM booth in Cumilla.
Two people are seen in the video drawing money from the ATM after opening a part of the machine and planting some device in it around 8:45 pm.
The DMP asked anyone with information on the people in the video to call the assistant deputy commissioner of the Detective Branch at Khilgaon at 01713398596.
A similar fraud involving a private bank in Dhaka was unearthed in 2016. A foreign national was among those arrested in a case over the incident.
Unauthorized use or reproduction of The Finance Today content for commercial purposes is strictly prohibited.